Academic Singles
Review 2022
Daily partner suggestions based on personality test
Safe and secure for all users
This article contains affiliate-links.
In-Depth Review of


Academic Singles


Academic Singles is a matchmaking service that caters to a particular demographic of singles and is proud to boast about that quality. Describing itself as, "the safest and most prestigious premium singles site in America," its membership is meant for individuals with impressive education and professional credentials.
Offering extensive options for profile customization and a "scientifically designed questionnaire," Academic Singles has a lot to offer not just in matching services, but also in the potential for users to properly describe themselves and learn about others even before that first message is sent.
With such confident claims and user options, does Academic Singles live up to the hype?
Prioritizes intellectual curiosity above looks
Personality test provides well-curated matches just for you and your personality
Free trial can give you a sense of what you're getting into
Expensive monthly subscription
Ignores those who don't have traditional educational qualifications
3 MONTHS
Per month: 39.99 £
Total: 119.97 £
6 MONTHS
Per month: 29.99 £
Total: 179.94 £
12 MONTHS
Per month: 19.99 £
Total: 239.88 £
Signing Up for

Academic Singles
Academic Singles offers a similar sign-up process as other premium membership driven matchmaking services. Upon creating an account, new members will be met with a required personality questionnaire. This questionnaire does contain a few questions about educational and professional achievements, but the majority relate to your personality and dating interests.
Once this is completed, the service offers a detailed and extensive profile for customization. There is a lot of optional information to fill in here, though many will choose to skip this step.
In total, the process is likely to take you about 20 minutes for everything required, but could take much longer if you choose to go further with customization. The sign-up process and profile creation are free, but most additional features are locked behind a paid subscription.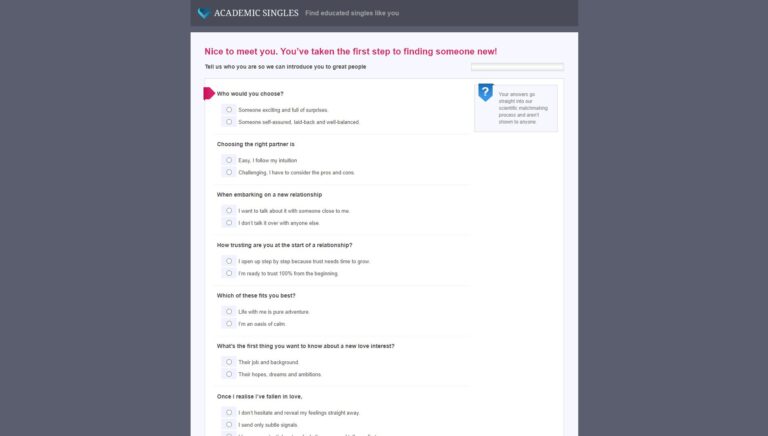 Member Structure
Academic Singles may be more of niche dating site, but that hasn't stopped it from offering its services to nations all around the world. In addition to the EU, it has particularly large membership bases hailing from such diverse locations as South Africa and Taiwan—with an active American userbase as well that consists of over 1 million active users.
Given that Academic Singles caters to individuals with impressive academic and professional credentials, the user base is extremely reflective of this. Most users are between the ages of 35 and 55, with most users being with the 30+ range. While the service does not exclude younger members, the life experience required for academic and professional success tends to require a lot of time investment, so users are naturally a bit older.
Another positive aspect to Academic Singles is in the gender distribution. While many matchmaking services suffer from an imbalance in gender representation, this service is surprisingly near parity. The user base is roughly 51% men and 49% women, a rare and encouraging number.
As a final note, it should be mentioned that Academic Singles is designed primarily with paid service in mind. While you can create a profile for free, key features such as unlimited messaging and viewing matches photos are locked behind a paywall.
To expand, a paid subscription will allow you to view photos, send unlimited messages, read all the messages you receive (very important), keep track of other users who visit your profile, and it also allows you to keep track of matches through a favorites list that you can add fellow users to.
Once you have completed your profile and personality questionnaire, Academic Singles will analyze the results and begin offering partner suggestions. These suggestions are other users accounts that have a high compatibility likelihood, and are relatively close to the area you are located in.
In addition to this service, users can input custom criteria into a search option, and browse through other users at their leisure. This is where the lengthy and highly customizable member profiles come in handy. 
While not everyone will fill theirs out completely, those that do will give you a window into their personality and potential compatibility—with matches continually adapting to your own preferences.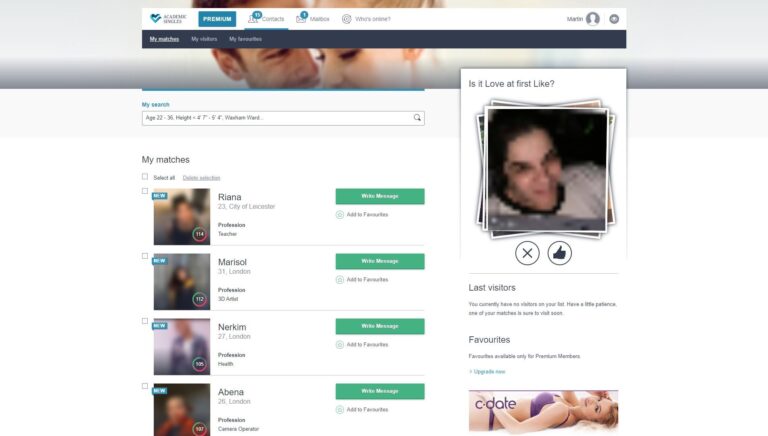 Contact Options
As mentioned, the reliance on its premium membership means contact options for Academic Singles are only available to premium users. While this may be disappointing for free users hoping to test out the service, it does help prevent users from paying users encountering any kind of spam. The exclusive nature also helps ensure users are serious about their intentions.
This is not a service for hook-ups or brief encounters. The service is aimed at those desiring long-term, intimate relationships, and the focus on premium users ensure this is taken seriously.
Once you have a premium account, contact options are fairly straightforward. Users have the option to unlimited chat over a messenger feature. They can also video call each other, a service recently added. While these features are streamlined, the one unique aspect of contact is the option to select a specific, pre-written question.
Picked out of a list, this question will automatically be sent to a match. This is a way to help break the ice, and initiate an interesting conversation topic from the very beginning.
Academic Singles

 App
The company does offer a mobile application for accessing their service. The app offers all of the same features as the website, with a simple interface very reminiscent of the regular website.
There are not special features to be found on the app, but you aren't in any way limited when compared to using the service on your computer.
Conclusion
Academic Singles is a niche matchmaking service that gets the job done in an easy to use, efficient, and streamlined manner. Though contact features are quite basic, they accomplish exactly what is necessary by providing an easy avenue of communication.
All the extra features are reserved for users' profiles, where customization and personal expression is paramount. Although it takes some effort, members have the chance to really show their true selves and list a few professional accomplishments (especially in regards to academia) before the first message is even sent.
Most importantly, the Academic Singles succeeds at its goal—to provide an easy to use and convenient dating service for successful academics and professionals to meet, date, and find the love of a lifetime.