Gay Dating ❤️


The best

Gay dating sites and apps in the UK
The world of online gay dating has expanded drastically in the last few years and singles are now spoiled for choice when it comes to online dating opportunities. In this article, we run through all the various gay dating sites and gay dating apps available in the UK so that you can get a sense as to which ones might be worth exploring for you.
First, we'll start with dating sites that don't rely on an app necessarily but include much fuller feature sets for a wide range of different use cases. Each one has its own unique personality and so it's important to find the right sites that match with what you're looking for.
It's also worth noting that many of them have generous free trials that you can use to get a peek behind the curtain, before you part with any of your hard-earned money.
This article contains affiliate-links.
Now that we've gone through the dating sites available, let's look at some of the best gay dating apps that are on the market.  These focus solely on their mobile offering and deliver really great dating interfaces on your phone of choice!
gayParship


Online Gay Dating based on Personality Assessments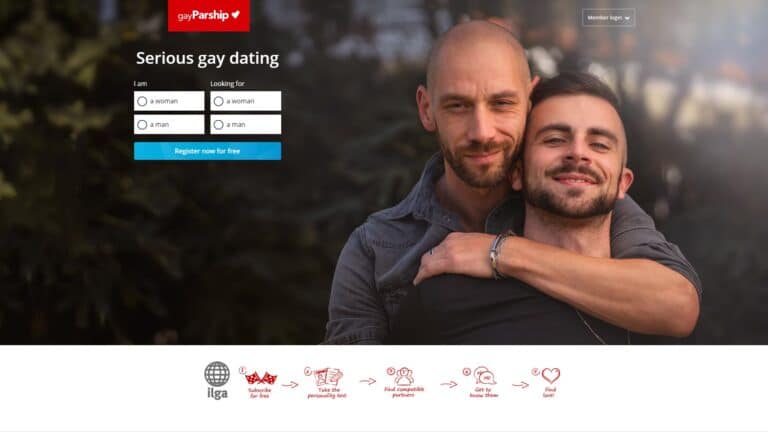 gayParship's claim to fame is a sophisticated matchmaking algorithm that runs on the back of various personality tests. Once you've completed the tests and set up your profile, the algorithm will identify 32 different traits using 136 different rules and use those results to match you with gay singles that you're likely to connect with. It works just as well for men and for women and you'd be amazed at what this data-driven approach does for the online dating experience as a whole.
The platform provides itself on going beyond the surface level that most sites stop at, and they apply advanced filtering so that your matches are those who you can build much deeper connections with. This approach helps you to sidestep your preconceived notions and perhaps – you'll find someone that is incredibly good for you, but you might never have considered.
As a platform, it still remains quite niche at the moment but it's growing fast, and we don't think the trend is going to reverse. If you believe in the power of data, then why not apply it to your relationships. You might just find that what you were looking for was right in front of you all along!
Great for finding a serious, long-term relationship
Matchmaking based on a unique algorithm
Available in 13 countries worldwide
Relatively small user base
How much does a membership at

gayParship

cost?
| | | |
| --- | --- | --- |
| Duration | Price | Total |
| 3 months | 29.90 £ / month | 89.70 £ |
| 6 months | 19.90 £ / month | 119.40 £ |
| 12 months | 14.90 £ / month | 178.80 £ |
PinkCupid.com


Premium Dating Service for Lesbian Singles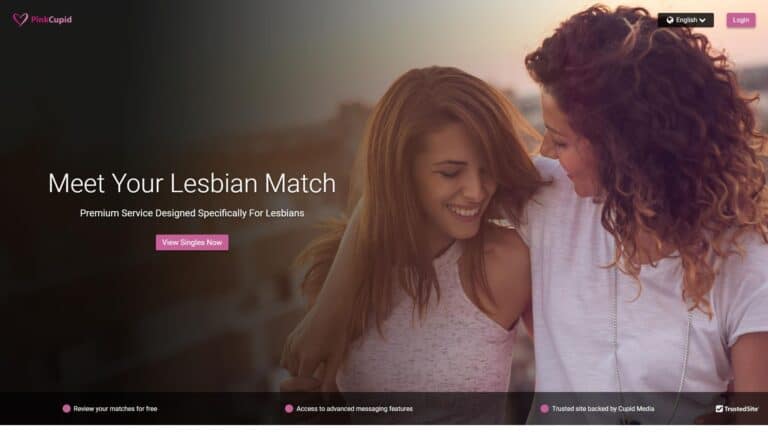 PinkCupid has managed to build a really strong and engaged community of lesbian singles who are looking for a long-term partner. They've been around for 15 years now and have consistently been one of the top sites in the space because of their robust platform, welcoming interface, and simplicity of design. Thousands of happy women attribute their dating success to the site, and you could be the next one.
You can create a profile for free in just a few seconds, and then you're able to browse the database according to various preferences and settings – so you can narrow things down to find your perfect match. Once you've found like-minded people that you want to connect with, you can communicate in numerous ways – either on the website itself or through their dedicated mobile app. The interface is remarkably simple, and it focuses on facilitating deep, meaningful connections.
If you're looking for a casual relationship, you would be better served elsewhere – but for long-term relationship potential, this site is hard to beat. If you're honest, authentic, and put yourself out there – there is no telling who you could meet.
Long track record
Large community of singles
Simple interface
Only basic profile functionality
Lacks some more advanced features
How much does a membership at

PinkCupid

cost?
| | | |
| --- | --- | --- |
| Duration | Price | Total |
| 1 month | 24.99 £ / month | 24.99 £ |
| 3 months | 16.66 £ / month | 49.99 £ |
| 6 months | 8.33 £ / month | 99.99 £ |
OnlyLads


Renowned Gay and Bisexual Dating Site for Men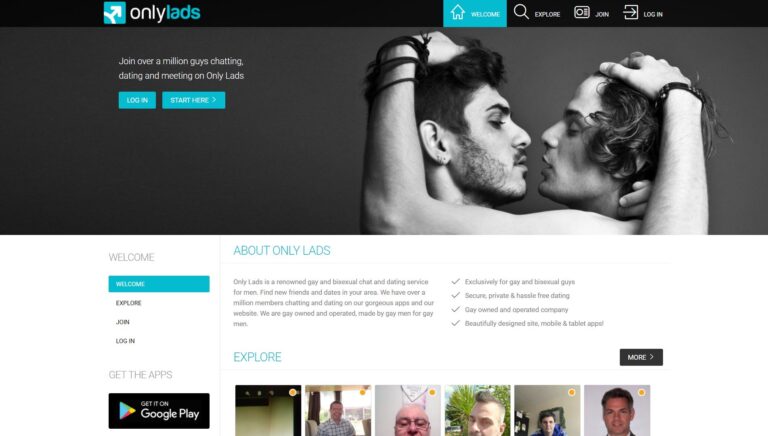 Only Lads boasts a userbase of over 1 million gay and bisexual men who use the site to connect with new people and spark relationships of all types. They have put a lot of effort into designing a really sleek interface and experience, which focuses on the chat aspect – because their belief is that you can only really judge chemistry when you start to interact, rather than just relying on flat profile description.
Everything is secure, private, and hassle free – allowing you to meet with whoever you'd like and engage meaningfully in conversations that lead to real-world dates. You can access the platform from anywhere using their intuitive site, their various mobile applications, or even their tablet versions. It's built by gay men, for gay men.
As far as the community goes, there is a wide range of ages, interests, and backgrounds – so you can be sure to find something for you, regardless of what you're looking for. If you're looking for a simple online dating experience with very little fuss – then look no further. This is for you.
Large user base
Accessible on desktop, mobile, and tablet devices
No fuss experience
Lacks some advanced features
Very focused on photos
How much does a membership at

OnlyLads

cost?
| | | |
| --- | --- | --- |
| Duration | Price | Total |
| 1 month | 9.18 £ / month | 9.18 £ |
C-Date


A Great Place for Casual Gay Dating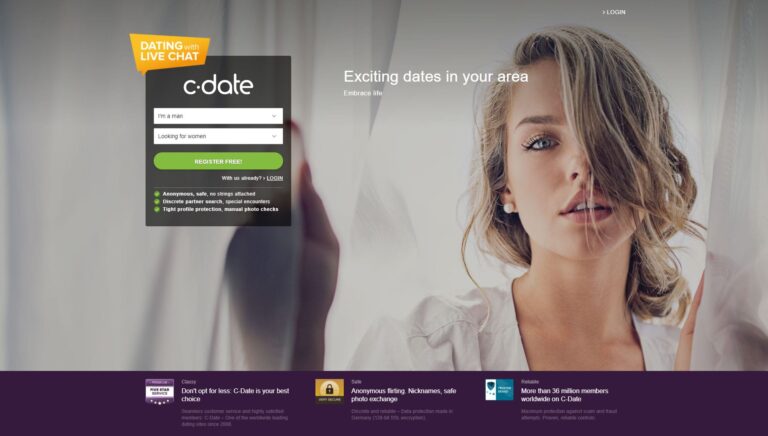 C-Date is one of the best places you can go if you're looking for a casual hookup. Everyone on the site has the same intentions and so you won't run into any awkwardness as you pursue spontaneous fun with other uninhibited singles. Their site security ensures that you can keep complete safety and anonymity, as you engage with others – which allows for peace of mind. And with tens of thousands of new singles joining every single day, the world is really your oyster.
The platform excels because you can get straight to the point. It's honest and unapologetic about what it is – which is incredibly rare these days. And naturally, every interaction could be the start of an adventure – which keeps things very exciting. It's a guaranteed adrenaline rush every time you delve into the depths of the userbase.
If it's just fun that you're after, C-Date is perfect for you. In no time at all, you'll be connected to other open-minded people who don't want any strings attached. You can let yourself go and enjoy the pleasure of hooking up without agendas. It's remarkable, trust us.
Perfect for casual hookups
Free premium trial
Protects anonymity
You probably won't find your soulmate here
How much does a membership at

C-Date

cost?
| | | |
| --- | --- | --- |
| Duration | Price | Total |
| 1 month | 9.90 £ / month | 9.90 £ |
| 3 months | 13.30 £ / month | 39.90 £ |
| 6 months | 4.98 £ / month | 29.90 £ |
AdultFriendFinder


The world's most vibrant community for sex and hookups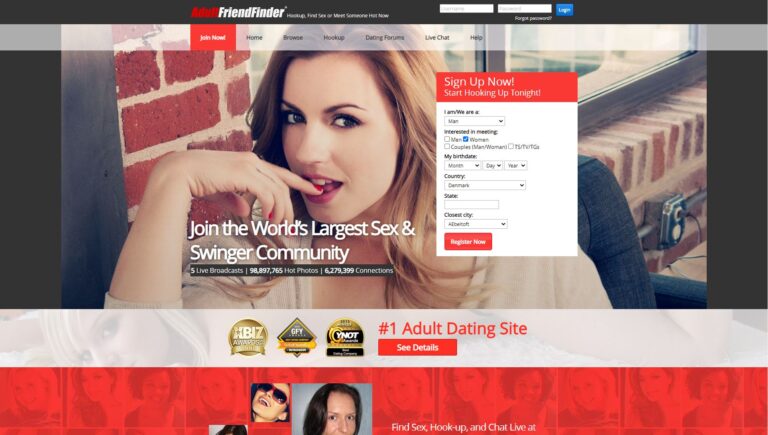 AdultFriendFinder has been around for a long time now and still remains one of the most highly sought-after platforms for sex and hookups. Its userbase has grown significantly over the years and helps singles of all find exciting sexual opportunities with people who share their open-minded nature. If you're looking for scale and discretion, then you're in the right place.
As a platform the design is a bit old-school, but that doesn't take away from the community they have nurtured. It's a favourite for a reason and its one of those sites that you only realize the magic once you're on there and interacting with other singles. They also boast a very large swingers' community that continues to thrive, so if you're in a couple and are looking to meet other open-minded couples this can be a great place to do so.
The site's track record and userbase makes it easy to recommend for anyone who is looking for casual sex. You'll undoubtedly find people who share your outlook and are excited to have fun in the way that only adults can. It's cheeky, sultry, and unlike any other site you'll find because it's stayed true to the original mission set out all those years ago. It does one thing, and it does it really well.
More than just a place to find casual sex
More than 80 million users worldwide
Long track record
Reports of bots and fake profiles
Can be quite expensive
How much does a membership at

AdultFriendFinder

cost?
| | | |
| --- | --- | --- |
| Duration | Price | Total |
| 1 month | 15.87 £ / month | 15.87 £ |
| 3 months | 9.51 £ / month | 28.53 £ |
| 12 months | 7.12 £ / month | 85.46 £ |
Match.com


A market leader in the world of online dating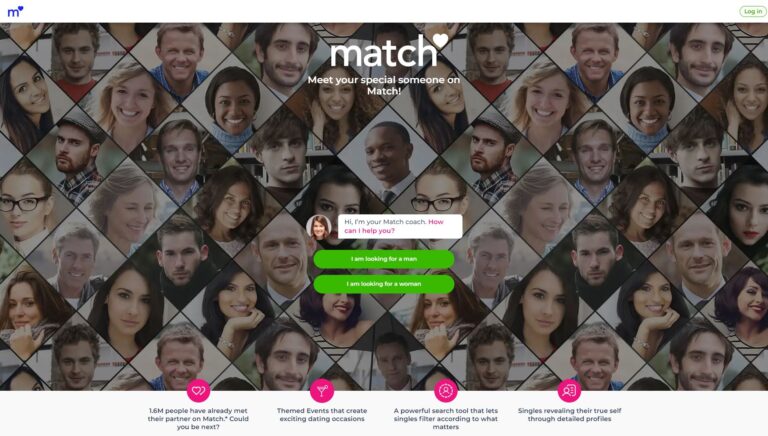 Match.com is one of the most well-known sites in the online dating space and their gay offering is criminally underrated. Through the years, they've continued to develop their platform and today it's a sleek and powerful matchmaking tool is hard to beat. It's an incredibly strong brand for a reason and regardless of who you're looking for, you can be assured that they'll have a great line-up of matches waiting for you.
The best way to start is to set up a profile (which is free) and then you can start exploring all the features that they have to offer. The first thing you should notice is that the profile itself is much more detailed than on some other sites – and that just shows that they want to help you create really deep and meaningful connections. Every component of the experience is specifically designed to let you show a holistic picture of who you are – and then connect with others who share similar interests and values. It's well worth going through this process because it makes for much richer experiences when you connect with someone else on the site. The detail also makes the actual matchmaking that much more precise and that is what puts the platform in a league of its own.
On match.com, you get out what you put in. The site rewards effort and honesty first and foremost. So, the more effort you put into your profile and the more authentic you are, the greater your chances of success. If you're willing to be open and honest, you might just find that this is the perfect space for you to find that special someone.
Perfect for finding love
 20+ year track record
Offers a great smartphone app
Large user base.
The profiles are quite detailed, and it takes time to fill them out properly
How much does a membership at

Match.com

 cost?
| | | |
| --- | --- | --- |
| Duration | Price | Total |
| 1 month | 29.99 £ / month | 29.99 £ |
| 3 months | 19.99 £ / month | 59.97 £ |
| 6 months | 9.99 £ / month | 54.94 £ |
eharmony


Great dating site for those seeking serious relationships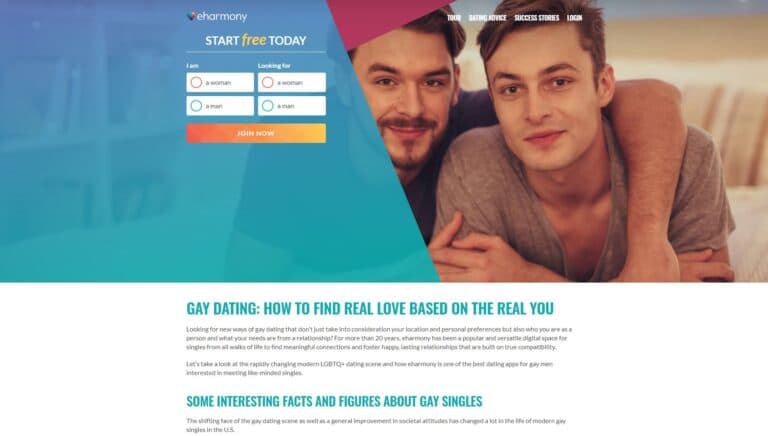 eharmony boasts a track record of over 20 years now and still, all those years later, they still facilitating a match every 14 seconds, which is a staggering statistic. They have a vast userbase including a very strong gay and lesbian dating community – which makes them incredibly relevant in today's modern online dating landscape. But don't take our word for it. You can try their platform for free and experience some of the basic functionality before deciding if this is the place for you.
From our perspective, the personality and compatibility tests are the heartbeat of their matchmaking and it's what makes this site special. The algorithm will process your answers and seek to match you with like-minded people who value the same things as you do – so that you can get on with things, without worrying about wasting time. Everyone that you're matched with has something that you share – and that's a great icebreaker to get a conversation started. If it's an authentic relationship you're after, then you can't go wrong.
We'd recommend investing some time into the registration process because this is the major screening mechanism that makes sure that only those who want serious relationships are on the site. It skews towards those looking for long-term relationships and partners so if you're in search of something more casual, then you'd be best served elsewhere. But if you are looking for a real partner – then eharmony is a winner.
Only for singles who are serious about dating
Great matchmaking
Simple and easy to use
Lots of members in the UK and across the world
Registration takes a while
How much does a membership at

eharmony

cost?
| | | |
| --- | --- | --- |
| Duration | Price | Total |
| 6 months | 29.90 £ / month | 179.40 £ |
| 12 months | 23.90 £ / month | 286.80 £ |
| 24 months | 17.90 £ / month | 429.60 £ |
EliteSingles


Dating site for highly educated singles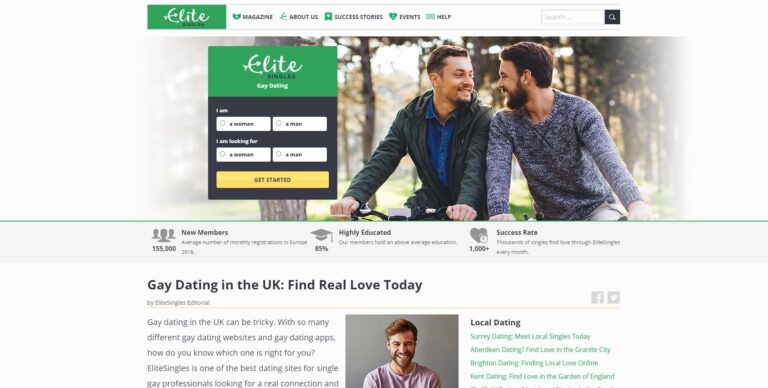 EliteSingles helps to connect singles who share the same level of higher education, which helps to ensure a certain level of connection right from the beginning. When you use the site, you're sure to find a partner who is intellectually minded and that's worth its weight in gold for those people who really value intellect when it comes to dating. Regardless of what you're looking for, it's very easy to sign up every day, you'll receive 3-7 potential matches so you can focus on quality over quantity.
Those potential matches are bound to be intellectually stimulating, ambitious, driven, and serious singles who are looking for something that will last. That's what makes this platform so special – it's one of the only ones out there that place intelligence at the top of the list and don't apologize for it. If that is what is important to you, then this site should be your number one.
If you're unsure, why not try the free version and get a taste of the kinds of singles on there. We think that by checking out the inside, you'll be convinced that it's worth paying for. Its value proposition is clear, and it delivers on that time and time again. We have no doubt that if you're the kind of person who values this stuff – you're going to find success on here with enough perseverance.
Most members are university educated
Members are serious about dating
Profiles are manually verified
Personality-based matchmaking
Not suitable for those who didn't go through traditional education
How much does a membership at

EliteSingles

cost?
| | | |
| --- | --- | --- |
| Duration | Price | Total |
| 3 months | 39.95 £ / month | 119.85 £ |
| 6 months | 21.95 £ / month | 131.70 £ |
| 12 months | 19.90 £ / month | 238.80 £ |
Zoosk


Behavioural Matchmaking at its very best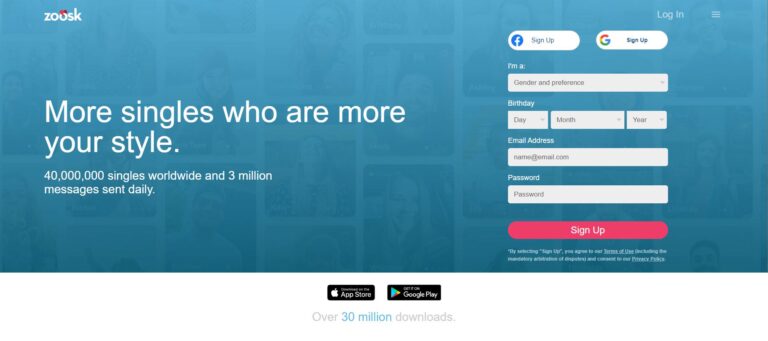 Zoosk is a dating platform designed for young, mobile-first singles who want a slick interface and a unique online dating experience. In a few years, they have amassed a huge platform of over 40m users worldwide and they use all the data they collect as users interact to craft a matchmaking experience based on behavourial indicators – that all combines together to find you anything from a casual relationship all the way up to something serious.
The mobile app is really well designed, and it is the hub through which everything happens. It's safe to say that they have really focused their attention on creating a wonderful mobile experience from start to finish. The whole platform is fast-paced, vibrant and exciting. Some would even say – addictive. In a good way. They have managed to create a dating experience that feels fresh and unique and can compete for attention with the best of the best. There's a reason why people keep coming back time and time again.
You never know what you might find with Zoosk. Just be careful that it doesn't take over your life it's that much fun.
Great for finding short-term or long-term relationships
40 million users worldwide
Activity on the site is high
Unique features and a great mobile app
A bit superficial
Mostly targets young people
How much does a membership at

Zoosk

cost?
| | | |
| --- | --- | --- |
| Duration | Price | Total |
| 1 month | 29.99 £ / month | 29.99 £ |
| 3 months | 20.00 £ / month | 60.00 £ |
| 6 months | 15.00 £ / month | 90.00 £ |
Grindr


The Undoubted Market Leader for Gay Dating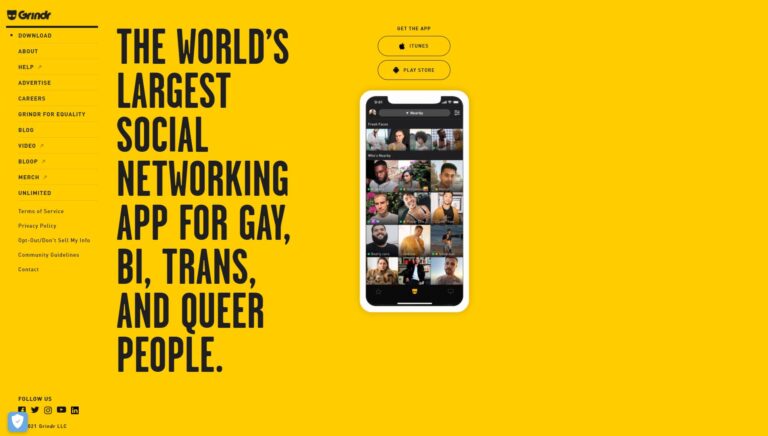 Grindr is a name that has become synonymous with gay dating. It has amassed a gigantic worldwide community of gay, bi, trans, and queer people who come to the app to meet new people and engage a range of different dating experiences. They have managed to have such success through a very nuanced understanding of what an app like this needs to do well in order to offer value.
The interface is modern and intuitive, and they've built everything to remove as much friction from the process as possible. In their 12-year history they've leveraged the very best of location-based technology to connect millions of daily users in a really innovative way. There is no fluff here, but rather a safe space for likeminded people to connect and meet up. They really do represent the modern LGBTQ lifestyle and are on the forefront of the industry, leaving lots of copycats in their wake.
If you're looking for a gay dating app, this is the first one to go with. It's a leader for a reason and you can't go wrong with it, regardless of where you happen to be in the world.
Market leader
Huge userbase
Frictionless app design
Focused on photos primarily
You must share location data
How much does a membership at

Grindr

cost?
| | | |
| --- | --- | --- |
| Duration | Price | Total |
| 1 month | 8.49 £ / month | 8.49 £ |
| 3 months | 7.33 £ / month | 21.99 £ |
| 6 months | 5.00 £ / month | 30.00 £ |
Scruff


Innovative Gay Dating Site that Learns Over Time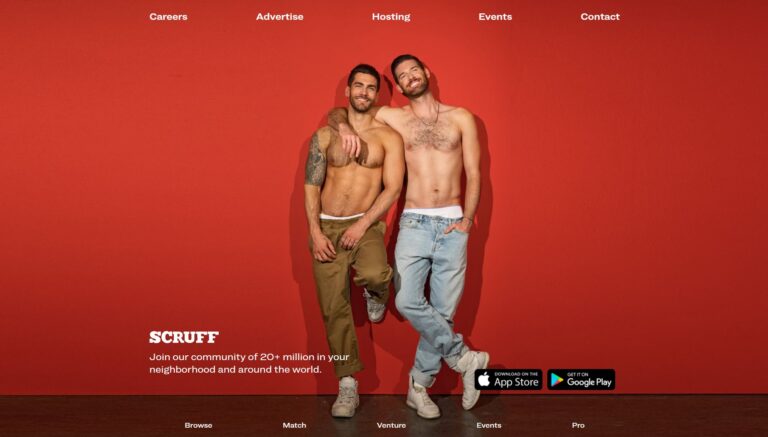 Scruff is a great example of modern online dating because of its ability to combine a great mobile app experience with powerful analysis behind the scenes. When you start on the app, you'll be shown a range of potential matches to get you started. As you swipe through them, the app will monitor your choices and begin to tailor the experience specifically for you. Over time, it gets better and better at identifying the men that you are likely to want.
All this complexity when it comes to the algorithm is hidden behind the scenes though and you get a really clean and sleek interface that you interact with. They've also got some really unique features which set it apart – including a travel option where you can add your travel agenda/itinerary and chat with locals or other travelers before you arrive. This means that you can curate really memorable travel experiences simply and easily through the app. It's magical.
As far as gay dating apps go, this one is one to watch because it's making big inroads into the markets of some of the other big players. Its innovative, fresh, and is growing their community of singles every single day. What have you got to lose? Get out there right now and take advantage of the opportunity.
Sleek app design
Advanced matchmaking algorithm
Forward thinking company
Need to upgrade to pro membership for advanced features
Ads when you're on the free membership
How much does a membership at

Scruff

cost?
| | | |
| --- | --- | --- |
| Duration | Price | Total |
| 1 month | 10.61 £ / month | 10.61 £ |
| 3 months | 9.44 £ / month | 28.32 £ |
| 6 months | 7.08 £ / month | 42.48 £ |
Hornet


Holistic Gay Dating Experience



Hornet is a full-featured dating app that not only provides the typical features that a dating app might provide, but also has a strong social network component built into it. They have worked to build a community platform that can house a wide range of different relationships. You can connect with individual singles, but you can also follow the feeds of other people – creating a holistic experience that you just won't find with other apps.
From your perspective, you can create a feed of your own that contains short posts, videos, and photos – all designed to show a really dynamic profile of who you are. This makes the dating experience much deeper, and can you lead to some really special serendipitous connections if you're willing to put yourself out there. They also have a cool gamification element where interactions on your post can be redeemed for points which turn into various perks.
You can't really compare Hornet directly with its competitors because of the wide range of features. It really does sit in a league of its own and that's what makes it worth some experimentation. Some people might find it to have too much going on in one app, but for those who enjoy those blurred lines – this is the place to be.
In built social network
Dynamic profiles with images and videos
Over 30 million users.
Can be a bit cluttered for some people
Yet another social feed to manage
How much does a membership at

Hornet

cost?
| | | |
| --- | --- | --- |
| Duration | Price | Total |
| 1 month | 7.07 £ / month | 7.07 £ |
| 3 months | 6.13 £ / month | 18.39 £ |
| 6 months | 3.31 £ / month | 19.86 £ |
Tinder


Classic dating app with massive scale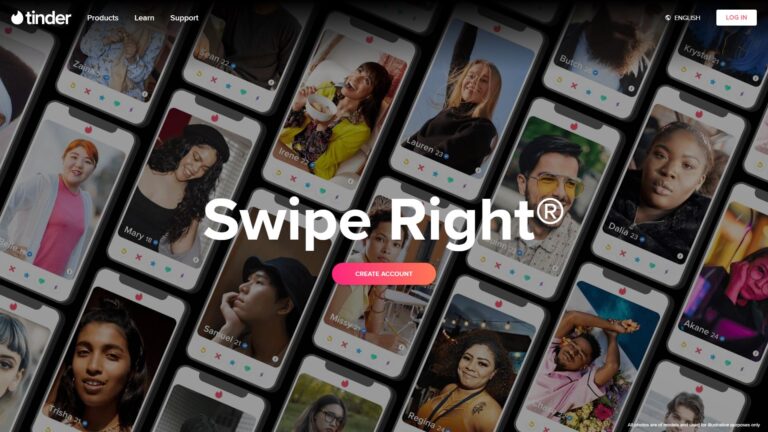 Tinder is another one of those brands that have just become synonymous with the online dating space around the world. They were the first to lean into the swipe left or right gestures, and we now see that filtering through to every other dating app on the market. Their focus has always been on facilitating connections with as little friction as possible. Within just a few minutes, you can run through hundreds of potential matches, narrowing down the ones you like, and you can then spend your efforts interacting with them.
The app itself is slick and works really well, and the massive global community means that you'll never run out of new people to meet. You can choose to filter your selection within an age bracket and according to location – which is really helpful to find signal in the noise. Once you've both swiped right, it's all up to you!
Tinder is one of those stable players in the space that is well worth being on regardless of what you're looking for. It might lack some of the advanced features that we see in other apps, but it provides the scale and reach that just can't be beat. You can't go wrong on here.
Very simple to use
Large userbase
Useful filtering capabilities
No personality matching
Somewhat superficial
How much does a membership at

Tinder

cost?
| | | |
| --- | --- | --- |
| Duration | Price | Total |
| 1 month | 4.99 £ / month | 4.99 £ |
| 6 months | 2.50 £ / month | 15.00 £ |
| 12 months | 1.92 £ / month | 23.04 £ |
HER


Community-Based Dating App for Lesbian, Bisexual, and Queer People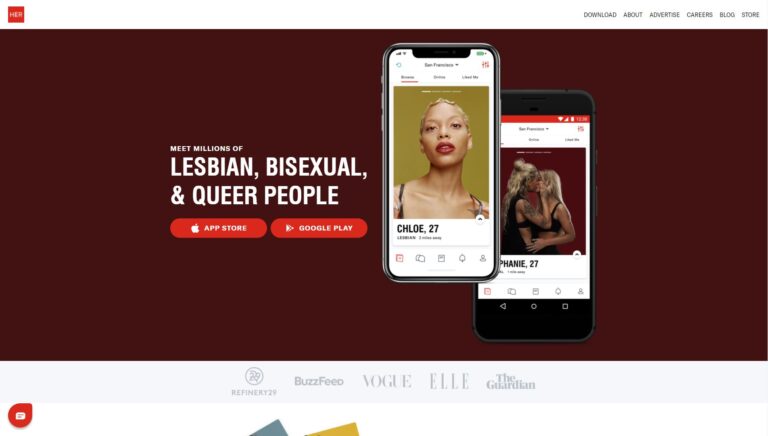 HER has a community of over 4 million queer womxn who all share a desire for free expression and developing meaningful relationships. The site was built by queer womxn, for queer womxn and you can see that shine through in everything they do. Through combining traditional online dating with vibrant offline events and experiences – you get a truly modern take on what dating can look like in today's world.
They've gone above and beyond to ensure your safety when you're part of the community by appointing HER moderators who are consistently working to clean the database and facilitate a space for you to be honest and authentic without having to worry. This work is not easy to do, but they've been able to nurture a truly wonderful community of people which makes this site worth its weight in gold.
If you are queer and looking to connect with womxn who not only share your worldview, but also your love for vibrant, fun dating experiences – then you simply cannot go wrong here. Their mobile app is great, and you'd be amazed at what you can find when you put yourself out there.
Large, vibrant userbase
In-Person events and activities
Intricately connected with the queer community around the world
How much does a membership at

HER

cost?
| | | |
| --- | --- | --- |
| Duration | Price | Total |
| 1 month | 13.99 £ / month | 13.99 £ |
| 6 months | 11.67 £ / month | 69.99 £ |
| 12 months | 7.33 £ / month | 87.99 £ |
Zoe


Highly Rated Dating App for Queer Women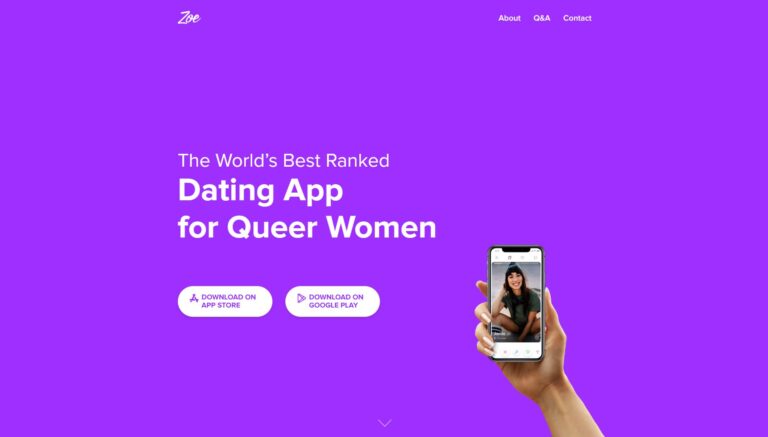 Zoe is a simple, yet highly effective dating app for queer woman of all kinds. It has built itself a strong reputation as one of the best places to meet lesbian women because it takes safety very seriously. Every profile on the site is verified so that you can be sure that you're talking to who you think you're talking to.
The interface is classic, giving you only the features you need and not clogging up the experience with unnecessary fluff. They have done a great job in creating a highly curated dating experience that gets the job done. With just under 4 million users and millions of messages going each month, they are slowly becoming one of the most influential players in the market.
All of this can be accessed for free which is a really nice touch – with the sustainability of the app being taken care of by ads. You can get the premium membership if you want some of the more advanced features, but regardless of which tier you're on, you're bound to have a great experience with Zoe.
Simple and intuitive
Most features you can access for free
Verified profiles make for much improved safety
Still has a relatively small userbase
How much does a membership at

Zoe

cost?
| | | |
| --- | --- | --- |
| Duration | Price | Total |
| 1 month | 11.32 £ / month | 11.32 £ |
| 3 months | 9.43 £ / month | 28.30 £ |
| 12 months | 7.07 £ / month | 84.92 £ |
FAQs – Gay Dating Sites
What is the best gay dating site?
Each site naturally has its quirks and unique features – so it's all going to depend on what your expectations are and what you're looking for. There is no 'best' that is applicable to everyone.  Therefore, it's important to do the necessary internal work to identify what matters to you so you can select the site that is best for you.  
In our review above, we've done everything we can to detail all your options and lay out the information you need to choose the best possible site for your needs – so all the work has been done for you.  Every site we've reviewed here is a good choice and as long as you are authentic and real, you can have success.  
Our standard advice that we often give is: don't get stuck trying to find the perfect site, just get out there and discover as you go along.
How do gay dating sites work?
Each site will have a slightly different structure, but the main principles are common throughout. You'll need to complete a profile which varies in length and style – but attempts, in essence, to detail who you are and what you're looking for.  
You will then gain access to see the other singles on the platform that might be relevant for you.  If both parties like each other, then you match up and you can then talk to that person.  If there's chemistry there and you want to meet up in person, then you can do that.  If not, you keep looking!  
It's the way of the modern world and with enough perseverance, you might just find that special someone.
What gay dating site should I choose?
It depends on what you're looking for. Each platform has their own unique take on gay dating and so they attract different types of people.  
Take your time to identify what matters to you and then you can use the comparisons above to select the site that matches your intentions.  Each one is going to have a slightly different feel – so don't worry if you don't get it right away.  
Many of them have great free trials that you can use to get a sense of what they're like before you commit to any of them.  And also, there's nothing to stop you joining a bunch of them.  The more the merrier, as far as we're concerned.
How to get a response on gay dating sites?
The most important factor here is that you put some careful thought and effort into your messages and interactions. Most people on these sites are chatting with a number of people at the same time and so you really need to stand out in order to get responses.  
If you're going to go with something generic, you're not going to win.  Try and show your personality wherever possible.  It's also important that you look at the person's profile that you're messaging and craft your messages for them specifically.  Can you identify something that they care about from their profile and ask them something about that?  
People are much more likely to respond if the message is personalized and relevant to them in isolation.  It shows that you are not just recycling a line, but that you actually want to connect.
How to start a conversation on a gay dating site?
This really depends on your personality, you want to lean into the kind of person that you are. But when in doubt, the best way is to comment on a mutual interest that both of you share.  Dig through their profile and see if there is something that can be used as a good icebreaker.  
If you can't find one of those, ask the other person a question about themselves and show genuine interest in their answer.  People love to talk about themselves, so this is something that always works.  Take the time to craft a great question and let things flow from there.
How do I succeed with gay dating online?
You need to be authentic and true to yourself – that's number one. But you also should be having fun and not taking yourself too seriously.  
It's a numbers game on these sites and you can't get too attached to individual people early on.  Be open to starting a number of conversations knowing that only a small proportion have a chance of working out.  Once you've made a real connection, keep the conversation flowing by showing interest in the other person and sharing those things that you are passionate about.  
Keep respectful at all times and if you think there is chemistry there, then make a plan to meet up with that person in real life.  It's not rocket science, it just takes a bit of effort.
Are gay dating sites safe to use?
For the most part, yes. The sites themselves take safety very seriously and so you can rest assured that they're doing everything they can to protect your identity, personal information, and anything else you share. This is especially the case when it comes to gay dating which has been stigmatized in the past and so this is a key focus. 
With all that being said, you still need to keep in mind that when you're interacting with strangers over the internet, there will always be some that are looking to take advantage of you.  It's well-known that there are people who go on these sites to extract money from people, or steal identities or a range of other cyber-crime.  The only way to guard against this is to keep a certain level of scepticism and look after yourself.  Don't let your emotion get in the way of your judgment.  Trust your gut intuitions and don't interact with anyone who you don't think has the right intentions.