Christian Dating

❤️

The best Christian dating sites in the UK
If you're a god-fearing Christian who wants to understand what the online dating scene looks like for those who share the faith, then you're in the right place!  Below, we've broken down all the various online dating sites that are available to you, so you can make the right decisions about which ones are best for your purposes.  We hope that you get a lot of value from it!
This article contains affiliate-links.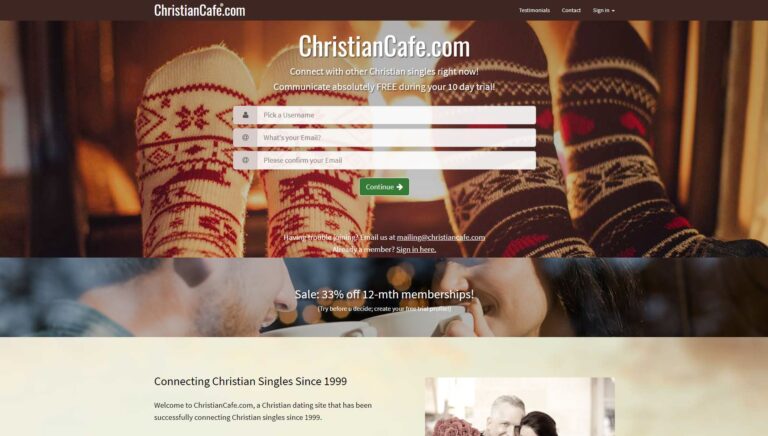 If you are looking to find a partner who shares your faith, then Christiancafe.com is a great place to start. The platform is designed for Christians, by Christians, and the values and ethos shine through in every component of the whole experience.
They've been around for 20 years now and have built a large footprint that attracts great Christian singles who are looking for a life partner. Thanks to the narrow focus, you can be sure that your intentions are aligned with the people that you're talking to, there are no games being played here. The experience is carefully curated to be safe, welcoming, and wholesome – making it one of the best ways for a Christian to find love in the midst of a very saturated online dating market.
The price can seem a bit steep but it's probably worth it for those who are serious about finding someone to marry. If you don't want to commit to another large credit card charge just yet, you can go for their free trial which allows you to use the site for a little bit and assess whether you like it or not. Personally, we think that it's worth the investment because the quality of people on the site is hard to find anywhere else. And you only need one to work out.
Singles share same Christian values and beliefs
Generous free trial to test-drive the platform
Self-selects for people looking for serious relationships
Expensive monthly subscription
How much does a membership at

ChristianCafe

cost?
| | | |
| --- | --- | --- |
| Duration | Price | Total |
| 1 month | 32.83 £ / month | 32.83 £ |
| 3 months | 17.02 £ / month | 51.07 £ |
| 6 months | 13.38 £ / month | 80.27 £ |
ChristianCupid
Simple and Effective Christian Dating Experience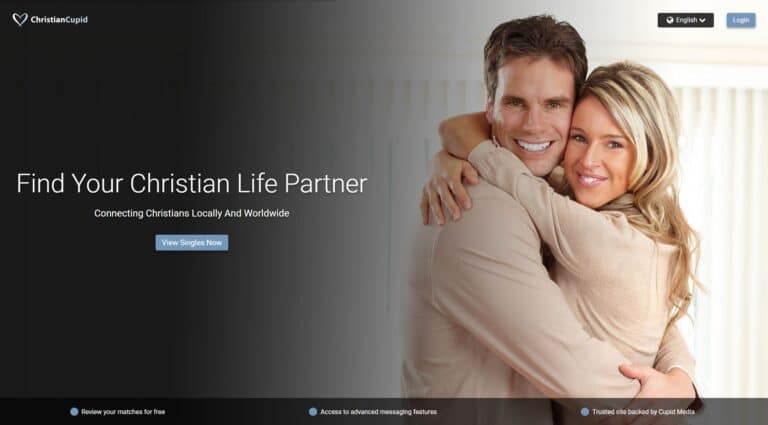 ChristianCupid focuses on one thing and it does it very well. And that is connecting like-minded Christian singles who are looking to meet their life partner. Their platform doesn't have all the bells and whistles that others might have, but instead it thrives in its simplicity.
When you strip out all the noise, you can wade into their database of over 200,000 members and search for authentic connection with people who share your religious views. It's a very warm and comforting environment that they've been able to create, and you'll be pleasantly surprised by how easy conversation flows on the platform. There is less pressure on this app to turn things immediately into a relationship so you can take your time and move slowly, getting to know people first before taking any further steps. This means that it rewards patience, care, and deep connection.
The price is really reasonable when you're going for the longer-term payment options, so that's a boon, and with you taking it slow – this is ideal. All in all, it's a really great site that doesn't overwhelm with unnecessary features. It doesn't try to be anything that it's not. It's Christian online dating, in its simplest form. And it works.
Simple interface
Value for money on the longer-term subscriptions
Over 200,000 members to choose from
No personality matchmaking algorithms
No detailed profiles
How much does a membership at

ChristianCupid

cost?
| | | |
| --- | --- | --- |
| Duration | Price | Total |
| 1 month | 24.99 £ / month | 24.99 £ |
| 3 months | 16.66 £ / month | 49.99 £ |
| 6 months | 8.33 £ / month | 99.99 £ |
Christian Connection
Holistic Christian Dating Platform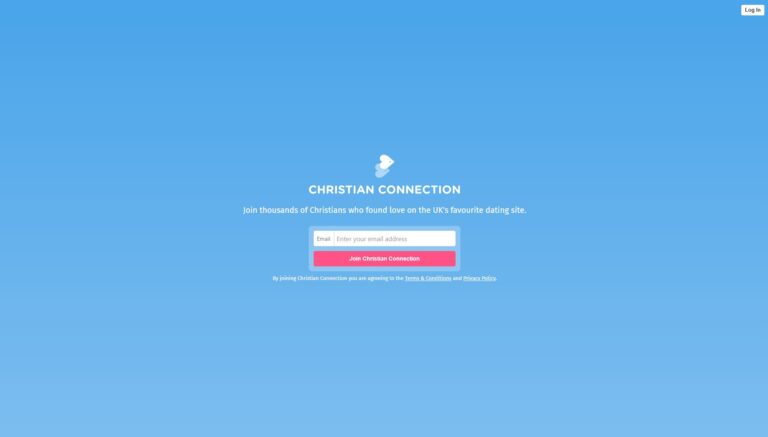 Christian Connection really stands out by providing a holistic Christian dating experience that doesn't just live on the site but expands beyond it into the real world. They've really taken it upon themselves to build a community, rather than a dating site – and it shows in the success that they've had.
Their unique take on what Christian dating should be has won them numerous awards and the acclaim of the industry because they really care about what they are doing. Let's run through a few examples. In their online platform, they include icebreakers as low-friction, accessible ways to meet new people, rather than leaving all the pressure on that first message. They have a team who consistently trims the community, ensuring that everyone on the site is active and genuine in their intentions, which makes for a much more pleasant environment overall. They run a number of dating meetups and events to take things into the real world. All of this is built on top of a well-designed interface that makes for great dating all round.
As far as Christian dating sites go, this is one of the most exciting and comprehensive options out there. Their fresh take to dating is wonderful to see and we expect that they'll continue to grow as they scale up their operations. If you're looking for authentic Christian connections, then this is the place to be. After all, it's in the name.
Online and offline dating experiences
Carefully curated community
Easy icebreakers
Relatively small user base
How much does a membership at


Christian Connection

cost?
| | | |
| --- | --- | --- |
| Duration | Price | Total |
| 1 month | 24.00 £ / month | 24.00 £ |
| 3 months | 16.00 £ / month | 48.00 £ |
| 6 months | 10.67 £ / month | 64.00 £ |
Christian Mingle
Vibrant Christian Dating Site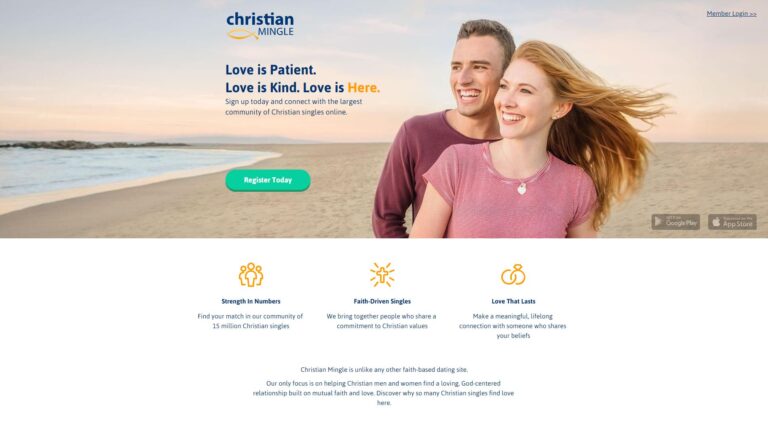 Christian Mingle is a very wholesome dating site that focuses on matching singles up to form God-centered long-term relationships.  By matching up with someone who shares your beliefs, you can build the type of life together that is going to bring you both meaning and fulfillment.  That's what the site aims to do.
They've managed to build a large and vibrant community of Christian singles who are aligned in what they are looking for, so it's a great space to connect with people who see the world as you do.  Their sole focus is on facilitating this deep connection and so they don't overwhelm the experience with tons of different features.  It's a simple, yet effective platform that connects you with people and then leaves it to you to carry on the conversation.  This lightweight nature is what's given the site the staying power it's had, and that's why it continues to grow in strength on a consistent basis.
Their pricing is a little bit on the high side when compared to others, but what you're paying for is access to the wide user base that they've built over the years.  It's one of those investments that might seem big in the moment, but when you meet the right person – it feels like a bargain.  We think it's well worth it because of the scale alone, not even mentioning all the work they've done behind the scenes to nurture a wonderful community of Christian singles.
Singles share desire for a God-centered relationship
Simple and intuitive interface
Large user base
Relatively expensive monthly subscription
No advanced features beyond the matchmaking itself
How much does a membership at


Christian Mingle

cost?
| | | |
| --- | --- | --- |
| Duration | Price | Total |
| 1 month | 36.54 £ / month | 36.54 £ |
| 3 months | 25.58 £ / month | 76.74 £ |
| 6 months | 18.27 £ / month | 109.62 £ |
Christian Dating For Free
Largest Free Christian Dating Site in the World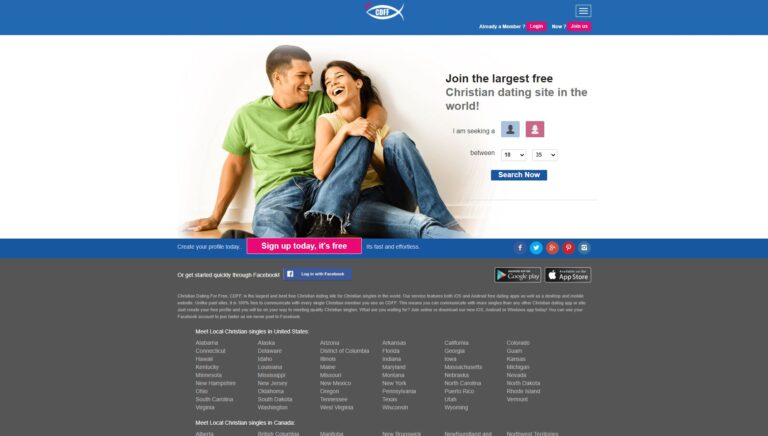 While most dating sites will charge you for using their platform, Christian Dating for Free (CDFF) stays true to its name and provides a Christian dating experience where you don't have to pull out your wallet. The site merely serves as a place for Christian singles to come together and meet one another in an online environment.
As might be expected, you're not getting advanced features here, the interface is simple and without fuss – but you can be connected to like-minded singles in no time. Once you've been matched with other Christian singles, it's on you to carry that conversation forward and look for real, authentic connection. You might have to wade through more profiles to find genuine people here, because the free nature does attract some less-than-ideal people, but if you put the work in and take things slow, there are plenty of incredible people for you to meet.
The way they pay for the site is by selling advertising, so you have to accept that that is going to be part of the experience. But, for a free service, that seems fair, and it is still a great option for Christian singles who don't want to pay a subscription fee for their online dating.
Free!
Geographically diversified
Simple to use
You will be shown advertisements during the process
There are some non-genuine profiles
How much does a membership at


Christian Dating For Free 

cost?
| | | |
| --- | --- | --- |
| Duration | Price | Total |
| 1 month | 14.58 £ / month | 14.58 £ |
| 3 months | 9.43 £ / month | 28.29 £ |
| 6 months | 6.21 £ / month | 37.26 £ |
Match.com


The world's largest dating site with a strong Christian community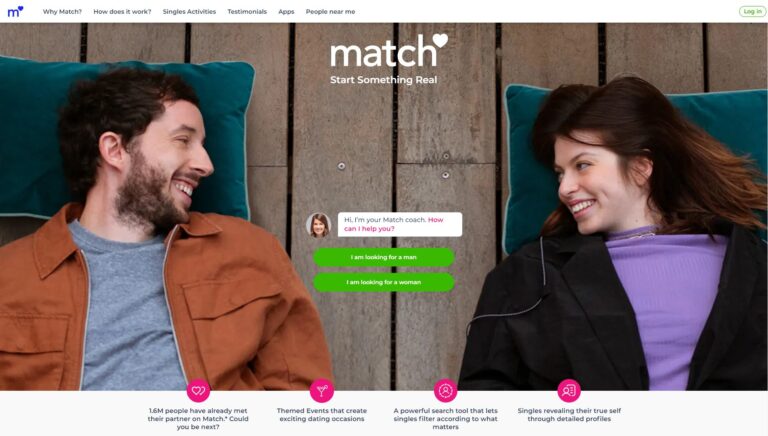 While Match.com is not specifically targeted towards Christian singles, it is still one of the biggest dating sites around and so deserves a mention here. They have over 1.5m people on the platform and they've been around for years – which means that there is a strong Christian community that has naturally been built on the site.
Their site focuses on longer, more-detailed profiles where you go into depth about who you are and what you are looking for. This is ideal for Christian singles because you can pore through someone's profile and make sure that they are aligned with your faith and your values before you engage with them. This makes for much richer dating experiences because Match.com is slightly less superficial than some of its peers. You can make use of their advanced filtering and search capabilities to find Christian singles who you can get along with. It's the most in-depth platform out there, from what we've seen.
If you're willing to be authentic and share honestly about who you are, Match.com can be a great place to find other Christians who want the same sort of relationship that you do. It might take some effort to wade through the masses, but there is a sub-community in there that's well worth looking for.
Perfect for finding love
More than 20 years experience with online dating
Offers great smartphone app
Lots of members
Not specifically targeted to Christian singles
The profiles are quite in-depth and can take some time to fill out properly.
How much does a membership at

Match

 cost?
| | | |
| --- | --- | --- |
| Duration | Price | Total |
| 1 month | 29.99 £ / month | 29.99 £ |
| 3 months | 19.99 £ / month | 59.97 £ |
| 6 months | 9.99 £ / month | 54.94 £ |
eharmony


Focused on serious long-term relationships, in line with the Christian ethos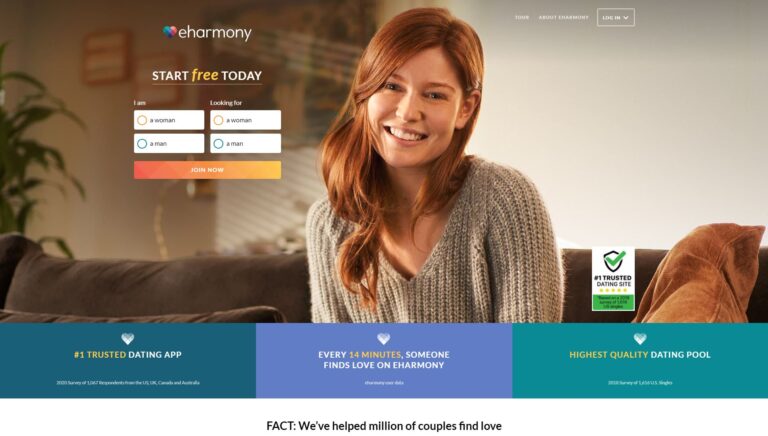 eharmony has been around for 20 years and while they don't cater specifically to Christian singles, they are still one of the best online dating sites on the market – with an underrated Christian complement. Their profile set up uses various personality and compatibility tests which aim to quantify those quirks and preferences that make you who you are. So, these same tests can also help to match you up with like-minded Christians who share your values.
The site is a meeting place for people who are looking for real, authentic partnerships and that's why it has attracted such a strong community of Christian singles. If you are willing to do the work, you can find some amazing people who share your faith and views on what a relationship should be. The long registration process helps to self-select for those who are serious and are looking for something real.
The price is in a mid-range, but we think it's well worth it because of the scale they have and the strength of the platform as a whole. In our opinion, it's well worth a try, as long as you are clear and upfront about what you're looking for. Honesty wins here.
Only for singles who are serious about dating
Great matchmaking
Simple and easy to use
Lots of members in the UK and across the world
Not specifically targeted towards Christians
Registration takes a while
How much does a membership at

eharmony

cost?
| | | |
| --- | --- | --- |
| Duration | Price | Total |
| 6 months | 29.90 £ / month | 179.40 £ |
| 12 months | 23.90 £ / month | 286.80 £ |
| 24 months | 17.90 £ / month | 429.60 £ |
EliteSingles


Serious dating site for educated singles with Christian values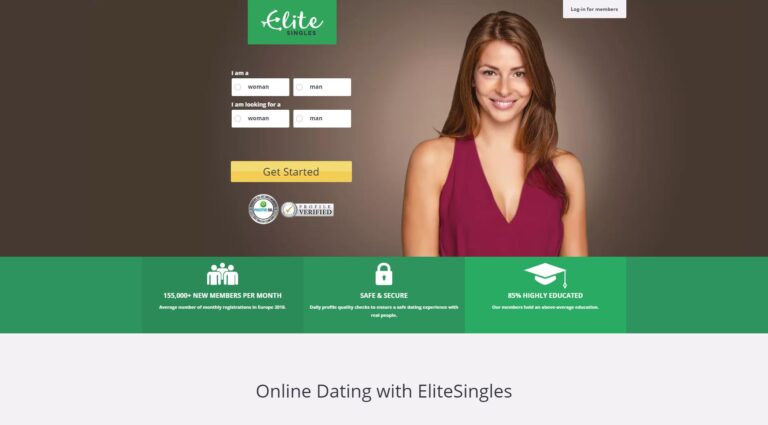 Elite Singles is exactly as the name suggests – focused on those who have been through higher education. It's not a Christian-specific site, but we've found that there is a strong Christian contingent that earns it a spot on this list. To be a part of the community you have to be well-educated which means that every conversation is immediately elevated from some of the more superficial things you might encounter on other sites. Their process focuses on quality over quantity, only showing you 3-7 potential matches per day, curated from their growing user base. This helps to keep things manageable and give you time to invest in a few different conversations rather than trying to keep up in open season. This is ideal for Christians as you can take your time to ensure that the person that you're connecting with has the same intentions, values, and ethos that you do. It's through this interaction, that you can pick someone who is of the faith and invest your efforts with them.
It's likely that the people you'll meet here will be curious, ambitious, driven, and serious about looking for a long-term partner. If you dig through the user base, you'll find Christians everywhere and all it takes is some upfront boundaries in place and you can leverage the large user base to your advantage. It's not for everyone, but for some – it is a game changer.
Most members are university educated
Members are serious about dating
Profiles are manually verified
Personality-based matchmaking
Not suitable for those who didn't go through trad
Not specifically targeted towards Christians
How much does a membership at

EliteSingles

cost?
| | | |
| --- | --- | --- |
| Duration | Price | Total |
| 3 months | 39.95 £ / month | 119.85 £ |
| 6 months | 21.95 £ / month | 131.70 £ |
| 12 months | 19.90 £ / month | 238.80 £ |
Parship


Personality assessment-based – matching you with people who share your faith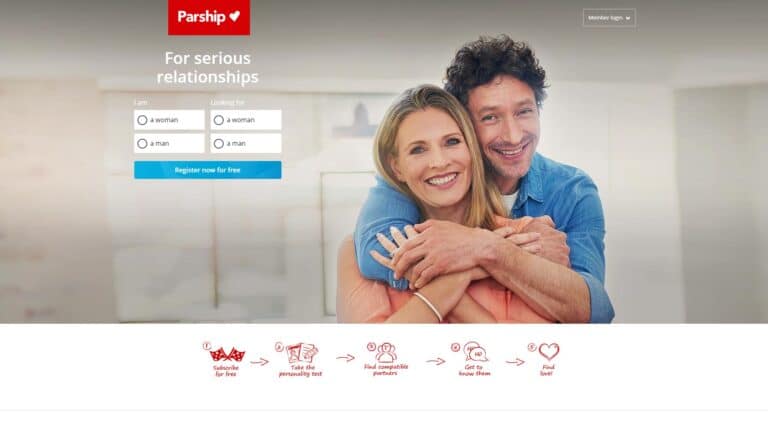 The 'Parship' Principle this proprietary matchmaking algorithm that sets this particular site apart. By analyzing 32 different traits using 136 different rules, they can form a data-driven profile that boasts a really incredible success rate. This means that even though it's not a Christian-only site, it is likely to deliver good matches for Christians because of the algorithm. As long as you are clear and open in your profile, you can find some like-minded Christian singles to connect with.
The site is a great place to find serious, long-term partners who share your values. They've done an incredible job in building a safe and welcoming environment for all, which in turn, has attracted a wide breadth of Christian singles to the site. The most exciting part of a platform like this is that it might just introduce you to someone who you typically wouldn't consider as 'your type' and show you that your preconceived notions are getting in the way. It's your own personal matchmaker in your pocket, working for you to find that special someone – whether they are Christian or not.
It's a relatively new site, but the early signs of growth are very encouraging. We wouldn't bet against it becoming a very big deal in the coming years. If you believe in the power of data, then Parship is the place to be. Its Christian community continues to expand and who knows, maybe you'll be inviting the algorithm to your wedding ceremony in the not-too-distant future.
Great for finding a serious and long-term relationship
Matching based on a unique system called 'Parship Principle'
Available in 13 countries worldwide
Few members when compared with Match.com and eharmony
Not specifically for Christian singles.
How much does a membership at

Parship

cost?
| | | |
| --- | --- | --- |
| Duration | Price | Total |
| 3 months | 29.90 £ / month | 89.70 £ |
| 6 months | 19.90 £ / month | 119.40 £ |
| 12 months | 14.90 £ / month | 178.80 £ |
What is a Christian dating site?
A Christian dating site is an online platform that aims to match Christian men and women who share a desire for a serious, long-term relationship – ideally dating for marriage. These sites self-select for people with the Christian values and ethos – meaning that you don't have to interact with anyone who doesn't share that worldview. 
Once you've registered a profile, you are matched with people who you might get along with and you get the chance to message them to see if there is any chemistry. You can take all the time you need and get to know the person on a deeper level before committing to seeing them in real life. When it comes to dating in the modern world, Christians are using these sites extensively to find their soulmate.
What are the advantages of Christian dating sites?
A dating site that focuses specifically on Christians helps to qualify the people that you are matched with so that they have the same values and intentions that you do. This saves a lot of time because instead of having to decipher what someone is looking for, everyone on that site shares a faith and a worldview that leads to higher quality matches. 
There is also an understanding that people are going to take things more slowly and carefully than on other dating sites, because everyone is dating for marriage. You won't find people looking for casual relationships and so you don't have to worry about playing games. 
All in all, if you are a devout Christian, these sites are the best way to find people like you – and eventually, that soulmate that you've been looking for.
What Christian dating site should I choose?
This is difficult to answer because each site has its own quirks and what might be right for one person, might not be the right choice for someone else. 
Luckily, most Christian dating sites attract a similar audience so you wouldn't go wrong with any of the options we've reviewed above. But it's up to you to try a few and see which ones resonate with you the most. Almost all of them have generous free trial periods where you can get a sense of what it's like, so our recommendation is to use that liberally to find the best site for your unique personality.
What are the best Christian dating sites in the UK?
Every site has its own pros and cons, so it's difficult to select what is the 'best'. Your experience is going to vary widely based on your circumstances and expectations. The reviews above represent our opinions on the various Christian options and hopefully that should give you enough information to make an informed choice that is right for you. 
However, it's worth noting that regardless of which site you choose, you are only going to get out what you put in. Your attitude matters, first and foremost. Every site we've reviewed here has a strong network of Christian singles for you to meet and as long as you are authentic and real, while staying true to the values you care about, you can make it work. 
Don't fall into analysis paralysis. Pick a site and get started as soon as possible. You can always move around later.
How does Christian dating work?
Every site is slightly different in how they do things, but in general – the principles remain the same. When you sign up for a Christian dating site, you'll be asked to fill in a profile of some sort where you describe who you are, what you care about, and who you're looking for. The portal will then go out to the rest of its users and search for others who it believes you would be a good match for. Once both parties have accepted the match, you are able to talk to one another and see if there is a real authentic connection there. 
You can take your time and get to the person first, and then once you've decided that you'd like to take things into the real world, you can – at your own pace. Christian dating feels like it has much higher stakes than other forms of dating because you are looking for marriage, but online dating helps you to sift through the various options and only invest time and energy into those conversations that you think can turn into something real.
What do Christian dating sites cost?
Every site has a different price structure that varies according to the length of the subscription and the feature set you get access to. For most of them, you are looking at between £8 and £30 per month, with some services offering free versions with more limited functionality. 
We've done the research for you and the reviews above include the relevant pricing information for each site – so that you have all the information you might need to make the right decision for you. If you're not sure about the value, make use of the free trials to test things out before you commit to a monthly subscription.
Are Christian dating sites legitimate?
Yes, they are. For the most part, these sites have been created by Christians, for Christians – because there was a gap in the market that they identified. They've built really impressive platforms for Christian singles to find each other and look for long-term relationship material. 
While there are always going to be some people who are not genuine on these sites, the site owners are doing their best to maintain a safe and reliable community. You can also do your part by taking things slowly and trusting your gut when you are interacting with people on these sites. If you do that, you can take advantage of these wonderful services which open up Christian dating in a way like we've never seen before.
What are the best free Christian dating sites?
The best free Christian dating site has to be 'Christian Dating for Free' (CDFF) because they've been able to build a whole platform that matches Christian singles without having to charge a monthly subscription. They do this by selling advertisements instead, so while the user experience might be slightly worse as a result, you get most of the functionality for free. 
It's also worth mentioning that most of the sites have very generous free trials, and some of them will even give you some basic functionality for free – so look out for those. But if you want something that is completely free, then CDFF is your best bet.
What is the best free Christian dating app?
Again, Christian Dating for Free (CDFF) is the best free Christian dating site and their mobile apps are world-class. They provide instant access to all the functionality of the main website from wherever you are. You can interact with matches, look through available options, and do all your online dating through the dedicated iOS or Android app. If you're dead-set on finding a free dating app for Christians, then this is the one for you.