Lesbian dating ❤️

The best lesbian dating sites and apps in the UK
Lesbian online dating has really taken off recently and if you're looking to find like-minded singles who you could have chemistry with, you are absolutely spoiled for choice. In this article, we will dive into all the lesbian dating sites that might be an option for you in the UK, so that you can hopefully get a sense as to where you should consider investing your time.
Without any further ado, let's walk through each one.
This article contains affiliate links.
We'll start with lesbian dating sites that don't rely on a mobile app necessarily but can be accessed through any device with internet functionality. These platforms tend to include much fuller feature sets for a wide range of different use cases. Each one has its own unique quirks, so spend your time identifying which sites are going to work best for you.
It's also worth noting that many of these platforms offer generous free trials so you can see what they're all about before you decide to pull out your credit card.
Now that we've gone through the lesbian dating sites available, let's look at some of the best lesbian dating apps that are on the market.  These are designed specifically with the mobile experience in mind, so that you can jump into your online dating from wherever you are.
PinkCupid.com


Great Dating Service for Lesbian Singles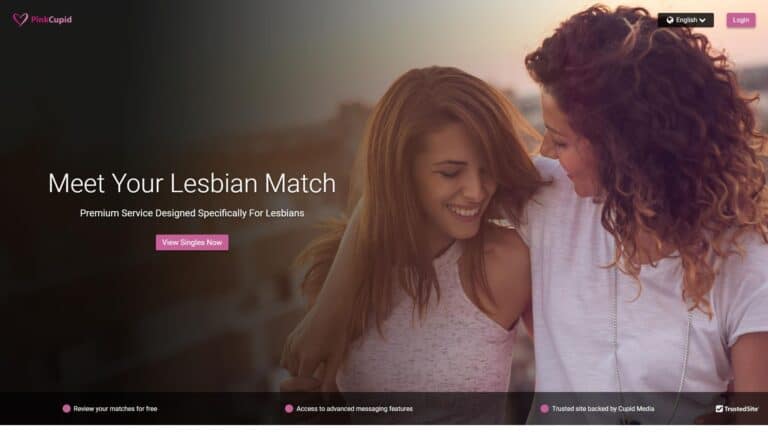 Over the years, PinkCupid has built an impressive community of lesbian singles who are looking for a serious partner. They have 15 years of experience in doing this and have managed to nurture real engagement and warmth on their platform. Combine this with the robust platform, welcoming interface, and simplicity of design, and you have a winner. Thousands of happy women found their person on the site, and so there's no reason why you couldn't be the next happy customer!
Getting set up is quick and easy, and then you can browse the database and look for someone who matches what you're looking for. Once you've found someone you want to connect with, you can message each other in a variety of ways – either on the website itself or through their dedicated mobile app. The whole experience is sleek and modern, allowing you to get right to the point in a very intuitive way.
If you're looking for casual dating this site probably isn't for you, but it's perfectly suited for long-term relationships. Be honest and authentic, and there's no telling what magic you might discover.
 Long track record
Large community of singles
Simple interface
Only basic profile functionality
Lacks some more advanced features
How much does a membership at

PinkCupid

cost?
| | | |
| --- | --- | --- |
| Duration | Price | Total |
| 1 month | 24.99 £ / month | 24.99 £ |
| 3 months | 16.66 £ / month | 49.99 £ |
| 6 months | 8.33 £ / month | 99.99 £ |
Match.com


Traditional online dating for lesbians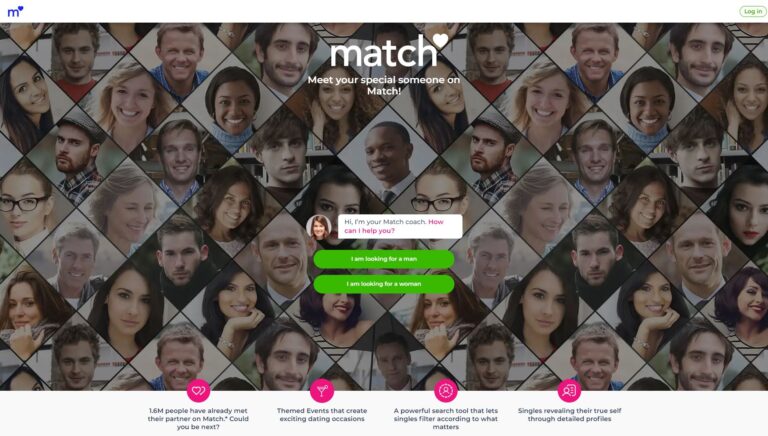 Match.com is one of those household names in online dating but few realize just how strong the lesbian community is on the site. Over years and years, they've continually worked to keep improving their platform and today it remains a sleek and powerful matchmaking tool that has a track record that most companies can't touch. No matter what you're looking for, you're bound to find it on Match because of the cache they hold in the industry.
The only way to experience this is to give it a go. You can set up a free profile and then start exploring all the features and functionality that are on offer. The main differentiator from a design perspective is that the profiles are much more detailed than most other sites. This is intentional and demonstrates that they want to help you create really deep and meaningful connections. Every component of the experience is specifically designed to let you show a holistic picture of who you are – and then connect with other woman who share similar interests and values. This eliminates those who are not willing to put the effort in and allows those who are serious to connect over the things that truly matter to them.
The site rewards effort and honesty, at its core. The more effort you put into your profile and the more authentic you are, the greater your chances of finding that perfect partner. If that sounds good to you, then it's time to jump in the deep end and see what this is all about!
Perfect for finding love
More than 20 years experience with online dating
Offers great smartphone app
Lots of members
The profiles are quite in-depth and can take some time to fill out properly.
How much does a membership at

Match.com

 cost?
| | | |
| --- | --- | --- |
| Duration | Price | Total |
| 1 month | 29.99 £ / month | 29.99 £ |
| 3 months | 19.99 £ / month | 59.97 £ |
| 6 months | 9.99 £ / month | 54.94 £ |
Elite Singles


Dating site focused on intelligence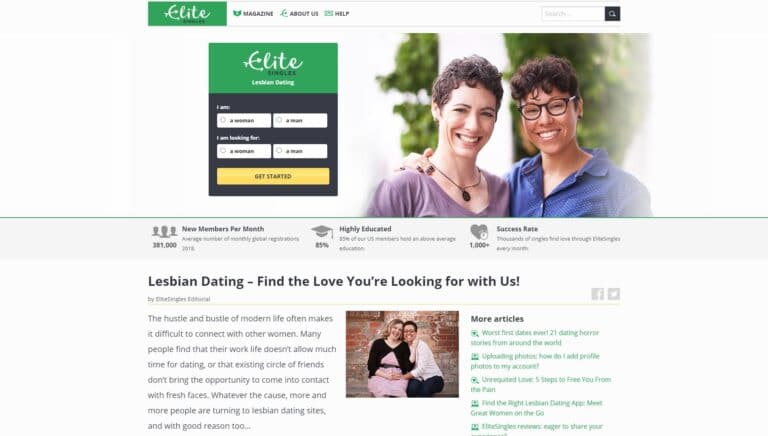 Elite Singles sets itself apart by trying to connect women who share the same level of higher education. This focus shifts everything away from mere looks and towards intelligence and charm, which are much more important over the long term. Using this site, you'll be sure to find a partner who is intellectually minded and for many – that's a key criteria. They also try and fight against choice fatigue by giving you 3-7 potential matches each day so you can focus your energy and actually give each interaction a chance.
The kind of people on the site are those who are intellectually stimulating, ambitious, and driven. Not to mention those who are looking for something that will last. That's what makes this platform so special – it wants to create timeless connections based on something that's not superficial. If that's what is important to you, then this site is well worth checking out.
Its value proposition is clear, and it delivers on that time and time again. There's a great free trial option to test it out, and we have no doubt that if you're the kind of person who values this stuff – you're going to find success on here. It's a great place to date.
Most members are university educated
Members are serious about dating
Profiles are manually verified
Personality-based matchmaking
Not suitable for those who didn't go through traditional education
How much does a membership at

EliteSingles

cost?
| | | |
| --- | --- | --- |
| Duration | Price | Total |
| 3 months | 39.95 £ / month | 119.85 £ |
| 6 months | 21.95 £ / month | 131.70 £ |
| 12 months | 19.90 £ / month | 238.80 £ |
eharmony


Dating site for those looking for long term partners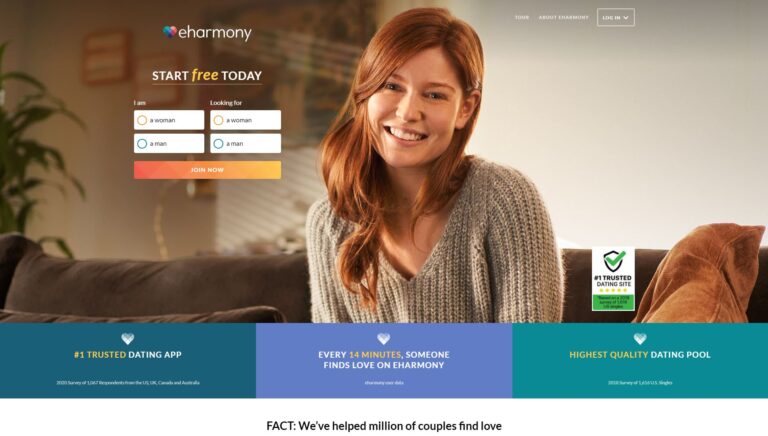 eharmony has been going for 20 years now and it remains one of the very best places to look for a serious partner. They have a vast userbase including a very strong lesbian dating community – which makes them incredibly relevant and worth checking out if you want a real connection. We highly encourage you to try their platform for free and experience what it's like behind the curtain because we think you'll be pleasantly surprised.
The personality and compatibility tests on the site form the foundation of their matchmaking and it's what sets the platform apart from the rest. The algorithm will process your answers and seek to match you with like-minded women who value the same things as you do. This means that you're much more likely to have chemistry from the start and you're only one icebreaker away from a really meaningful connection. If it's an authentic relationship you're after, then this is a great place to be.
The registration process can seem a bit onerous, but if you stick in there and invest the time that is needed, you'll really benefit. This the major screening mechanism and it's what will determine just what kinds of people you are matched with. As mentioned, it skews towards those looking for long-term relationships and partners so if you're in search of something more casual, then you'd be best served elsewhere. But if you are looking for a real partner – then there are few better places that you can go to.
Only for singles who are serious about dating
Great matchmaking
Simple and easy to use
Lots of members in the UK and across the world
Registration takes a while
How much does a membership at

eharmony

cost?
| | | |
| --- | --- | --- |
| Duration | Price | Total |
| 6 months | 29.90 £ / month | 179.40 £ |
| 12 months | 23.90 £ / month | 286.80 £ |
| 24 months | 17.90 £ / month | 429.60 £ |
HER


Open-Minded Site for Queer Dating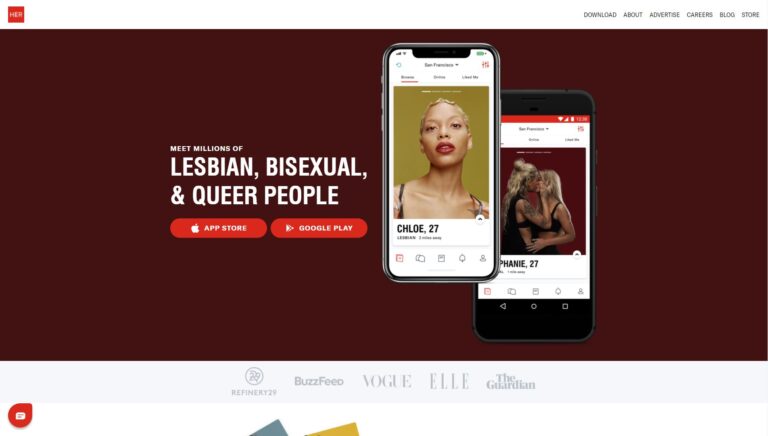 HER has built a strong community of over 4 million queer womxn who are looking for meaningful relationships that celebrate their uniqueness. The platform was built by queer womxn, for queer womxn and you can see that ethos come through in every piece of it. They combine traditional online dating with exciting offline events and experiences – to give you a holistic dating experience that is hard to beat.
The number one priority for the team is your safety – so that you can express yourself freely without having to worry about anything. They've done this by appointing HER moderators who are consistently working to clean the database and facilitate a space for you to be honest and authentic. This is not easy to accomplish, but they've been able to nurture a truly wonderful community of people which makes this site worth its weight in gold.
If you are queer and looking to connect with womxn who share your love for vibrant, fun dating experiences – then this is where you should start. Their mobile app is well-designed and gives you a portal into the vibrant community in a very easy-to-use way. What's not to love?
Large, vibrant userbase
In-Person events and activities
Intricately connected with the queer community around the world
How much does a membership at

HER

cost?
| | | |
| --- | --- | --- |
| Duration | Price | Total |
| 1 month | 13.99 £ / month | 13.99 £ |
| 6 months | 11.67 £ / month | 69.99 £ |
| 12 months | 7.33 £ / month | 87.99 £ |
Zoe


Top Rated Dating App for Queer Women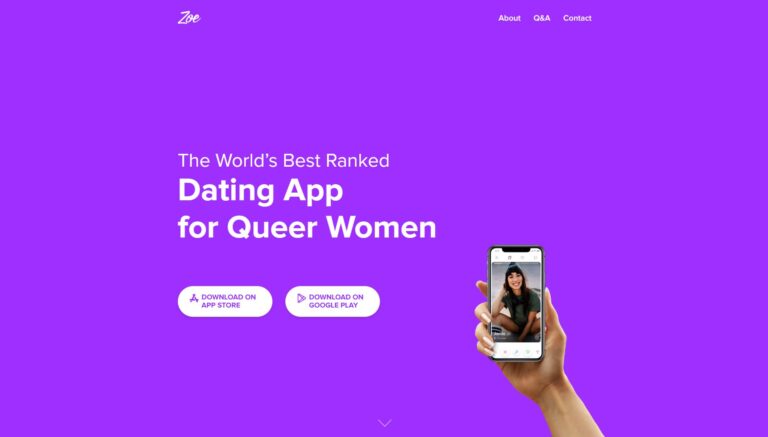 Zoe is a sleek and sophisticated dating app for queer women that gets right to the point. They know what you need and have gone out of their way to build it effectively while also keeping your safety front and centre in their minds. Every profile on the site is verified so that you can be sure that you're talking to who you think you're talking to. This means that you can throw yourself into these interactions without worrying about ulterior motives.
The interface is well-designed, focusing on the key features that you need and not confusing the experience with any unnecessary components. At the end of the day, you enjoy a perfectly balanced app journey that gets the job done. With just under 4 million users and millions of messages being exchanged each and every month, they are slowly becoming one of the big players in the industry.
It's also nice to know that all of this can be accessed for free because instead of charging for functionality, they monetize using ads. You can get the premium membership if you want some of the more advanced features, but it isn't completely necessary to have a great experience dating on Zoe.
Simple and intuitive
Most features you can access for free
Verified profiles make for much improved safety
Still has a relatively small userbase
How much does a membership at

Zoe

cost?
| | | |
| --- | --- | --- |
| Duration | Price | Total |
| 1 month | 11.32 £ / month | 11.32 £ |
| 3 months | 9.43 £ / month | 28.30 £ |
| 12 months | 7.07 £ / month | 84.92 £ |
Bumble


Highly Regarded Dating App with a Strong Lesbian Community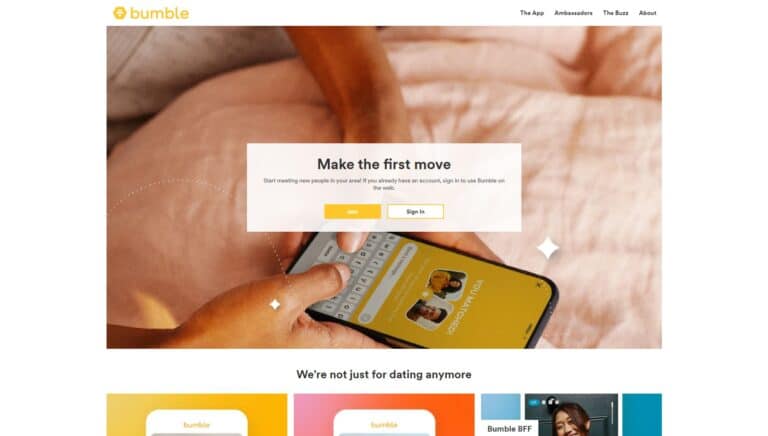 Bumble is one of those modern success stories that has really transformed the world of online dating. They've grown a very large user base with a surprising proportion of users being lesbian women thanks to their messaging and ethos. This really is a place where everyone is welcome and regardless of what you're looking for, you can find woman who share your worldview and interests.
The app itself is quite whimsical and is set up to kickstart conversations that help to draw out your individual personality. Instead of focusing solely on pictures, you are encouraged to answer ice-breaker questions that help to cut through some of the initial hesitation and encourage you to open up a little bit. It's small things like this that have won over the hearts of so many and it's what makes Bumble such a special experience.
The community continues to grow and so if you're looking for a wholesome, modern lesbian dating app – you've come to the right place. Be authentic and show the real you, and you'll no doubt have some success finding other incredible singles who are just dying to meet you!
Fewer false starts in conversations
Whimsical environment makes it more fun
More personality-focused than some others
Icebreakers can be a bit cheesy
Taimi


A Modern Take on LGBTQ+ Dating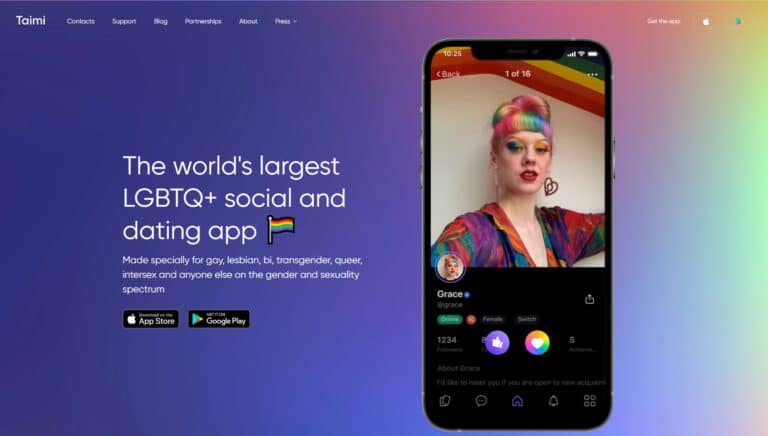 The first thing you'll notice when you download Taimi is the sophisticated design and intentional messaging. They're on a mission to create a safe space for those in the LGBTQ+ community to interact and meet one another without any pretenses. They've worked very hard in curating an online dating app that feels like home and we have to say, they're doing a great job.
What sets the app apart is that it acts as a portal to a wide range of services. It's not only a dating app. It also bundles together a social network, live streaming site and more – all of which circles around the same context and worldview. Surprisingly, the app doesn't feel unnecessarily busy as a result, demonstrating that the design has been really carefully considered throughout.
All in all, it's a great place to meet other queer women who are looking for an exciting dating experience with all the bells and whistles. Their community is growing very fast and it looks like they're going to be a force to be reckoned with in the years to come. Why not get ahead of the game and join this fast-growing masterpiece?
Wide variety of different dating experiences available
Sleek, modern design
Open-minded and welcoming
Can be a bit overwhelming at first
Social networking seems to be overtaking dating focus
Hinge


Popular dating app with a strong lesbian contingent



Hinge is a modern dating app that has become one of the biggest players in the game. While most know them for their heterosexual dating, they actually have a very strong lesbian community as well which continues to grow in leaps and bounds. The company slogan is to create an app that is destined to be deleted – which shows just how confident they are that they can find you a perfect match. The focus is on long term relationships which will get you off the apps for good.
From a design perspective, the experience is very well considered. The aesthetics are better than most and the app has all the functionality that you might expect. As you swipe through lesbian singles, the algorithms track what you like and what you don't – so that they can continually learn about your preferences. This helps to fine-tune your experience so that you only spend time investing in people that you can actually get along with.
Once you've started a conversation, the app encourages you to move things to an in-person date as quickly as possible. They aren't interested in maximizing your time on the app, which is refreshing. The focus on helping you find the right person and then ride off into the sunset with them. It's a pretty special place to be and we think it's definitely worth a try.
Focused on serious relationships
Fast-growing userbase
Great app design
Not for casual daters
Complaints about fake profiles.
Tinder


Popular dating app with massive scale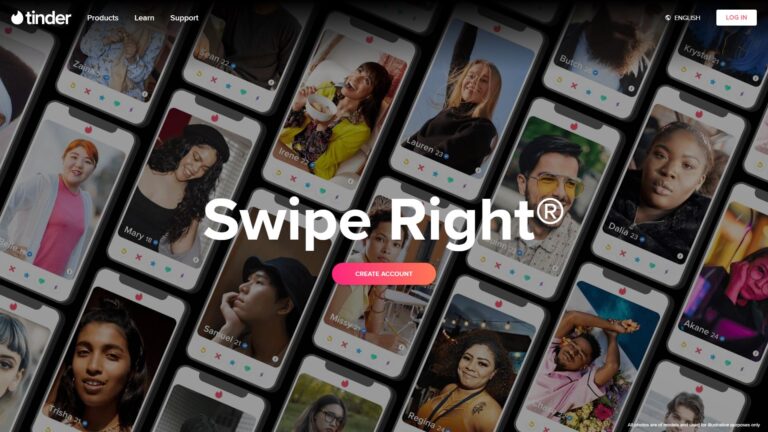 We've no doubt that you've come across Tinder at some point or another. It's one of those brands that have become synonymous with the online dating space thanks to their swiping innovation that so many apps have now replicated. Their focus has always been on facilitating connections with as little friction as possible. Within just a few minutes, you can run through hundreds of potential matches, narrowing down the ones you like, and you can then spend your efforts interacting with them.
What is underappreciated is just how many lesbian singles use the app across the world. It has become somewhat of a safe haven for all types of relationships and as long as you are authentic and clear about what you're looking for, you can find the partner you're looking for. The app itself is slick and works really well, but the real value comes from the sheer scale that they operate at. This is a big pond with a lot of fish. You can choose to filter your selection within an age bracket and according to location – which is really helpful to find signal in the noise.
Tinder is one of those stable players in the space that is well worth being on just because of the size of the user base. It might lack some of the advanced features that we see in other apps, but it reach that can't be beat. Give it a go, you won't regret it.
Very simple to use
Large userbase
Useful filtering capabilities
No personality matching
Somewhat superficial
How much does a membership at

Tinder

cost?
| | | |
| --- | --- | --- |
| Duration | Price | Total |
| 1 month | 4.99 £ / month | 4.99 £ |
| 6 months | 2.50 £ / month | 15.00 £ |
| 12 months | 1.92 £ / month | 23.04 £ |
FAQ – Lesbian dating
What is the best lesbian dating site in the UK?
This is difficult to answer because each lesbian dating site has its own pros and cons. The best site for you depends on what you're looking for and what your expectations are. The best way to tackle things is to identify what matters to you and then use that to guide your decisions. In our review above, we've done everything we can to detail all your options and lay out the information you need to choose the best possible site for your needs – so all the work has been done for you. 
Every site we've reviewed here is a good choice if you put in the effort. Don't get stuck trying to find the perfect site, just put yourself out there and over time you'll get a sense of which app works for you.
How does lesbian dating work?
Each app has a slightly different take and varied features, but the main principles are common throughout.
You'll need to complete a profile which shares a bit about you and then is used to match you with like-minded singles. If both people agree, then you'll match with them and gain the ability to interact. If there's chemistry there and you want to meet up in person, then you're off to the races. If not, you keep looking!
It's the way of the modern world and with enough perseverance, you're bound to find a woman that's perfect for you.
What lesbian dating site or app should I choose?
This all depends on what you're looking for. Each platform attracts different types of people based on the community, messaging, and setup.
Take your time to identify what matters to you and then you can use the comparisons above to select the site that matches your intentions. Each one is going to have a slightly different feel – so don't worry if you don't get it right away.
The best bet is try a few and see how they feel. Many of them have generous free trials that are great for test runs before you commit to any of them. The more the merrier, as far as we're concerned. Once you've got a taste of it, you'll be in a much better position to pick the right app for you.
Which lesbian dating sites and apps are free to use?
Most of the sites we've reviewed above operate on a freemium model where you can access some of the functionality for free, but need to pay to unlock some of the advanced features. So, in most cases, you can get a lot of value for free.
The one platform that bucks the trend here is Zoe which operates with an advertising-based model – which means that as a user, you get it for free. So, that's a great choice in that respect. But don't disregard the other sites just because of the price. You might be surprised by how far that money can go!