Sugar Daddy

❤️

The Best Sugar Dating Sites in the UK
Sugar dating has been growing in popularity for a while now and it represents a really exciting opportunity for open-minded people who know what they want to engage in a very unique type of companionship.  However, the trick is to find the right partner – which is easier said than done.
Luckily, there are a number of sites now available which cater to this type of dating and in this guide we're going to run through all of them and compare them against one another so that you can be fully informed and can pick the right one for you.
*Disclaimer: Before signing up anywhere, we encourage you to carefully consider whether sugar dating is right for you. Sugar dating is in no way like regular dating, and there's no certainty that sugar dating will give you fulfillment if you're unaware of what you're getting into.
This article contains affiliate-links.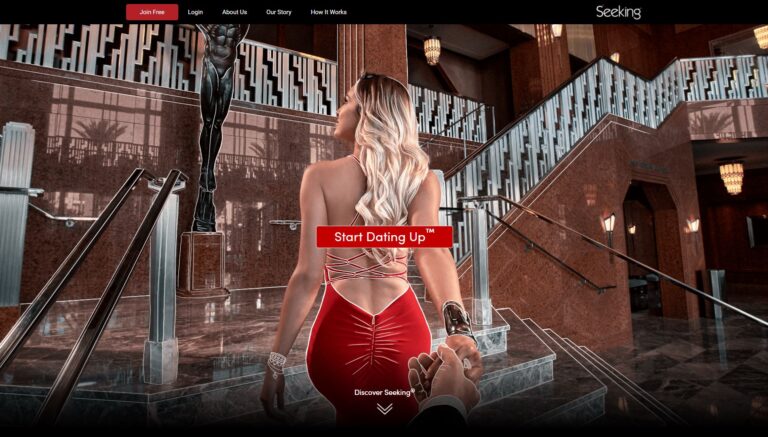 From the moment you stumble across the Seeking website, you'll be faced with the value proposition that this platform provides. It seeks to connect beautiful sugar babies with successful sugar daddies in order to provide a mutual beneficial relationship that can be incredibly fun and rewarding for both parties. Every person on the site knows why they're there and so there aren't any games. You can just get right to it.
The community is surprisingly large and of the 10m users across 139 countries, the vast majority are sugar babies which is a ratio that is difficult to find in the space. This means that you'll be in a great position to find that perfect person to become your partner in crime. As the slogan goes, it's a relationship on your terms.
When you sign up, you'll state your expectations and desires upfront in order to be matched with suitable singles and most people find their match within 5 days. It's a powerful site with an unmatched community and if this is the sort of relationship you're after, you could do a lot worse than going with Seeking. It's definitely somewhere where you won't be disappointed.
Large user base
Background verified members
Great daddy to baby ratio
Can be quite expensive
Not for everyone
How much does a membership at

Seeking

cost?
| | | |
| --- | --- | --- |
| Duration | Price | Total |
| 30 days | 2.33 £ / day | 69.95 £ |
| 90 days | 2.00 £ / day | 179.85 £ |
Sugardaddie.com
Compelling Sugar Dating Site for Open-Minded Singles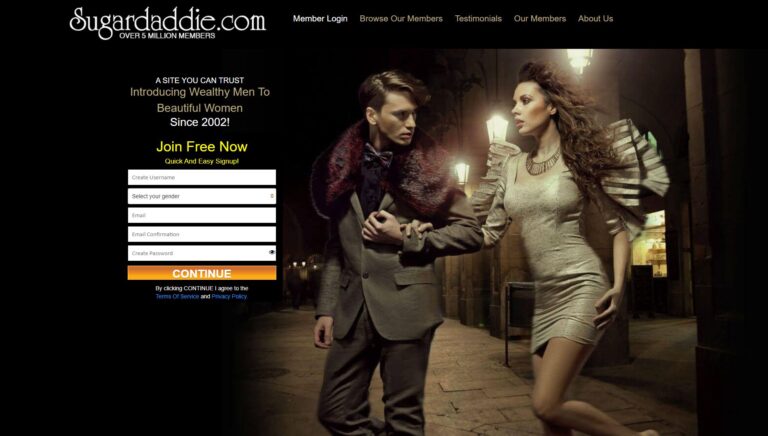 Sugardaddie.com provides a comprehensive sugar dating site that can cater to sugar dating of all kinds. The design and interface is sleek and modern, which makes the whole experience feel that much more unique when compared to some of its peers. It oozes sophistication. And the network of people behind the scenes backs up that feeling. You'll have access to a fast-growing userbase that is ripe for you to find that special someone.
The most powerful feature of the site experience is the filters that you can use to narrow down your search. You can select the key criteria that matter to you and let the platform find the users that match those specific qualities. This is crucial in sugar dating because of the nature of these relationships. You only want to spend time connecting with the people who are looking for the same thing as you are.
The only downside of this platform is that they don't have a dedicated mobile app just yet, so you're relying on the mobile web – but the experience is actually quite decent under the circumstances so you might not even notice the extra friction. Instead, you can focus on the great people that are on the site, looking for a mutually beneficial relationship that's going to invigorate and excite them. This is a great place to look for your sugar daddy or your sugar babe. What are you waiting for?
Sleek, modern design
Intuitive interface
Strong filtering capabilities
No mobile application
Relatively expensive
How much does a membership at

SugarDaddie 

cost?
| | | |
| --- | --- | --- |
| Duration | Price | Total |
| 1 month | 33.99 $ / month | 33.99 $ |
| 3 months | 26.66 $ / month | 79.99 $ |
| 6 months | 23.33 $ / month | 139.99 $ |
WhatsYourPrice
A dating auction site for sugar dating.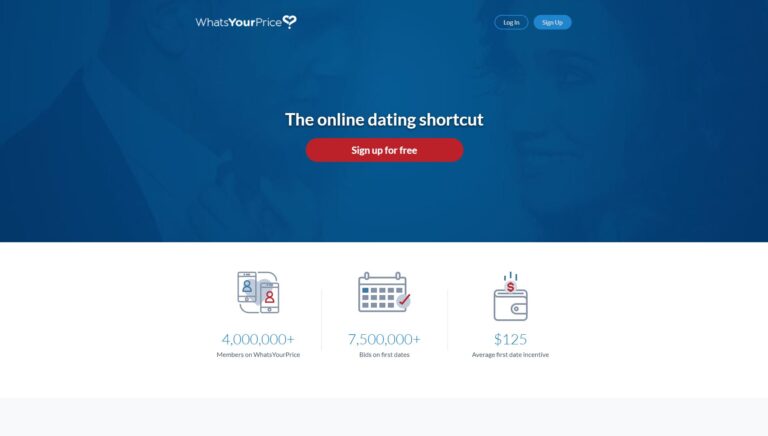 WhatsYourPrice has a very unique way to get you your sugar dates. You bid for them! Once you're a member on the site, you'll see all the various options available to you and you enter the incentive you're willing to give for that date. If the other person likes what they see, then you're off to the races. If money is no issue for you, it's the quickest and easiest way to get a date.
It's worth noting that this is not an escort service. This is a fully functional online dating platform for real people, but instead of leaving the sugar dating aspect to be abstract, it brings it to the front and center of the experience. What this does is speed up the entire dating experience and makes it more rewarding for both parties.
The platform takes an economic view of what dating can be and brings that energy to online dating in a way that no other site does. This is much simpler and more transparent than a lot of others and that appeals to a very specific group of people. For those, this is a game changer in every sense of the world. If you talk to any of the devotees, you'll find that this site has transformed how they think about dating and it's made the whole process much more fun and exciting.
Why not give it a go? It might feel strange at first but if you stick with it and test it out, you might just find that this simple formula is what works for you. It's one of those things that you can only really appreciate it when you experience it, so you've got to jump in the deep end.
Quick to get a date
Fully transparent, you know what you're getting into
Levels the playing field for sugar daters
Bidding can drive up date prices
Feels more transactional than other sugar dating sites
How much does a membership at

WhatsYourPrice

cost?
| | | |
| --- | --- | --- |
| Credits | Price | Total |
| 100 credits | 0.50 £ / credit | 50.00 £ |
| 450 credits | 0.33 £ / credit | 150.00 £ |
| 1,000 credits | 0.25 £ / credit | 250.00 £ |
SugarDaddyMeet
Upscale sugar dating site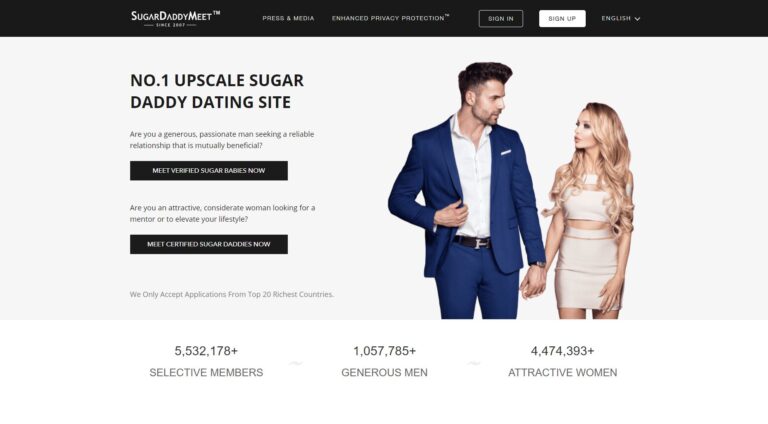 SugarDaddyMeet delivers all the great functionality that their peers offer, but where they've sought to set themselves apart is to appeal to the higher echelons of sugar daters. Everything about this site is bigger, better, and more luxurious. They've been in business for over 14 years already and they've brought all that experience to bear in creating a site that caters for those who want nothing but the very best.
They've got over 5 million members by this point, which means that you're bound to find a bunch of potential options that you'll have chemistry with. In addition, they have one of most advanced and comprehensive search functions in the industry, helping you to create incredibly nuanced and sophisticated searches on a range of different criteria. This all serves to save you time and connect you only with the sorts of people that you want to be with. There is no wading through the mire here.

Another great aspect of this platform is their app experience which means that you can access the dating pool from wherever you are, regardless of what device you're on. Everything is set up to deliver high-class sugar dating experiences that will take your breath away. All that remains to do, is to roll up those sleeves and get to work.
Great app experience
Verified user base
Great for those who want high class and sophistication
Skewed towards the very wealthy
Only available in the world's richest 20 countries
How much does a membership at

SugarDaddyMeet

cost?
| | | |
| --- | --- | --- |
| Duration | Price | Total |
| 1 month | 50.00 $ / month | 50.00 $ |
| 3 months | 30.00 $ / month | 90.00 $ |
| 6 months | 24.00 $ / month | 144.00 $ |
SugarDaddy.co.uk
Sugar dating in its simplest and most elegant form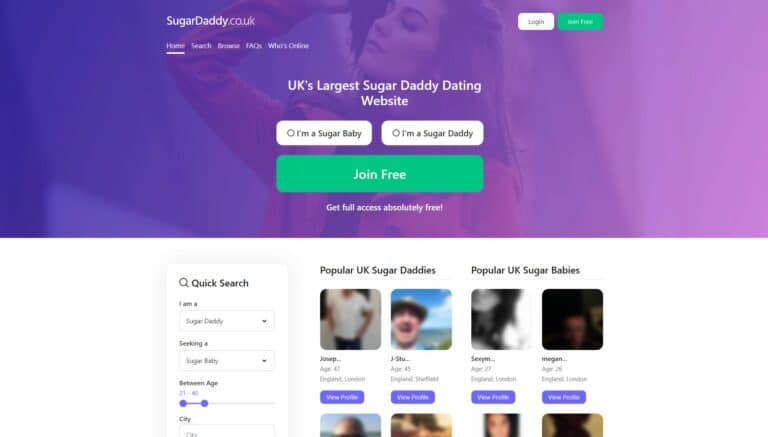 SugarDaddy.com pares the sugar dating experience down into its most basic and direct form. There are no bells and whistles here, and you're not going to be blown away by the design. But don't be fooled. That says nothing about the community behind the scenes. In fact, this is part of its charm. It feels like an old-school online dating site but catering towards this relatively new form of dating. There's a level of nostalgia here.
When you sign up, you'll have access to a wide-ranging database of singles who are looking for mutually beneficial relationships. These high-class partnerships are incredibly rewarding for both parties and they can transform your dating experience into one where you can chase exactly what you want. The interface is simple and intuitive, so you can focus on what really matters – finding the perfect person for you.
They've also gone above and beyond to ensure that the website is mobile-friendly so that you can get into your dating from wherever you are. It's convenient, sleek, and imminently powerful. And we don't think you can go wrong when you use a site like this.
Easy to use
No unnecessary fluff
Mobile-friendly experience
How much does a membership at

SugarDaddy.co.uk 

cost?
| | | |
| --- | --- | --- |
| Duration | Price | Total |
| | 28.28 £ / month | 28.28 £ |
| | 31.81 £ / month | 31.81 |
AdultFriendFinder
A hookup site that also caters to sugar dating relationships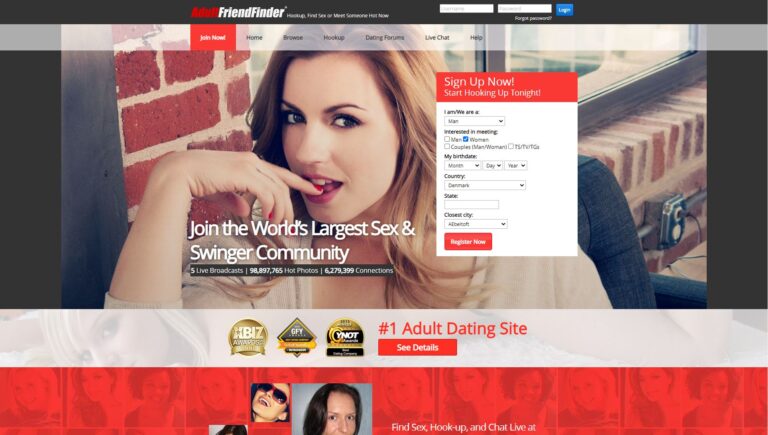 AdultFriendFinder is traditionally a platform that caters to casual hookups and no strings attached sex, but it's a little-known fact that there is also a burgeoning sugar dating community that is well worth looking into. They provide safe, discrete, and exciting online matches that can take your dating experience to a whole new level.
To get the most out of the sugar dating opportunities on the site, you'll want to be very upfront with your expectations on your profile so that you can find and match with those who share a similar point of view. But if you're honest and transparent in that way, then you're bound to find the right person in no time.
The community on there is open-minded, adventurous, and spontaneous. It's the perfect combination to get your sugar dating off on the right foot. What are you waiting for?
More than just a place to find casual sex
More than 80 million users worldwide
Very open-minded community
Most of the members are male
Reports of bots and fake profiles
How much does a membership at

AdultFriendFinder

cost?
| | | |
| --- | --- | --- |
| Duration | Price | Total |
| 1 month | 15.87 £ / month | 15.87 £ |
| 3 months | 9.51 £ / month | 28.53 £ |
| 12 months | 7.12 £ / month | 85.46 £ |
C-Date


Open-minded hookup site perfect for sugar dating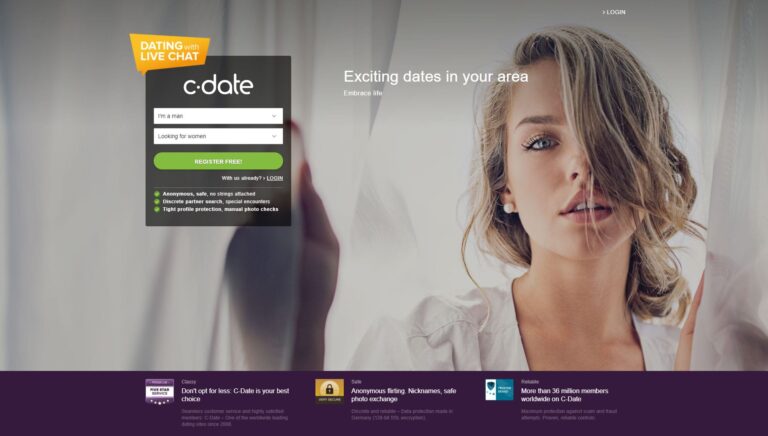 C-Date has really established themselves as one of the biggest platforms out there when it comes to casual sex and open-minded relationships. While not a sugar dating site exclusively, the kinds of people on there are the same type that engage in these sorts of relationships. So by being open and honest about what you're looking for, you'll be able to find others who share those same desires.
By going on C-Date you know that the people you meet are looking for the same thing as you and this helps to cut through any potential awkwardness. Instead of playing games, you can get straight to the point and that's incredibly liberating. It's the perfect place for spontaneous chemistry to emerge and who knows where it goes from there. That's up to you.
Whether you're a sugar daddy or a sugar baby, this is a great place to search for your other half. Be clear about what you're looking for and let it come to you! Adventure awaits…
Perfect for casual hookups
Free premium trial
Fairly cheap to use
Free to use for women
You probably wont find your soulmate here
How much does a membership at

C-Date

cost?
| | | |
| --- | --- | --- |
| Duration | Price | Total |
| 1 month | 9.90 £ / month | 9.90 £ |
| 3 months | 13.30 £ / month | 39.90 £ |
| 6 months | 4.98 £ / month | 29.90 £ |
Victoria Milan
Underrated sugar dating site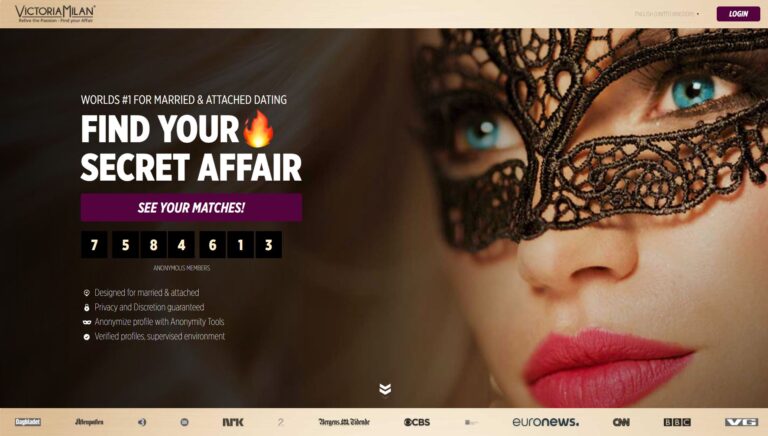 Victoria Milan is known as one of the top destinations for people who are looking for a discrete affair on the side of their marriage. An unexpected side benefit of this particular focus is that its created a growing sub-community of sugar daters who are in a position to enter mutually beneficial relationships with the right expectations.
Their platform is well designed and they've gone above and beyond when it comes to anonymity, verified profiles, and privacy – so that you can have complete peace of mind. This is why it's proven itself so incredibly popular with millions of people worldwide.
Everyone on there is very clear about what they're looking for and that honesty is hard to find in a safe environment. And after all – that's the foundation of any sugar dating relationship. Victoria Milan delivers this openness and honesty in spades, cutting through the noise and proving to be a very underrated site when you're looking for your sugar daddy or your sugar baby.
There's not much more we can say other than to encourage you to give it a go. It's only when you experience the magic that this site has to offer, do you get a sense as to just what you've been missing out on all this time. Get that sugar! This is the place.
Focused on discrete relationships that don't draw attention
For people looking for an affair or a casual hookup
Registration is quick and easy
Promotes adultery
Not ideal for finding the love of your life
How much does a membership at

Victoria Milan

cost?
| | | |
| --- | --- | --- |
| Duration | Price | Total |
| 3 months | 19.99 £ / month | 59.97 £ |
| 6 months | 14.99 £ / month | 89.94 £ |
| 12 months | 9.99 £ / month | 119.88 £ |
EliteMeetsBeauty
Sugar Dating to Make You Feel Like a Million Bucks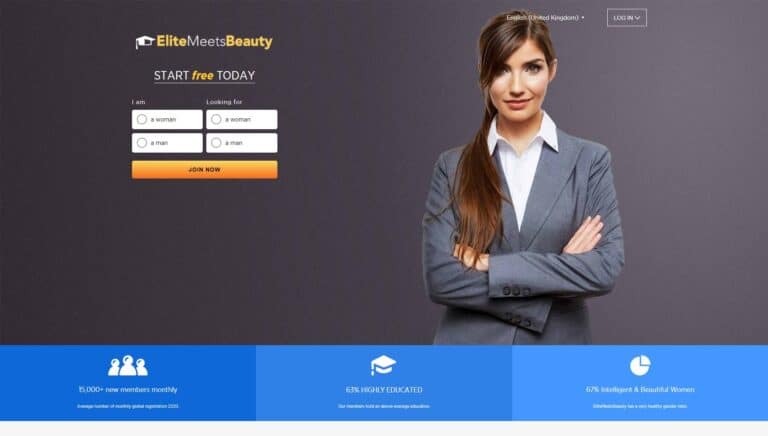 EliteMeetsBeauty is the market leader when it comes to sugar dating in the UK and they have a track record of bringing together couples of all types who want to engage in mutually beneficial relationships. The platform attracts people who know exactly what they want and are very upfront about that. The ice is already broken, you can go after what you want with wanton abandon.
While this certainly is a non-traditional way to think about dating, the platform feels very approachable and intuitive from start to finish. It's the market leader in the space for a reason and its design and functionality really do set it apart from the rest. It's perfectly suited for rich, successful sugar daddies and mommas, and young, beautiful sugar babies who want to spoiled. When those two come together, sparks are sure to fly.
Of course, this isn't for everybody, but if this is your cup of tea you won't be disappointed. The way its set up makes it easy to use and quite intuitive right from the get-go. There are few other sites that offer the same level of sophistication and functionality in a sugar dating site. You can't go wrong here.
Dating site for sugar dating
Great for sugar daddies, mommas and babes
Blog contains lots of useful information about sugar dating
Could use more members
You won't get far without a paid membership
How much does a membership at

EliteMeetsBeauty

cost?
| | | |
| --- | --- | --- |
| Duration | Price | Total |
| 1 month | 39.99 £ / month | 39.99 £ |
| 3 months | 29.99 £ / month | 89.97 £ |
| 12 months | 14.99 £ / month | 179.88 £ |
What is a sugar daddy?
A sugar daddy is a successful and often wealthy man who wants to enter into a mutually beneficial relationship with a younger woman. Typically, the man will spoil this woman and treat her to a high-class life in exchange for companionship and sexual affection. 
Sugar daddies tend to be in positions where having traditional relationships is quite difficult and so they turn to this more transactional setup because it's something that they can control. It requires an open mind, of course, but for those who enjoy the company of a young, beautiful woman – this can be a great way to achieve that. It's one way to enjoy the fruits of your labour.
What is a sugar babe?
A sugar babe is a young, beautiful woman who doesn't have the financial resources to live a high-class life, and so trades her company and sexual favours for that lifestyle. When she connects with a sugar daddy, she will look after his emotional and sexual needs while he takes care of her and brings her into a more upper scale lifestyle. 
Every sugar babe is different, but they do tend to share characteristics like open-mindedness, charm, confidence, and more. For these women, this is the perfect way to experience the life they've always dreamed of, but has always been out of reach. And you get to do it early in your career. What's not to love?
How do I get a sugar daddy in the UK?
Finding the right sugar daddy who is going to be on the same page as you and take care of you is often the most difficult part of these relationships. Luckily, the world of online dating has come in leaps and bounds in recent years and it now represents the best way to find a sugar daddy in the UK. 
In the guide above, we've compared a wide range of different sugar dating sites where you can meet people who are looking for the same thing as you are. We'd recommend that you read through our suggestions and find one or two that resonate with you. Create accounts on those and start to interact with people on the site. 
There's no need to rush but as you converse with various people you'll get a better sense of what you're looking for and what you want to stay away from. The most important thing to get right from the beginning is that your expectations are aligned. If you've got that right, then you're halfway there.
What sugar daddy sites in the UK are the best?
It's always difficult to choose a best site because every platform works differently for different people. Here on the site we've done everything we can to break down all the various options and give you the information you need to choose the best possible site for your needs. But it's going to come down to your preference at the end of the day.
 For sugar dating purposes we'd generally recommend sticking with a sugar dating specific site, but we've also heard multiple success stories coming from the more general sites as well. You really can't go wrong with any of our recommendations here, so you might as well try a few and decide for yourself which sugar dating site is the best.
Does sugar dating actually work?
Yes, it does – as long as you're with the right person. Sugar dating is a very specific type of relationship and the most common reason things don't work out is because both parties had different expectations about what it was going to be about. 
But, if both people are on the same page and there is a true mutually beneficial relationship to be found – then why wouldn't it work? It's out of the ordinary, sure – but we're always entering into transactional relationships whether we realize it or not. Bringing it into the open and making it concrete is just a way of going about that in a more efficient way. 
There are thousands of success stories that show that sugar dating can indeed work.
Who uses sugar dating sites?
Typically, the people who use sugar dating sites are open-minded and clear about what they want. They have come to a level of self-awareness where they know that they can handle the dynamic and they want to engage in a mutually beneficial relationship of this type. 
In addition, they also enjoy the adventure, spontaneity, and high-class lifestyles that generally accompany relationships of this type. That being said, you'll find a range of different contexts, personalities, and types of sugar dating setups – so don't get any preconceived ideas. You'll be surprised by the diversity in the community.