AdultFriendFinder
Review 2022
One of the biggest platforms for adult dating
More than 80 million users worldwide
This article contains affiliate-links.
In-Depth Review of


AdultFriendFinder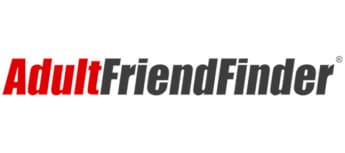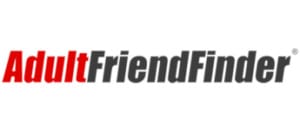 When it comes to online dating services, most people think to divide them into two categories. In one category are the paid matchmaking service—platforms that provide a more curated experience attempting to build long-lasting relationships through lengthy profiles, questionnaires, and psychology. In the other category are the likes of Tinder, Bumble, and Hinge—platforms that are primarily free to use and focus on hook-ups and short-term relationships.
However, while this may be the general stereotype, it is certainly not the reality.
Paid platforms like AdultFriendFinder have existed for years, offering a well-supported internet service that focuses on adults seeking casual relationships and one-night-stands. Founded in 1995, this service was one of the first to capitalize on the use of professional web services as a way to bring individuals of similar sexual interests together. Having such a lengthy history on the internet, AdultFriendFinder has grown into one of the premier adult dating services.
But does it live up to its offerings?
More than just a place to find casual sex
More than 80 million users worldwide
Most of the members are male
Reports of bots and fake profiles
1 MONTH
Per month: 21.10 £
Total: 21.10 £
3 MONTHS
Per month: 14.05 £
Total: 42.16 £
12 MONTHS
Per month: 10.53 £
Total: 126.38 £
Signing Up for

AdultFriendFinder
Signing up for AdultFriendFinder is a quick and easy process. Initial information is basic, consisting of age, location, and other general information. You will also be required to fill in your sexual orientation, as well as the sexual orientation of the members you will be interested in. You can select as many as you would like, and the service is quite focused on allowing proper representation for members of the LGBTQ+ community.
The process is supported by an email verification process, which is employed as a security measure against fake accounts. Your real name will not be featured on your profile, and you will instead be asked to choose a unique username that will be associated with all of your actions on the site.
The entire process of signing up should take about five minutes, but there is a lot of room for expanded profile information that can take much more time if you are so inclined. Users can go into great depth describing their kinks, preferences, and sexual fantasies. Profiles can also include photos and videos, leaving nearly endless possibilities for customization.
As an adult romantic service, these photos and videos can be quite explicit if users choose.
Member Structure
AdultFriendFinder benefits from a massive userbase. With over 80 million members located all over the world, and over 2 million members active weekly—you have a pretty good chance of finding partners with compatible interests and sexualities. While the service is originally from the United States with a large amount of its user base similarly located, its popularity across over two decades has resulted in comparable popularity in the UK and all across Europe.
While the large number of users is a massive benefit, there are a few caveats. The first, and largest, is the gender disparity. AdultFriendFinder is 80% male and 20% female. While this is likely welcome for those users interested in men, those exclusively seeking female partnership may have a great deal of profiles to sort through.
The second is fake profiles. While the service takes steps to ensure users are verified and secure, there have been reports of possible scams and bots. Although this is by no means the majority of the site's profiles, it is worth keeping in mind when using the service.
As for the premium vs free services, an unpaid membership will allow users to like photos and videos, create a 'hot list' of interested users, join blogs and groups, comment on blogs and photos, watch uploaded videos on the homepage, and use a multitude of other search filters. Even if this amounts to a ton of features for a free account, services related to direct and private communication are limited to paid accounts. So, if a member wants to make contact directly with a specific user, a subscription is required.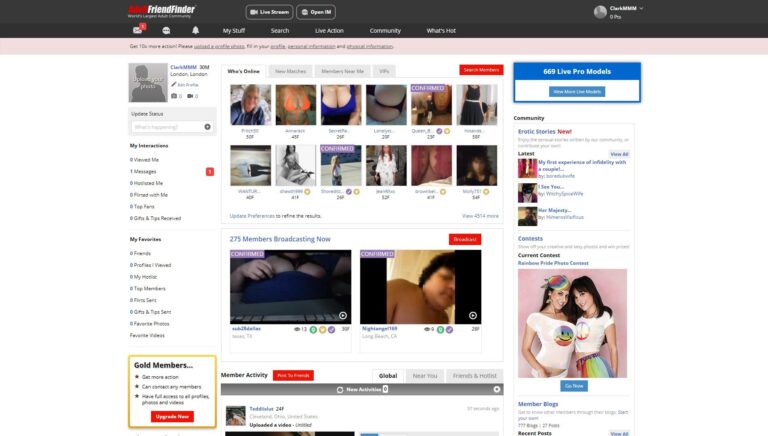 AdultFriendFinder does not offer curated matchmaking services like similar dating platforms. Users are instead provided with a vast array of different ways to communicate with each other and create content for posting in public spaces on the platform. In that way, the feel is somewhat similar to social media platforms.
As a whole, however, AdultFriendFinder is best understood as a platform that integrates the matchmaking and contact process through forums, chatrooms, and public journal entries. Users can communicate through these means, or utilize a search function to find other users that match the criteria you search with.
With a surplus of options to find matches, there's no shortage of opportunity.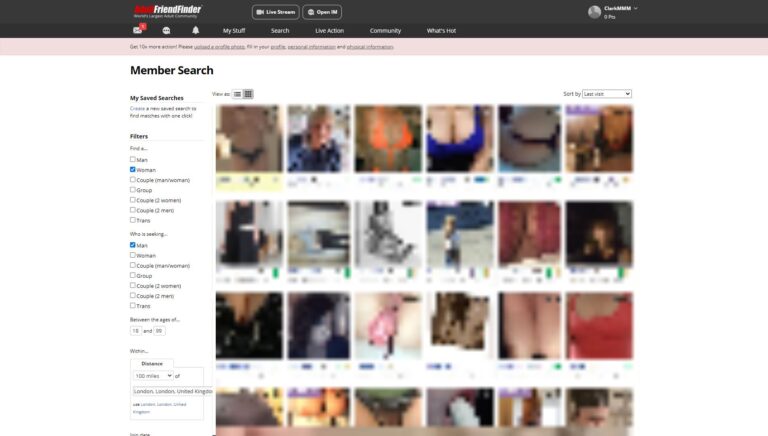 Contact Options
Members have a wide assortment of options when communicating with each other. The easiest is through direct, private messaging. This can take the form of texts, photos, and videos. That said, there are also options for live video chats.
Additionally, AdultFriendFinder prides itself on providing open forums for members to engage with each other on. Group chat rooms, blogs, live-streams, and magazines are all available for members to communicate through. They can also be specialized, focusing on particular kinks or interests.
The service also comes with a rather unique option of providing a journal function, where users can document and write about their sexual experiences for other users to view.
This is not limited to actual stories either, as erotic fiction is also encouraged.
AdultFriendFinder

App
AdultFriendFinder has a mobile application that is available on iOS and Android. It features all of the same functions as the regular website, in an easy-to-use format specially designed for use on mobile.
Conclusion
AdultFriendFinder is the premier application for adult singles looking for hook-ups and short-term relationships founded on mutual kinks and sexual interests. With millions of users around the globe and an absolutely massive number of options for community engagement, the platform is as much a dating service as it is a sort of 'fetish-Facebook.'
While the user base is heavily skewed towards male, and there is a danger of fake profiles, the sheer number of users easily counters these minor pitfalls. If you are looking for an easy-to-use platform for exploring your sexual interests with like-minded individuals, AdultFriendFinder is absolutely your best choice.