Dating sites ❤️


The Best

Dating Sites in the UK
Online dating can be a scary place. But when you've got the right apps and platforms on your side, then the world truly is your oyster! There are plenty of them out there but not to worry, we've done the research so that you don't have to. Below you'll find honest, in-depth comparisons of the very best dating sites in UK. Let's jump right in!
This article contains affiliate-links.
Gender distribution:
45% women – 55% men

Match.com is one of the most established dating sites in the world and they boast that they've helped connect over 1.5m on the platform.  They've innovated on their product over the years and today it's a sleek and powerful matchmaking tool that has stood the test of time.  When it comes to a brand you can trust, Match.com takes the cake.
Their focus is on longer, more-detailed profiles where singles can show more of themselves and go into more depth than on other sites.  Every aspect of their profile is designed to pull out different aspects of who you are to create a nuanced and full picture of your personality and interests.  It's well worth going through this process because it makes for much richer experiences when you connect with someone else on the site.  The length and detail also allows the filtering and search capabilities to be that much more precise and match people based on more meaningful criteria rather than just the superficial as is the case with some platforms.  This is the key thing that sets it apart from the rest.
Match.com is one of those platforms where you really do get out what you get in.  It rewards effort and honesty first and foremost.  The more effort you put into your profile and the more authentic you are, the greater your chances of success.  If you're looking for a quick and easy option – then this isn't for you.  But if you're willing to put yourself out there, you can be sure that there are a number of like-minded individuals looking for someone just like you.  The scale, on its own, makes it a wonderful choice for so many.
Perfect for finding love
More than 20 years experience with online dating
Offers great smartphone app
Lots of members
The profiles are quite in-depth and can take some time to fill out properly.
How much does a membership at

Match.com

 cost?
| | | |
| --- | --- | --- |
| Duration | Price | Total |
| 1 month | 29.99 £ / month | 29.99 £ |
| 3 months | 19.99 £ / month | 59.97 £ |
| 6 months | 9.99 £ / month | 54.94 £ |
eharmony


Establish serious and long-term relationships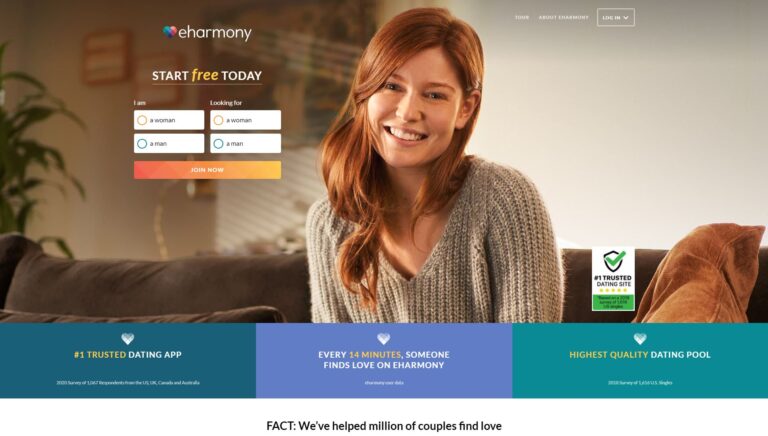 Gender distribution:
47% women – 53% men
eharmony is another one of those dating sites that has been through thick and thin and is still standing after 20 years of operation. They remain one of the most established dating sites in the world and for good reason – they really do deliver on their promise. In fact, they claim that every 14 minutes they facilitate a match made in heaven, so why couldn't you be one of those lucky people?
From an operational perspective, they rely heavily on their personality and compatibility tests which are built right into the profile experience and aim to discover what matters most to you in a relationship. When you sign up, you'll need to complete these tests where there is no right answer necessarily, but it serves to categorize how you think, what you care about, and what you're looking for. The system then processes those results and an algorithm will then match you up with like-minded people who value the same things as you do. This work ensures that you're not wasting time when you're on the site. There are no more moot conversation about things you can't connect on, because the fact that you've connected in the first place means that there is something that you share. eharmony is one of the best places to find truly authentic relationships.
While it does take a while to get set up and registered, that does mean that everyone on the site has been screened a bit and only the serious remain. This is definitely a site for people who are looking for something real. It skews towards those looking for long-term relationships and partners. If you're in search of something more casual, then you'd be best served elsewhere.
Only for singles who are serious about dating
Great matchmaking
Simple and easy to use
Lots of members in the UK and across the world
Registration takes a while
How much does a membership at

eharmony

cost?
| | | |
| --- | --- | --- |
| Duration | Price | Total |
| 6 months | 29.90 £ / month | 179.40 £ |
| 12 months | 23.90 £ / month | 286.80 £ |
| 24 months | 17.90 £ / month | 429.60 £ |
EliteSingles


For serious singles with a higher education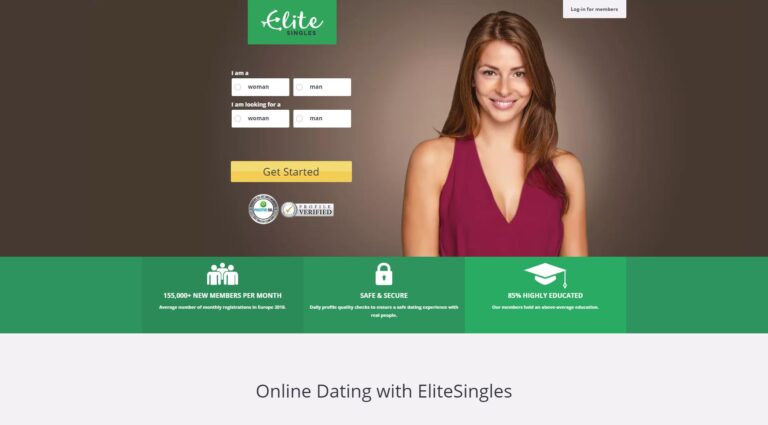 Gender distribution:
50% women – 50% men
For all those sapiosexuals out there, Elite Singles is the place for you. The platform focuses on connecting singles with a higher education and are looking for a serious relationship. Every person who is on the site can hold a good conversation and is intellectually curious in some respect – which is a very important factor for many. They boast an efficient and streamlined profile process and curate 3-7 potential matches for you each day – doing the hard work of filtering through the masses and delivering you only the very best of the best. They know how valuable your time is. This is in sharp contrast to other sites who will serve you large numbers of matches, with the hope that you can separate the wheat from the chaff.
Those potential matches are bound to be intellectually stimulating, ambitious, driven, and serious singles who are looking for something that will last. You won't find any casual daters here. That's what sets Elite Singles apart. If intelligence is at the top of your list, then this site should be at the top of your dating site list.
The unfortunate part of their selection criteria is that it doesn't work as well for people who haven't gone through the traditional educational system. It relies on educational credentials which we all know doesn't mean everything in this world – but alas, it's a small price to pay to create a space which celebrates the brains rather than the brawn. It's the only real way to do it at scale, so it's something we have to live with.
Most members are university educated
Members are serious about dating
Profiles are manually verified
Personality-based matchmaking
Not suitable for those who didn't go through traditional education
How much does a membership at

EliteSingles

cost?
| | | |
| --- | --- | --- |
| Duration | Price | Total |
| 3 months | 39.95 £ / month | 119.85 £ |
| 6 months | 21.95 £ / month | 131.70 £ |
| 12 months | 19.90 £ / month | 238.80 £ |
Ourtime


Popular dating site for seniors above 50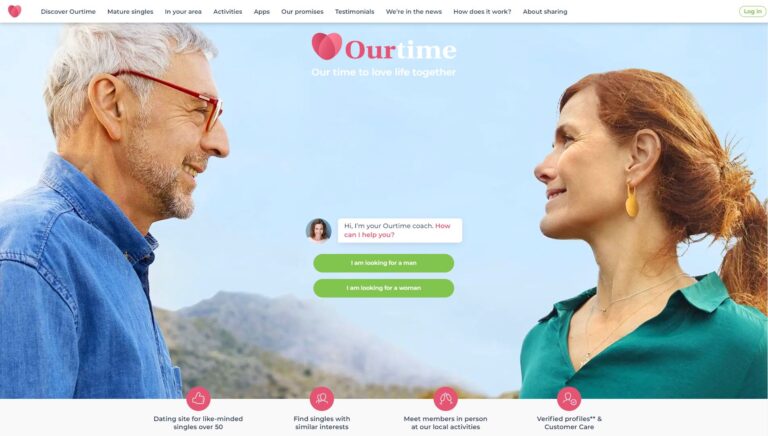 Gender distribution:
55% women 45% men
When you're over 50 and trying to find like-minded singles with similar interests, it can be a rather overwhelming task. That's what Ourtime set out to help with and they've done an incredible job so far. They focus on matching singles who have similar interests but more importantly, similar outlooks on love and life. The objective is to create a safe space, both online and in-person at their events, for real, authentical connections to flourish and bloom.

The site really does live by the moniker that the best of your life is still to come and after spending a bit of time on the site, you'll feel the same way. It can open up your horizons to new activities, new people, new conversations that you never would have come across otherwise. And more and more of those are turning into long-term relationships which is very exciting to see. There's a depth and empathy here that is difficult to find elsewhere. It's hard to explain but they've managed to build a culture where everyone seems to be open and honest about themselves which makes for really great conversation.
The site is a bit pricey compared to some others, but we think there is real value for money here if you're willing to take things seriously and put yourself out there. The paywall creates a self-selected group of those who are willing to dedicate the time and effort to seek real connection. Take the plunge and you never know what you could find!
Profiles are verified
Members are all 50 years and above
Hosts real life events
14-day money back guarantee
Lots of members

The price is above average
How much does a membership at

Ourtime

cost?
| | | |
| --- | --- | --- |
| Duration | Price | Total |
| 1 month | 39.99 £ / month | 39.99 £ |
| 3 months | 24.99 £ / month | 74.97 £ |
| 6 months | 19.99 £ / month | 119.94 £ |
Be2


Matchmaking based on a scientific personality assesment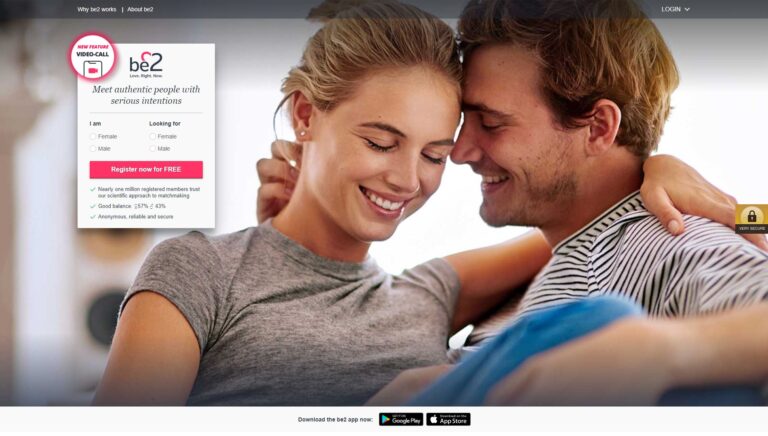 Gender distribution:
43% women – 57% men

Be2 brings science to the art of matchmaking and doesn't apologize for it. In fact, they believe that it's what the dating world has been missing. And who are we to disagree? Their rigorous personality assessments feeds proprietary algorithms that have shown tremendous success in facilitating authentic connections between people with serious intentions. It's not about the superficial here, it's about what truly matters.
What's quite special about this site is that going through the personality assessment can teach you an awful lot about yourself even before you start to see potential matches. It acts as a mirror for self-awareness and this can be worth its weight in gold in a world where we so seldom take the time to look inward. That alone makes this site unique and worth checking out. Whenever we are looking for a partner, we have to first understand who we are, so that we can bring our best self to the table. The personality tests at Be2 are a great way to do this.
The price is higher than you might expect, but that's what it takes to put together the algorithmic matching that makes the site what it is. There is a lot of technology behind the scenes here and so you're paying for much more than just a mere dating site. We don't think you'll regret giving it a go – if only for the chance to understand yourself a bit better. And besides, is there anything more attractive than a partner that knows themselves? We don't think so.
Algorithm based matchmaking
Members are serious about their search for love
Partner suggestions are based on personality
The price is above average
Profile pictures are blurred unless you become a paid member
How much does a membership at

Be2

cost?
| | | |
| --- | --- | --- |
| Duration | Price | Total |
| 3 months | 39.99 £ / month | 119.97 £ |
| 6 months | 29.99 £ / month | 179.94 £ |
| 12 months | 19.99 £ / month | 239.88 £ |
SilverSingles


Dating site for those over 50 but still young at heart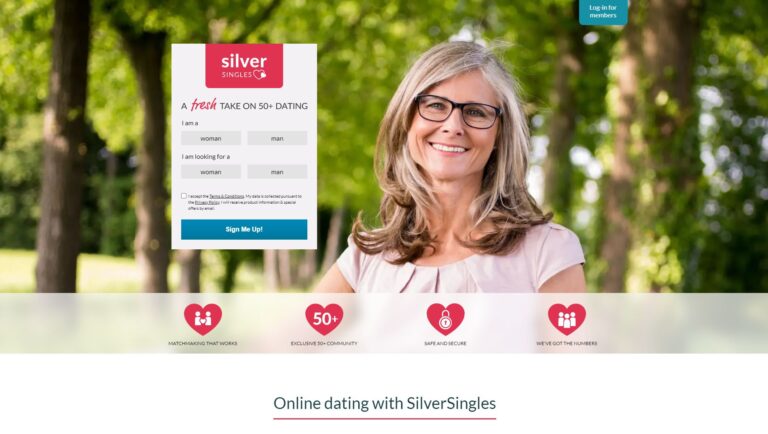 Gender distribution:
45% women – 55% men

Silver Singles has a wonderful community of singles who are over 50 years old but remain full of vitality and young at heart. If you're looking for love and companionship for the next stage of your life, then this is a great place to start.
This platform is one of the easiest to use and is incredibly intuitive from start to finish. It strips out much of the fluff you'll find in other apps and delivers only what needs to be there – list of carefully created matches for you to peruse through at your leisure. These matches are determined through personality compatibility assessments so that you can be assured that there will be something in common right from the start. No more awkward interactions – you can get right down to business.
It's a fresh take on over-50s dating and we think that you'll be pleasantly surprised by what you experience when you get involved. It's also a great place to start because the interface is simple and there is no steep learning curve to get started. If you find it difficult to adapt to technology and traverse these apps, this site is the easiest place to start your learning journey. Why hesitate? Those matches are waiting for you.
Senior dating for people above 50
Safe and secure site
Matchmaking based on personality
Simple and easy to use
Photos are blurred for non-paying members
How much does a membership at

SilverSingles

cost?
| | | |
| --- | --- | --- |
| Duration | Price | Total |
| 3 months | 24.95 £ / month | 74.85 £ |
| 6 months | 14.95 £ / month | 89.70 £ |
| 12 months | 13.95 £ / month | 167.40 £ |
Zoosk
Extremely popular dating app targeting young singles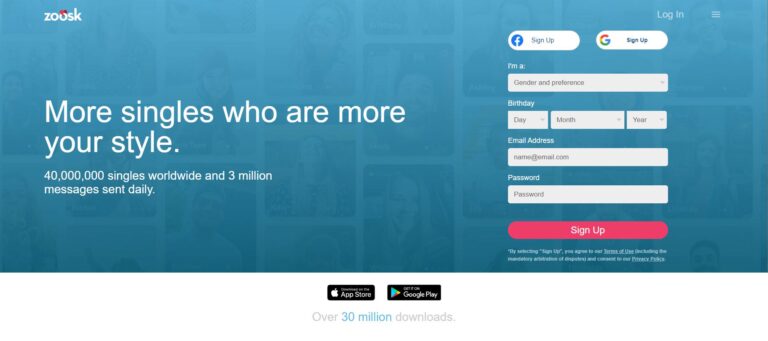 Gender distribution:
45% women – 55% men
Zoosk is quick, nimble, and exciting – just like the young singles that it attracts to its site. They have a huge platform of over 40m users worldwide and have learned a lot about matchmaking from all that data – experience that they can put to work in finding you a more casual short-term relationship or even a built-to-last long-term one.
Their biggest strength is their powerful mobile app which remains the key foundation for their service. In lots of measures, they dominate the mobile dating space bringing the masses of data at their fingertips to bear on providing a truly one-of-a-kind dating experience. It's fast-paced, vibrant and take your breath away if you let it. The app experience itself can be quite addictive actually. They've clearly taken a leaf out of the book of some of the largest consumer apps out there and have created a dating experience that feels fresh and unique. This brings lots of people back on a very frequent basis which leads to a robust and high-activity conversational ecosystem.
The key focus for the app is young singles in their 20s and 30s so keep that in mind if you're going to give it a chance. But if you are in that bracket and are looking for a modern approach to the online dating world, then Zoosk is your best bet. Throw caution to the wind and you never know what you might find. Just be careful that it doesn't take over your life, it's that much fun.
Great for finding short-term or long-term relationships
40 million users worldwide
Activity on the site is high
Unique features and a great mobile app
A bit superficial
Mostly targets young people
How much does a membership at

Zoosk

cost?
| | | |
| --- | --- | --- |
| Duration | Price | Total |
| 1 month | 29.99 £ / month | 29.99 £ |
| 3 months | 20.00 £ / month | 60.00 £ |
| 6 months | 15.00 £ / month | 90.00 £ |
ChristianCafe.com
Dating site for Christian singles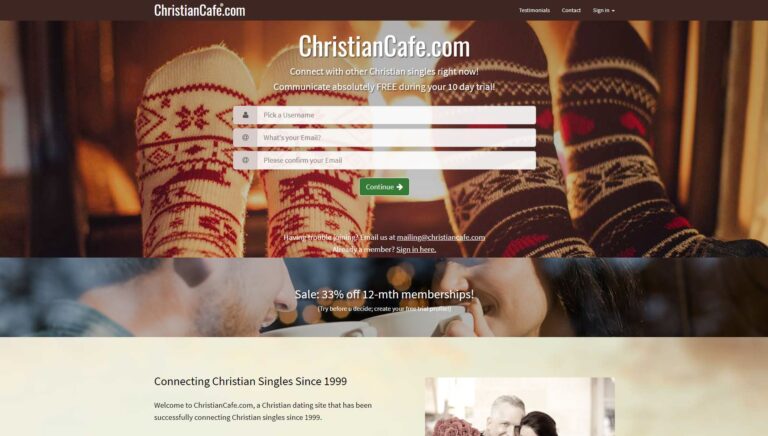 Gender distribution:
50% women – 50% men
Finding a partner with the same values as you is the most important part of any matchmaking service, and if your Christianity is important to you, then using a site like Christiancafe.com is an absolute no-brainer. The site is specifically targeted for Christian singles who want to meet someone who shares the same respect and love for God as they do.
The site has been around since 1999 and has shown great results for all those years in connecting people around their shared faith. The site is very much focused on dating for marriage, which is to be expected, which means that everyone on there is looking for serious relationships without games. You'll never have to doubt intentions when on the site, you can rest assured knowing that your values are going to be aligned. In addition, the site is Christian owned as well which means that everything about it is going to be built with that way of life engrained into it. It's a very wholesome experience and carries the sort of respect that some other sites don't.
It is quite expensive when compared to other sites, but when you consider the type of people that you will find there, it's probably a worthwhile investment if you're looking for a serious long-term partner. They also have a very generous free trial that allows you to test drive the platform for a little bit and see if you like it. So, there really is no risk here. If finding a Christian partner is a non-negotiable for you, then try the platform free and see how it goes. We think that if you give it a try, you might just find that the investment is worth it because of the quality of Christian singles on the site.
Singles share same Christian values and beliefs
Generous free trial to test-drive the platform
Self-selects for people looking for serious relationships
Expensive monthly subscription
Only suitable for believing Christians
How much does a membership at

ChristianCafe

cost?
| | | |
| --- | --- | --- |
| Duration | Price | Total |
| 1 month | 32.83 £ / month | 32.83 £ |
| 3 months | 17.02 £ / month | 51.07 £ |
| 6 months | 13.38 £ / month | 80.27 £ |
C-Date


Find a casual hookup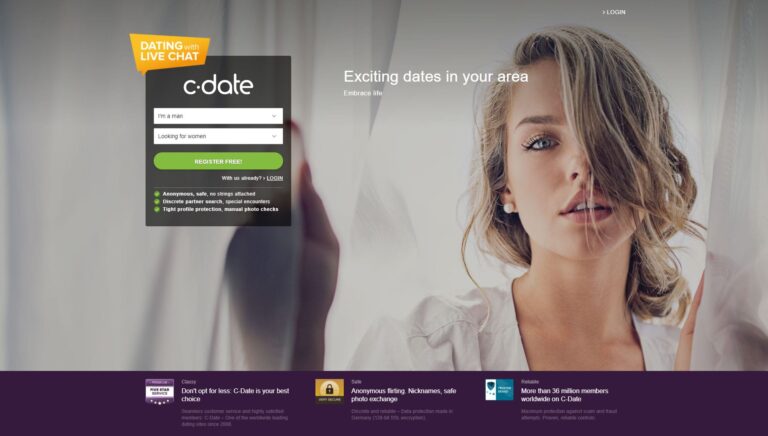 Gender distribution:
48% women – 52% men
If you're looking for something with no strings attached, then look no further than C-Date. It's a platform that prides itself on its safety and anonymity, giving you the peace of mind to look for the date of a lifetime without the baggage of weighted expectations. They have tens of thousands of new singles joining every day which means that the novelty will never run out.
By going on C-Date you know that the people you meet are looking for the same thing as you and this avoids so much of the awkwardness that exists when you're looking for a casual hookup. Instead of playing games, you can get straight to the point and everyone understands the environment. It's liberating and, if we're honest, one of the most exciting online dating sites out there. Every interaction could be the start of an adventure and you can find the perfect partner in crime no matter who you are.
If you're looking for your soulmate then you won't be in luck here. But if it's just fun that you're after, C-Date is sure to deliver it in buckets. You'll be connected to open-minded, interesting people who share your taste for casual dating experiences that don't have any strings attached. Feeling spontaneous? Let the next adventure begin.
Perfect for casual hookups
Free premium trial
Fairly cheap to use
Free to use for women
You probably wont find your soulmate here
How much does a membership at

C-Date

cost?
| | | |
| --- | --- | --- |
| Duration | Price | Total |
| 1 month | 9.90 £ / month | 9.90 £ |
| 3 months | 13.30 £ / month | 39.90 £ |
| 6 months | 4.98 £ / month | 29.90 £ |
TrueLifePartner


Mature dating for 50 and above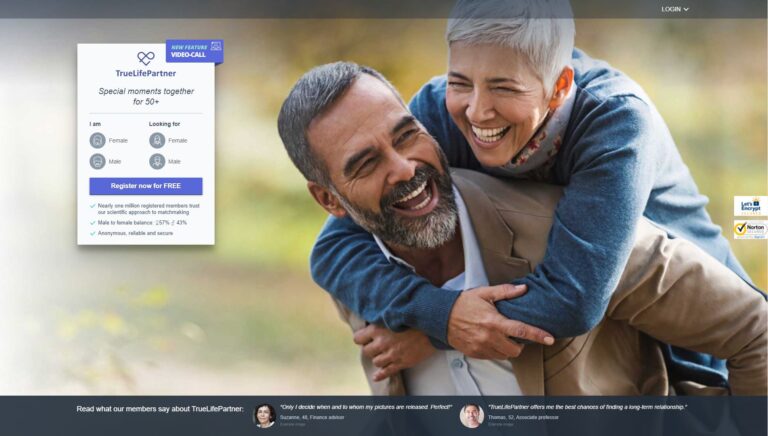 Gender distribution:
49% women – 51% men
In the world of mature dating, TrueLifePartner stands out as potentially the most wholesome of the lot. They have well over a million members now and have proven themselves as one of the safest and most reliable ways to find singles above the age of 50 who share your interests and worldview.
Every person on the site is in the senior age gap and can share their life experiences while also keeping things fresh as they look for new romantic partners. What sets this site apart is their new video calling feature which has made things even more interesting, allowing matches to test their chemistry before committing to a real in-person date. This combined with their personality compatibility features means that you'll be sure to meet people who could truly become a true-life partner. Cheesy, but true. There's only so much you can pick up from someone in a text exchange, but when you get a chance to talk on a video call, you can pick up body language, tone, and personality in a way that just isn't possible with most sites. Essentially, it's a dating site for those who hate texting on dating sites.
You're going to need to get the premium membership in order to send any messages but in our humble opinion, it's well worth it. The premium version opens up the whole database to you and allows you to jump on your first video call in no time. Your person is just a couple clicks away. Grab back control of your dating life with this incredible service.
Perfect for singles over 50 looking for love
Matchmaking is based on a scientific personality test
Video calls
Premium membership is required to send messages
How much does a membership at

TrueLifePartner

cost?
| | | |
| --- | --- | --- |
| Duration | Price | Total |
| 1 month | 19.99 £ / month | 19.99 £ |
| 3 months | 39.99 £ / month | 119.97 £ |
| 6 months | 29.99 £ / month | 174.94 £ |
Academic Singles


Find an educated partner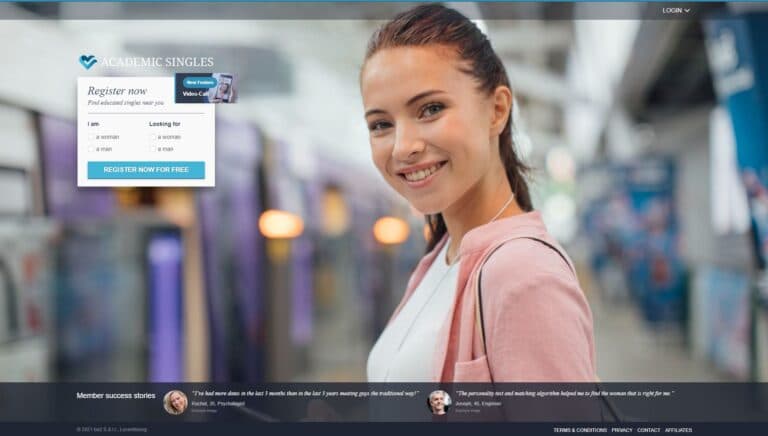 Gender distribution:
49% women – 51% men
Just like the name suggests, Academic Singles is a dating site for intellectuals. It believes that intellectual curiosity is one of the most attractive qualities in a person and if you believe that too, then this site is a great option. Every person who is on this site is looking for conversation and engagement that goes beyond shallow small talk and is open to discussing things in much more depth than what you'll find elsewhere.
They craft your profile through a scientifically designed questionnaire that creates a model of who you are and what makes you unique. They then use that model to match you with others who are compatible with everything that you stand for. It's a targeted, precise approach that wades through the noise and delivers you only the very best, hand-picked for your unique personality. It's a really powerful service. Add on to that the video calling functionality and you have all you need to find that special someone who you're going to connect with on a personal, emotional, and psychological level. If intelligence is your main criteria – then this really is the place for you.
The price for the platform is quite steep, but there is a great free trial that you can use to take the personality assessment and receive your first round of suggested matches. Therefore, you can see just what you're getting yourself into before you pull out your credit card. At the end of the day, you're investing in your future here and the right partner can make all the difference. There are worse ways to spend your hard-earned cash.
Prioritizes intellectual curiosity above looks
Personality test provides well-curated matches just for you and your personality
Free trial can give you a sense of what you're getting into
Expensive monthly subscription
Ignores those who don't have traditional educational qualifications
How much does a membership at

Academic Singles

cost?
| | | |
| --- | --- | --- |
| Duration | Price | Total |
| 3 months | 39.99 £ / month | 119.97 £ |
| 6 months | 29.99 £ / month | 179.94 £ |
| 12 months | 19.99 £ / month | 239.88 £ |
Victoria Milan


For people seeking an affair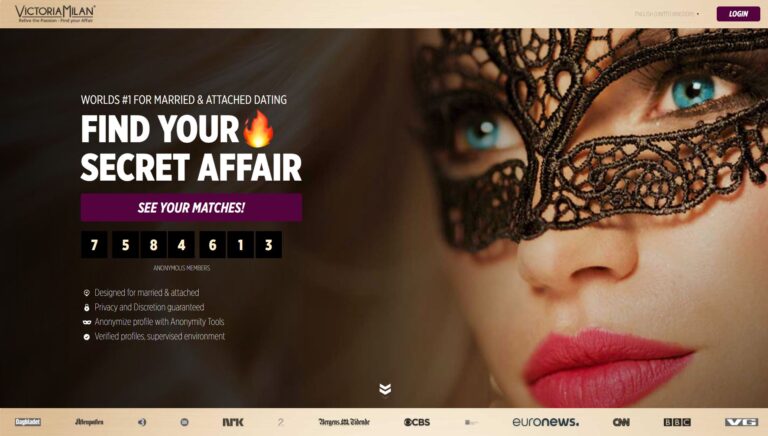 Gender distribution:
40% women – 60% men
If your marriage and/or sex life is not what it used to be and you're seeking a discrete affair online, then Victoria Milan is the place to go. It's the leading dating site for married and attached people who want something private and casual on the side. They've worked incredibly hard on ensuring anonymity, verified profiles, and privacy – so that you can have complete peace of mind.
It's proven incredibly popular with millions of people worldwide and it continues to gather steam. People who have used it often talk about how it has revived their love life once again, giving them that magical feeling that unfortunately isn't present in their marriage anymore. The site doesn't judge why you are on it, but just does what it can to help people uncover the passion that they are missing in their lives. Everyone on there is very clear about what they're looking for and that honesty is hard to find in a safe environment. Victoria Milan delivers that in spades, cutting through the games and being unapologetic about what it is. It's a breath of fresh air, really.
This site is not for everyone, of course, and many are uncomfortable with the idea. But for many, it is a lifesaver to rediscover the spark and connection that they have lost. It's full of passion, spontaneity, and verve – all of which make the site in a league of its own.
For people looking for an affair or a casual hookup
Registration is quick and easy
Promotes adultery
Not ideal for finding the love of your life
How much does a membership at

Victoria Milan

cost?
| | | |
| --- | --- | --- |
| Duration | Price | Total |
| 3 months | 19.99 £ / month | 59.97 £ |
| 6 months | 14.99 £ / month | 89.94 £ |
| 12 months | 9.99 £ / month | 119.88 £ |
EliteMeetsBeauty


A leading site for sugar dating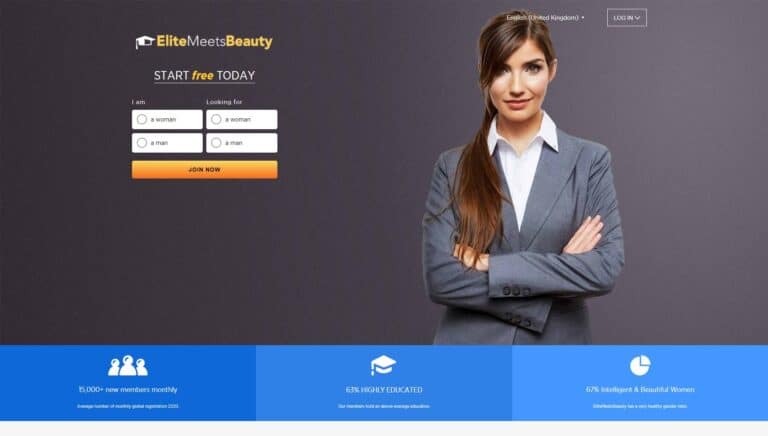 Gender distribution:
13% women – 87% men
EliteMeetsBeauty (formerly known as RichMeetBeautiful) is truly unique because it's the UK's market leader in sugar dating which refers to a mutually beneficial relationship where the lifestyle of a rich and successful person is a major part of what brings the two people together. These people know exactly what they want and aren't afraid to make that clear. There is no walking on eggshells here.
Instead, the site is unapologetic about what it provides – a raw, frank, and honest matchmaking experience unlike any other. It can a bit of a strange concept to get your head around if you're coming across it for the first time. It certainly is a non-traditional way to think about dating. But for those who are looking for a relationship of this type, EliteMeetsBeauty can be the catalyst for a lifechanging connection that can turn everything on its head. It's the market leader in the space for a reason. It attracts like-minded people left, right and center – so there really isn't any reason to wait. You won't find a better place for sugar dating.
Of course, this isn't for everybody, but if it is for you then you won't be disappointed with the platform. The way its set up makes it easy to use and quite intuitive right from the get-go. The userbase is still relatively small, but its growing quickly and plus – you only need one connection to work out. After that, the rest is history.
Dating site for sugar dating
Great for sugar daddies, mommas, and babes
Blog contains lots of useful information about sugar dating
Could use more members
You won't get far without a paid membership
How much does a membership at

EliteMeetsBeauty

cost?
| | | |
| --- | --- | --- |
| Duration | Price | Total |
| 1 month | 39.99 £ / month | 39.99 £ |
| 3 months | 29.99 £ / month | 89.97 £ |
| 12 months | 14.99 £ / month | 179.88 £ |
Parship


Dating site based on personality-test compatibility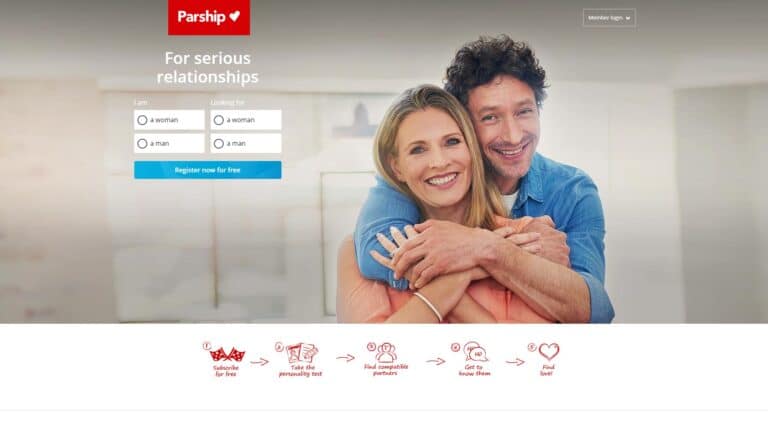 Gender distribution:
49% Women – 51% Men

Parship is a really unique dating site because of its proprietary matchmaking algorithm that they call 'The Parship Principle'. This tool takes the results of a personality test you take on joining the site and analyses 32 different traits using 136 different rules to form a data-driven profile that can then be used to find your perfect match. It all sounds very complicated, I know.
But you don't have to worry about how it works behind the scenes. Essentially, what it does is that it applies some science to the filtering process so that the selection can be deeper than the surface level of what we normally show on dating sites. It goes beyond the superficial and aims to connect personalities together who are going to click and be in it for the long haul. We've seen data play such a big role in every industry in recent years, and this is just a peek at what might be possible in online dating. The advanced pattern recognition and matching criteria makes this a really popular dating site that might just introduce you to a perfect match that normally you wouldn't even consider. It helps to sidestep your preconceived notions.
While it doesn't have the scale of some of the other sites just yet, it is growing really fast and looks like it is going to be a force to be reckoned with in the years to come. If you believe in the power of data (and you should) then Parship could be a great opportunity to put that to the test in your love life. This is just the start of this data-driven journey. What have you got to lose?
Great for finding a serious and long-term relationship
Matching based on a unique system called 'Parship Principle'
Available in 13 countries worldwide
Few members when compared with Match.com and eharmony
How much does a membership at

Parship

cost?
| | | |
| --- | --- | --- |
| Duration | Price | Total |
| 3 months | 29.90 £ / month | 89.70 £ |
| 6 months | 19.90 £ / month | 119.40 £ |
| 12 months | 14.90 £ / month | 178.80 £ |
FAQ Dating sites
What dating site should I choose?
This all depends on what you're looking for. Every site has its unique target market, preferred methodology, and culture. Once you have a clear understanding of what you're looking for in your dating life – then you can use the comparisons on this site to select the best suited one for you.
In broad strokes, the best mainstream options for most people are match.com and eHarmony.
If you're a senior and looking to date people over 60 then you'll be best served with Ourtime, Silver Singles, or TrueLifePartner.
For more casual dating you would most likely want to use Victoria Milan, RichMeetBeautiful, or C-Date.
Lastly, if you want to make use of advanced matchmaking algorithms then try out be2, Zoosk, or Academic Singles.
But as always, each one is going to have a slightly different feel – so do your research and look at your options to find the right one for you.
What are the best dating sites in the UK?
'Best' is a tricky word. Every site has its own pros and cons and your experience is going to vary based on your circumstances and expectations.
Here on the site we've done everything we can to break down all the various options and give you the information you need to choose the best possible site for your needs. But, at the end of the day – the success you have on these sites is going to depend on how you use them and how much effort you put in to make it work.
Every site we've reviewed here has a strong network of people for you to meet and as long as you are authentic and real, while staying true to the values you care about, you can make it work. Don't get stuck trying to find the perfect site, just get out there!
How do dating sites work?
Every dating site is different, but the basic principles is that you set up a profile that describes who you are, what interests you have, and what you're looking for. The site will house that information in a database that is continually updating as people join the service. Then the site will go out to all its other singles and identify potential matches based on the criteria that matters to you. This can be through simple interest matching, or a complicated algorithm that takes into account a wide range of variables. This methodology differs per site.
Once you have those matches, then it's up to you to connect with those matches and see if you get along. You can message them privately and interact for as long as you'd like to find out if you think there is something there. If you don't think there is – it's no hard feelings, but if you do – then you're off to the races.
How do I start a conversation on a dating site?
The best way to start a conversation is to comment on a mutual interest that both of you share. Dig through their profile and see if there is something that can be used as a good icebreaker.
If you can't find one of those, ask the other person a question about themselves and show genuine interest in their answer. Being selfless in this way is often the start of good conversations and shows that you really care about the person you want to interact with. Plus, people love to talk about themselves, so it really is a win-win.
Keep in mind thought that your question should not be overly generic, but rather should show that you've taken the time to craft something interesting that is going to set the tone for the conversation to follow.
How do I get a response?
Put some careful thought into your messages and interactions. Remember most people are chatting with a number of people at the same time and so you really need to stand out in order to get responses. Try and use humour and your unique personality quirks to elicit a response, don't just follow the path of least resistance.
It's also important that you look at the person's profile that you're messaging and craft your messages for them specifically. Can you identify something that they care about from their profile and ask them something about that? People are much more likely to respond if the message is personalized and relevant to them in isolation. It shows that you care and genuinely want to build a connection with them.
What should I say or write?
We always encourage people to be as honest and authentic as possible. People can spot inauthenticity from a mile away. Be clear and upfront about what you're looking for, what matters to you, and who you are – and you'll have much better success rates than trying to be someone you're not. 
Also, remember that you're competing with thousands of other people on the site so you want show how you are unique. Don't stick to the standard cliches and small talk that can get boring quickly. Try to show your character and personality through your conversations and have fun with it! Instead of rushing your texts, try to spend some time ensuring that they are interesting and full of colour – as this will result in a better result all round.
What should I write about myself?
Don't make things up. Be honest and upfront about yourself because that works much better. Many people try to craft an image that they think will be attractive to potential suitors, but that falls apart when they realize that you were putting on a mask. Don't do that. 
Stick to those things that make you who you are. Think about what makes you unique, brings you alive, makes you tick – and those are the sorts of things that are great to write about. Your passion will show right through and become the reason why people want to interact. 
The more personal you can make it, the better. Avoid the generic and go for what makes you who you are.
Who uses dating sites?
Dating sites have become incredible popular in recent years and it's probably safe to say that the vast majority of singles are on some form of dating site – especially when it comes to technology-savvy people. 
So, you'll find a wide range of personalities, backgrounds, and worldviews coming onto these sites to look for like-minded people who share their values. If you're single and are looking for a partner, then getting on these dating sites is a no-brainer.
What does it cost to use dating sites?
Every dating site has a different cost structure depending on the features and functionality you want to unlock. Most of the sites have a free version which allows you to jump in the deep end and try things out, but might put certain features behind a paywall. 
The best way to approach things is to identify the sites that are most suitable for you (based on our comparisons above) and then go to those sites directly to see the costs for each one.
Are dating sites safe to use?
For the most part, yes. The sites themselves take safety very seriously and so you can rest assured that they're doing everything they can to protect your identity, personal information, and anything else you share. 
However, you must keep in mind that when you're interacting with strangers over the internet, there will always be some that are looking to take advantage of you. It's well-known that there are people who go on these sites to extract money from people, or steal identities or a range of other cyber-crime. The only way to guard against this is to keep a certain level of scepticism and look after yourself. Don't let your emotion get in the way of your judgment. 
Trust your gut intuitions and don't interact with anyone who you don't think has the right intentions. And never, ever send money to someone who is talking to you on these sites.
When should I meet up with people from dating sites?
You should only look to meet up with people from dating sites once you've built a bit of a connection virtually and you've made sure that you both have the same intentions. Take your time here and don't rush into it. Spend the time getting to know each other and sharing enough about yourselves to make sure you're not wasting each other's time. If you are compatible and would like to take things to the real world, be sure to do so in a public place to keep it safe and comfortable for both of you.