TrueLifePartner
Review 2022
Dating for singles 50 years and above
Matchmaking based on scientific personality test
This article contains affiliate-links.
In-Depth Review of


TrueLifePartner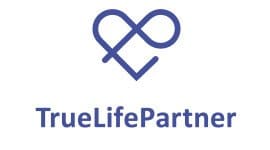 Whether you've been recently divorced and find yourself back on the market, or have never been married but are still searching for your chance at love, TruelifePartner is a site catered toward senior dating with goals to help members of the over 50 crowd to make connections. With over 180,000 members in the UK alone, it prides itself on a 41% success rate with its users.
Among the more recent dating websites for seniors, TrueLifePartner has most all the makings of any modern dating service. With premium and free memberships, video calling, and a plethora of amazing features—is this the right service for you or just another trying to find its way into the senior niche?
Perfect for singles over 50 looking for love
Matchmaking is based on a scientific personality test
Video calls
Premium membership is required to send messages
1 MONTH
Per month: 19.99 £
Total: 19.99 £
3 MONTHS
Per month: 39.99 £
Total: 119.97 £
6 MONTHS
Per month: 29.99 £
Total: 174.94 £
Signing Up for

TrueLifePartner
The process to sign up for TrueLifePartner is where the site really boasts its complex scientific algorithm for the matchmaking process. After signing up and entering your sex as well as your interest, the site really shows how user friendly it's designed and the demographic it caters too.
Nothing is overly complex and most all information is straight forward and easy to understand. You provide a few quick details about yourself by answering multiple choice questions. They'll focus on what kind of relationship you're looking for, characteristics of your ideal partner, you'll give a rating for a few words that describe you, and finally some either/or questions to help it refine search parameters.
Following this brief information, you'll be asked a few more questions about your career, stature, beliefs and a few other odds and ends that the algorithm will help use to refine further, before it asks you to write about yourself. This is a brief 200-character description to show a little of who you are and your interests to prospective partners.
After those steps, the algorithm is ready to start matching you so it asks you to upload a profile picture to finalize your registration for the site. All in all, it only takes about 5-10 minutes!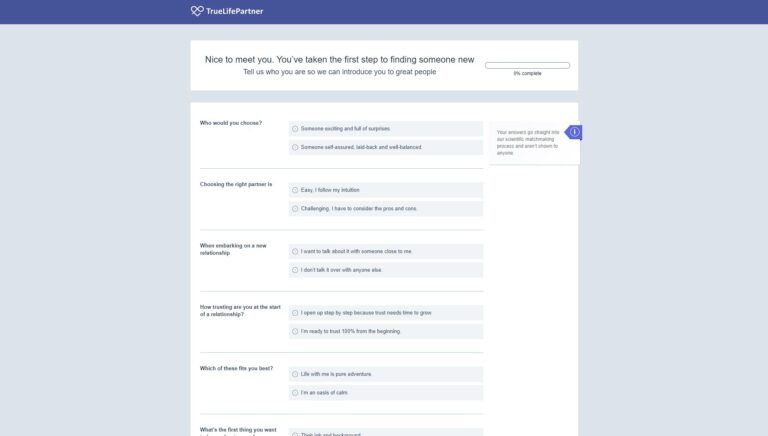 Member Structure
As far as typical membership structures go, TrueLifePartner strikes the truly sought-after balance. Most sites lean towards far more males than females but this site is only 49% female to 51% male. This close ratio means for those in the over 50 crowd looking for love, there's a lot to of equal algorithmic distribution involved. And, with 180,000 in the UK alone, there's plenty of opportunity for connections!
Matchmaking
Just as the interface aims to be simple, so too is the matching process. Unfortunately, this is also where we should mention that the difference between the free membership and the paid membership is quite substantial. Although you can create a profile, add pictures, and take the personality test with the free membership—that's pretty much it. After that, you're basically locked away from the actual content of the site; you can't even send a message or view other profiles.
However, besides that stipulation, the premium membership really is where this site shines. And it's comparatively affordable to boot. With a premium membership, you'll be able to send unlimited messages, view all your messages, view profiles, see who visited your profile, and add contacts to your favourites list.
And from all that, the matching begins.
The process is simple, easy to understand, and easier to use. Firstly, your questions answered in the beginning will have the algorithm list out a number of matches on your home screen. You can scroll through those based on common interests, check out their profile and pictures, and send a message. It's as simple as that. Though the computer finds matches with compatibility parameters, it encourages you to reach out to as many as possible to basically, test out the match.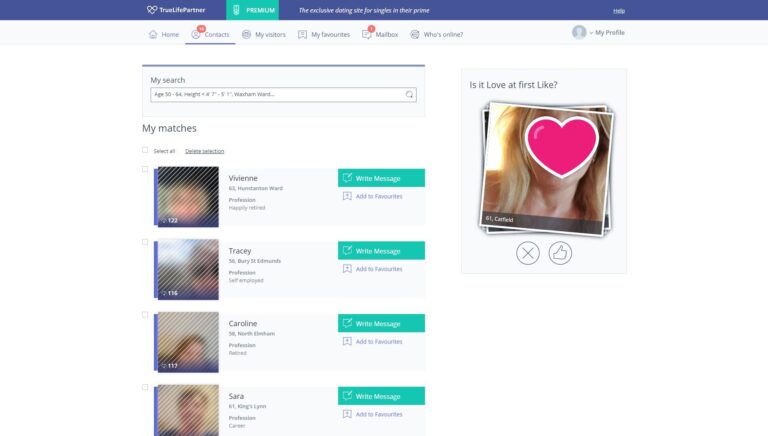 Contact Options
Because TrueLifePartner is all about allowing its users to really reach out, communication is key. Although the computer will find the matches, they encourage its users to message and reach out. For that reason, premium users are offered unlimited messaging to contact as many potential matches as possible to test out compatibility.
Of course, offering that much freedom can cause hesitation for some users, but TrueLifePartner's target audience is the long-term senior dating prospects. In that way, they take their security very seriously. Besides not offering messaging ability to anybody who hasn't paid for the membership (which weeds out the people who might attempt to spam the site) it also ensures that all information shared on the site is completely private.
The only people who see messages are the ones you send messages to and vice versa. However, if there are any issues, blocking contact from other users is as simple as the click of a button.
To add to their contact options, after a few messages have established contact between members, TrueLifePartner also includes video calls to allow users to talk and basically go on a virtual date right from home or their phone. It's an amazing feature and especially convenient right now!
TrueLifePartner

App
A recent addition, TrueLifePartner has an app with all the same functionality of the website. It's easy to use, easy to understand, and offers all the same features of the original site. Another benefit is the simplicity of video calls through the app—especially if your computer doesn't have a web cam!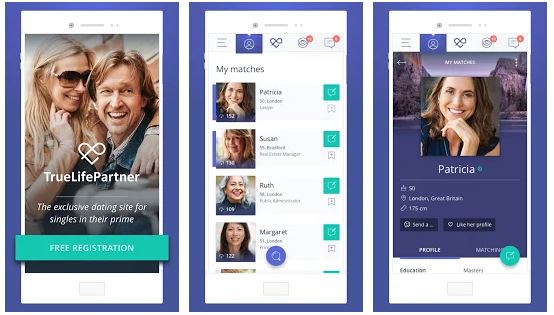 Conclusion
TrueLifePartner is a dating service devoted to senior dating. The best part about it targeting that niche is that it doesn't waste time with complex inputs or tedious interfaces. With a simple design philosophy and a site that has everything you need to make a connection; it really is a breath of fresh air when compared to some of the more convoluted dating sites out there.
If you're in the over 50 crowd and are looking for another or a first chance at love, look no further than TrueLifePartner!