Senior Dating

❤️

The best mature dating sites for over 50's
Some people think that online dating doesn't work when you're over 50 years old but they couldn't be more wrong!  Senior dating apps have come a long way and are now the very best option for connecting and interacting with like-minded mature singles all across the world.  Keep scrolling for our honest comparisons of all the senior dating sites available to you in the UK.
This article contains affiliate-links.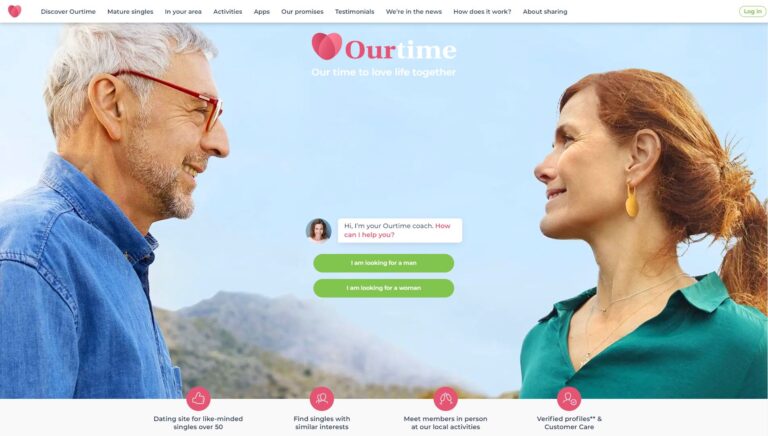 Ourtime is one of the leading sites for over-50s dating and it has won that reputation through creating a space for real, authentic conversation between like-minded singles. Their main focus is on matching people who have similar interests so you always start off on the front foot and have something to connect about. When things go well, this can turn into a really fruitful long-term relationship and so many people have Ourtime to thank for the companionship they now treasure.
While their website and portal is excellent on its own, one of their unique differentiators is that they also host live, in-person events which give a whole new perspective to traditional online dating – allowing you to build social circles outside of the site itself. If you come into these with an open mind, you'd be amazed at what is possible. Getting out of your comfort zone is encouraged. These events have proven extremely popular as a valuable addition to the whole dating experience as many seniors feel a bit constrained by technology and would prefer to meet up in person where possible.
Some are put off by the sticker price but you really do get what you pay for here. In our opinion, it's worth it – as long as you're willing to be raw and real on the platform – so that you make the most of it. If you're willing to sign up for a longer contract, then the monthly price isn't so high. So, if you think this is a community you're going to be joining for the long haul, then it could be really great for you.
Profiles are verified
Members are all 50 years and above
Hosts real life events
14-day money back guarantee
Lots of members

The price is above average
How much does a membership at

Ourtime

cost?
| | | |
| --- | --- | --- |
| Duration | Price | Total |
| 1 month | 39.99 £ / month | 39.99 £ |
| 3 months | 24.99 £ / month | 74.97 £ |
| 6 months | 19.99 £ / month | 119.94 £ |
TrueLifePartner


Mature dating for 50 and above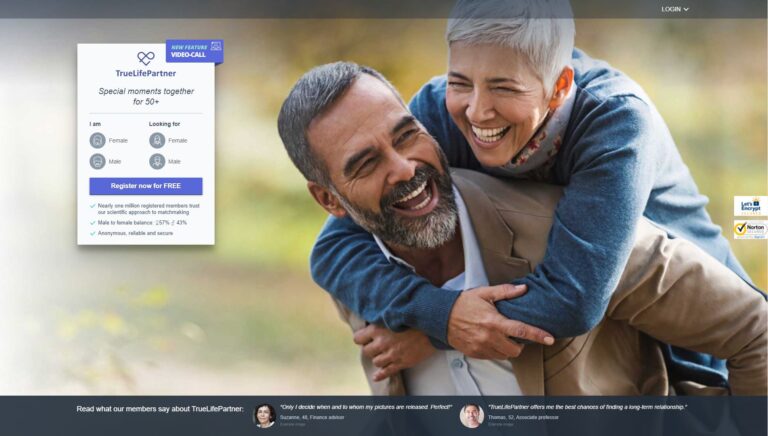 I mean, just look at that picture! Who wouldn't want that? TrueLifePartner is a fantastic option for seniors who are looking for someone to share the second half of their life with. They have built a vibrant and enthusiastic community of singles who are all looking for real relationships and believe that the best of their life is in front of them. You won't find a more welcoming or enjoyable experience.
They make a lot of use of personality compatibility assessments that aim to quantify peoples' interests, values, and priorities – so that they can match you up effectively. These tests are scientifically chosen to quantify some of the things that make you unique and use that report to find people that might be compatible with how you view the world. This added specificity leads to a much better group of dating matches, because it goes a bit deeper than other sites do. They've also shown great success with video calling – turning the traditional online dating profile on its head and allowing people to test chemistry in real time through virtual conversations. These video conversations are often a much better litmus test than texting because you can pick up body language, tone, and a variety of other factors that get lost in text messaging. You get more of the real person on the other side, rather than the carefully curated texts that we all tend to send.
In order to send messages on the platform, you'll need a premium membership – which can seem like a big investment. But that's what it takes to be part of this community and, to be frank, we think it's a steal for the value you actually get. You're paying for the highly curated dating pool, the algorithmically-based matchmaking, and essentially – the chance to find a perfect match. There aren't many better ways to spend your money if you're looking for life satisfaction and fulfilment.
Perfect for singles over 50 looking for love
Matchmaking is based on a scientific personality test
Video calls
Premium membership is required to send messages
How much does a membership at

TrueLifePartner

cost?
| | | |
| --- | --- | --- |
| Duration | Price | Total |
| 1 month | 19.99 £ / month | 19.99 £ |
| 3 months | 39.99 £ / month | 119.97 £ |
| 6 months | 29.99 £ / month | 174.94 £ |
SilverSingles


Popular site for Senior dating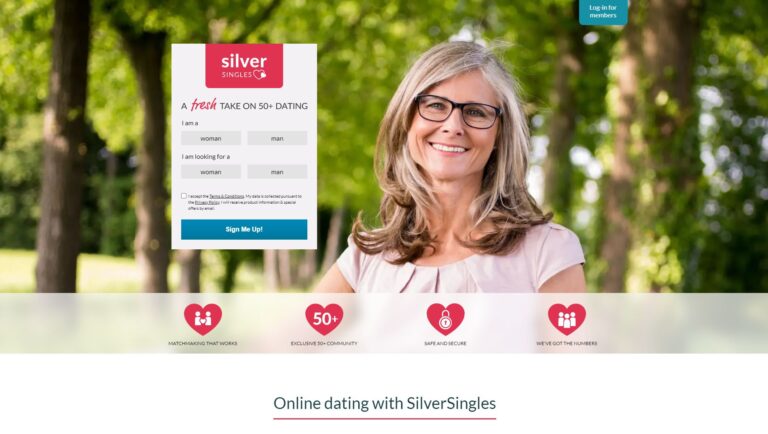 Silver hair has never been more in fashion and Silver Singles take that to heart. They are laser focused on delivering an unparalleled online dating experience for those of us who are 50 years and older. The platform feels sleek and modern and doesn't take much technical know-how to get up and running. It gets straight to the point, and that's what we like about it. Some seniors can be overwhelmed by new technology, so the site was designed for those people who don't want the steep learning curve. Everything is intuitive and it focuses your attention on what really matters – the people on the other end of those conversations.
Your matches are put together by comparing the results of thorough personality compatibility assessments and running some top-secret algorithms so that you don't waste any time with people that don't share your view on the world. It removes all the awkwardness and leaves the fun part – which is connecting with like-minded people. This careful selection is what makes this site powerful, even with a more limited user base than some of the others. It's the focus on quality, rather than quantity, that we really appreciate. It's a no-nonsense approach to senior dating and it gets everything right from our perspective.
You can see they've been inspired by modern Silicon Valley apps and so you know that the whole process will be seamless and enjoyable throughout. Every interaction has been carefully crafted for one specific purpose – to get you closer to other singles who are compatible with you. The site itself almost seems to blend into the background, leaving you to get down to it – it's the mark of any well-made technology. There's really no reason not to look for your silver-haired fox here on Silver Singles.
Senior dating for people above 50
Safe and secure site
Matchmaking based on personality
Simple and easy to use
Photos are blurred for non-paying members
How much does a membership at

SilverSingles

cost?
| | | |
| --- | --- | --- |
| Duration | Price | Total |
| 3 months | 24.95 £ / month | 74.85 £ |
| 6 months | 14.95 £ / month | 89.70 £ |
| 12 months | 13.95 £ / month | 167.40 £ |
Match.com


Dating site for everyone including seniors!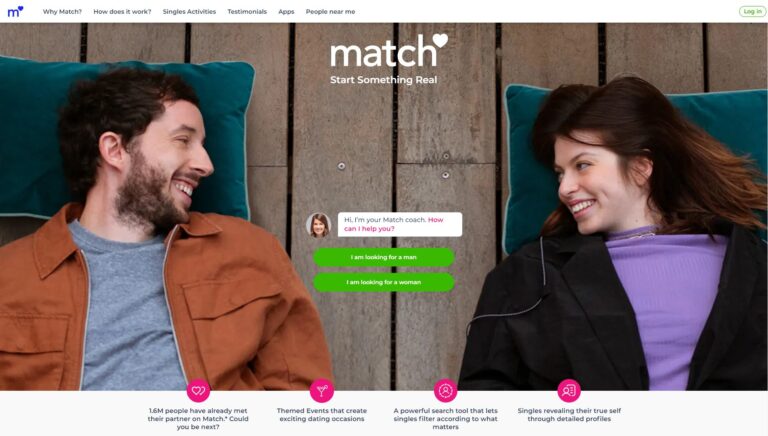 Everyone knows Match.com as one of the market leaders in online dating, but not everyone knows just how strong their senior dating is. The longer, more in-depth profiles actually lend themselves better to more mature adults who have lots of life experience to write about. As a result, a burgeoning community of over 50s singles has emerged from the chaos.
Match.com's filtering based on those profiles is world-class and because they have so much more to work with – they can be much more precise with their match recommendations and this leads to better results overall. If you're looking for long-term companionship, this is a great option. While some may think that Match.com's wide net means they haven't dedicated efforts on the senior dating pool, this couldn't be farther from the truth. Their platform is vast, but also well resourced – and they recognize just how big senior dating is becoming. If you're looking for scale, there is no other site that has as many active members who are searching for connection. Add to the fact that it self-selects for people who value long profiles and you've got yourself a powerful tool for finding that special person.
That cuts both ways though. You really have to put the work into your profile in order to get the most out of it. Be as authentic and detailed as you can because that's what works on Match.com. Once you've done the hard work upfront to craft a great profile, then everything else after that is seamless. They have a great mobile app so you can interact at your leisure, from wherever you are. The first-time investment will pay off handsomely over the long run. Put some effort in and you'll find yourself connecting with some wonderful humans in no time.
Perfect for finding love
More than 20 years experience with online dating
Offers great smartphone app
Lots of members
The site targets all age groups, so you may have to sift through to find relevant matches.
How much does a membership at

Match.com

 cost?
| | | |
| --- | --- | --- |
| Duration | Price | Total |
| 1 month | 29.99 £ / month | 29.99 £ |
| 3 months | 19.99 £ / month | 59.97 £ |
| 6 months | 9.99 £ / month | 54.94 £ |
eharmony


Serious and popular dating site for all ages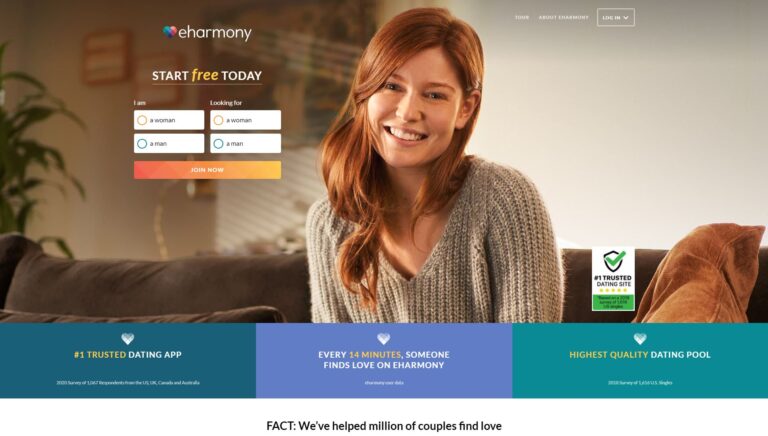 eharmony is another one of those mass market dating sites that has a lurking senior section that doesn't get the credit it deserves. It's built its brand as being there for everyone, no matter what the circumstances, and this is especially true for senior dating. If you want to play the numbers game and maximize your dating pool, eharmony is a great place to do that. They boast millions of successful matches in their history and there's nothing to stop you from becoming the next success story. With a little bit of effort, the right attitude, and some good conversation – you never know who you could meet.
The main focus on the site is personality and compatibility tests because they use that to segment users effectively and mine the database for good matches. As a senior dater, values and interests matter a lot – and these tests are great for pulling that out and matching people accordingly. It's not casual dating here, people are looking for real relationships. You don't want to be wasting time with people who don't share the same intentions as you and that's what these tests aim to do. Ideally, you'll be connected with people who you can see eye to eye with and connect over things that matter to you.
Of all the senior dating sites, the registration process on eharmony probably takes the longest but if you look on the bright side – that means that they've screened out all the lazy people who weren't willing to put the work in. You're not one of those people, right? Ok good. eharmony is for you then. This is also one of the reasons that mitigates the fact that all ages are on the site. Senior daters are more likely to put the effort in and that's why it's become such a big part of eharmony overall. Combine that with the easy-to-use interface and you've got yourself a powerful tool that is well worth the investment.
Only for singles who are serious about dating
Great matchmaking
Simple and easy to use
Lots of members in the UK and across the world
All age groups are present on the site
How much does a membership at

eharmony

cost?
| | | |
| --- | --- | --- |
| Duration | Price | Total |
| 6 months | 29.90 £ / month | 179.40 £ |
| 12 months | 23.90 £ / month | 286.80 £ |
| 24 months | 17.90 £ / month | 429.60 £ |
EliteSingles


For serious seniors with a higher education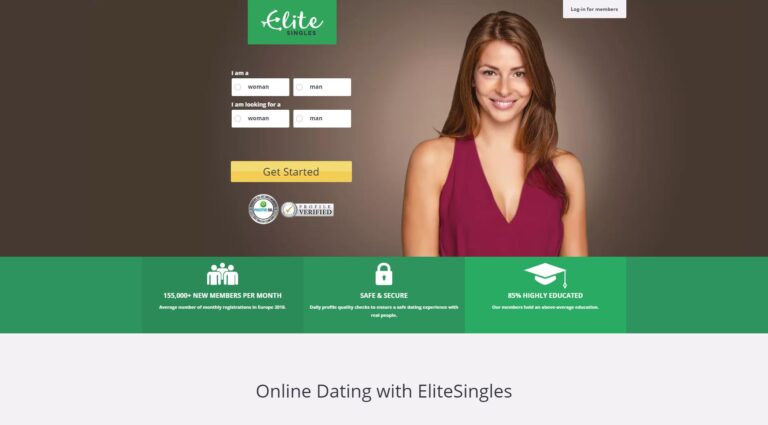 A lot of senior dating sites focus on good conversation, but none do it as well as Elite Singles. On this site, you can be guaranteed that you'll find people who are curious, interesting and intelligent – because you need a higher education in order to join the community. Once you're in, you'll receive 3-7 matches every single day and with any luck, your soulmate is somewhere in that batch. This is a breath of fresh air compared to some of the others who go for quantity and expect you to do the screening. At Elite Singles, it's quality that matters and so you can invest your valuable time and energy only on those few who are really right for you.
Once you've matched with someone, let the sparkling conversation start and before you know it – a spark has been lit. Just imagine all the deep and meaningful conversations you can have on the porch as you reminisce about what it took to join Elite Singles in the first place. It's not bragging, it's just knowing what you're worth. Forget the shallow conversations that fill so much of our early dating lives. All senior daters are looking for something with more substance and that's what Elite Singles delivers. It's depth without pretense, curiosity without pride, intellect without arrogance. There is so much potential for senior daters in this space – and all it takes is for you to get out of your comfort zone and put yourself out there.
If you are one of these people, then you shouldn't hesitate – what have you got to lose? There is a huge pool of people in a similar position just waiting to hear from you about what brings you alive. Those conversations that you've been lacking, are just around the corner. Of course, if your life has gone a different way and Elite Singles isn't a fit, no hard feelings, you'll probably find some of the other sites are more up your alley anyway.
Most members are university educated
Members are serious about dating
Profiles are manually verified
Personality-based matchmaking
The dating site is not exclusively for seniors
How much does a membership at

EliteSingles

cost?
| | | |
| --- | --- | --- |
| Duration | Price | Total |
| 3 months | 39.95 £ / month | 119.85 £ |
| 6 months | 21.95 £ / month | 131.70 £ |
| 12 months | 19.90 £ / month | 238.80 £ |
Be2


Dating site with advanced matchmaking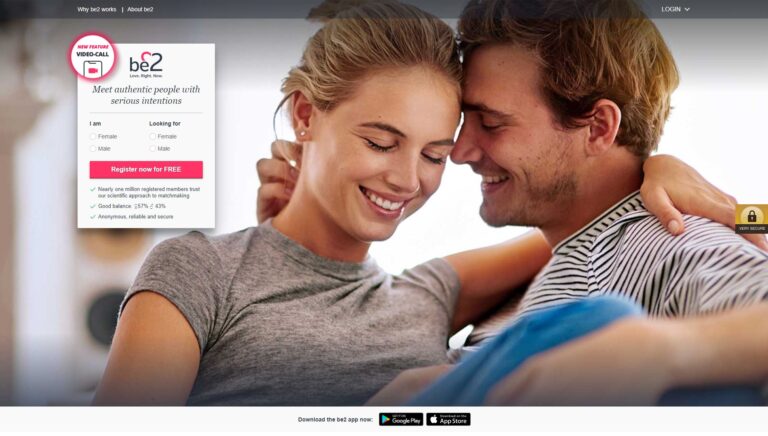 Let's face it. When you're over 50 and in the dating market, it might be worth trying some new strategies. And that's what Be2 does exceptionally well. They use data as their fuel and with some extremely effective proprietary algorithms, they aim to match people together that might not have clicked at first glance – but there is actually lots of potential there.
To do that, that rely heavily on the advanced personality assessments that you complete when you sign up. Take your time to fill these out authentically and you set yourself up for success on the platform. You also know that every potential match has gone through the same process so you can have some confidence that there might be a reason why you've been paired together. You just need to be willing to investigate and discover why! We've been blown away by the stories of people who find the personality matching absolutely uncanny – creating relationships and intimate connections out of nowhere. This is even more exciting when it's with someone who typically you wouldn't have considered on first glance. That's what this site does really well. It rejects your biases and gut reactions and focuses on what makes us who we are. It's one of the better angels of our nature.
The site is more expensive than some others but you're getting a data-driven approach to your dating, which is a new perspective that is well worth the investment. We think it's worth a go – especially if you go in with an open mind. There are also some healthy discounts if you sign up for a longer contract, so if this is something you're going to do for the long-term, then you can stomach a more palatable monthly fee.
Algorithm based matchmaking
Members are serious about their search for love
Partner suggestions are based on personality
The price is above average
Profile pictures are blurred unless you become a paid member
How much does a membership at

Be2

cost?
| | | |
| --- | --- | --- |
| Duration | Price | Total |
| 3 months | 39.99 £ / month | 119.97 £ |
| 6 months | 29.99 £ / month | 179.94 £ |
| 12 months | 19.99 £ / month | 239.88 £ |
Parship


Get matched with like-minded seniors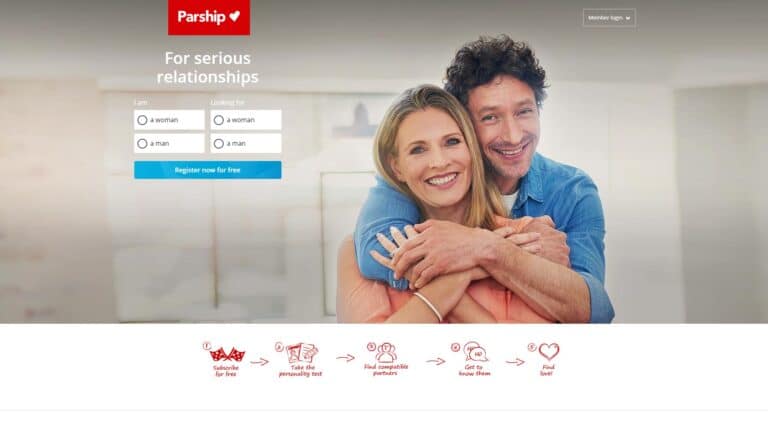 'The Parship Principle' is what you'll hear all about on this site – because that's the matchmaking algorithm that makes it unique. If you fill the personality assessments out honestly, you'll be connected with like-minded seniors who see the world as you do but have different complimentary traits to keep you on your toes. It's a really unique way to look at dating and it's proven incredibly successful so far. They seem to be on the brink of some incredibly innovation here.
It's not typically known as a senior dating platform but that's changing quickly as the platform grows and expands. It attracts the kinds of singles that care a lot about personality and curiosity – so if that's you, this might just be where you should be spending your time. We've heard some very encouraging stories about how well the platform has been working for those over 50 and when it comes to it – that's good enough for us. Anyone who goes onto Parship is looking for something real and is happy to let technology play a role. This opens up new possibilities everywhere and you just won't find a more unique dating pool anywhere else.
Give it a chance. We've heard numerous stories of how incredible partnerships were formed on Parship, especially for those over the age of 50. And you could be the next one! If you're willing to throw caution to the wind and let the data do the talking – then adventure awaits. Don't be thrown off by its relatively small size at this point. The growth is exponential and we have no doubt that it will be a major player in the years to come. You can get ahead of that curve and snap up all the best singles before the secret is out. What's not to love about that? You're an early adopter, right? I thought so. Get on it!
Great for finding a serious and long-term relationship
Matching based on a unique system called 'Parship Principle'
Available in 13 countries worldwide
Few members when compared with Match.com and eharmony
How much does a membership at

Parship

cost?
| | | |
| --- | --- | --- |
| Duration | Price | Total |
| 3 months | 29.90 £ / month | 89.70 £ |
| 6 months | 19.90 £ / month | 119.40 £ |
| 12 months | 14.90 £ / month | 178.80 £ |
Dating over 50 – Is it too late?
No, not at all! You still have so much of your life left ahead of you and what better way to spend it than with a new companion by your side. You are really not alone in this. 
The senior dating industry is flourishing right now and millions of singles are interacting every day thanks to the power of the internet. Previously, it was very difficult to meet someone over the age of 50 who you might consider dating, but online dating has completely changed that. You'll find a large community of people over the age of 50 who are not letting age get in the way of happiness and are more than willing to get out there and meet new people. You should be one of those, it's a lot of fun. 
The dating sites above are a great place to get started and, trust us, you won't regret it. Give it a try!
What senior dating site should I choose?
Ah, now this is a difficult question to answer. 
Every site is different in a variety of ways and so you need to find the one that suits you and your needs. Every site has a slightly different focus which leads to a unique online environment, attracting certain types of people more than others. 
Ourtime, TrueLifePartner and Silver Singles are all dedicated senior dating sites which cater exclusively to people in your age range, so they are often the best place to start. But the others like Match.com, eharmony, Elite Singles and the like also boast booming senior sections that are full of wonderful people as well. 
There really is a lot to choose from. Your best bet is to go through the comparisons on this site and identify the ones that resonate with you. There is no right or wrong answer – it's all about personal preference! Then once you've picked some of those, try them out and see what they're like. The only way you're going to know if they're right for you is if you give them a go.
What are the best sites for senior dating in the UK?
It's hard to rank these sites because they are all so different. Every one has its own pros and cons and a lot of it comes down to your attitude and willingness to do what's needed to succeed. 
Here on the site we've done a lot of work to review all your options, so all you need to do now is pick the sites that seem to be suited to you. If you're going to force us to pick our favourites then we'd go with Ourtime, TrueLifePartner, and Silver Singles because they are all designed specifically for senior dating. Everything from the ground up has been developed with that in mind which makes it a tailor-made experience that is fine-tuned to senior dating needs. Ourtime has the biggest membership base and so is the incumbent in the space, but the other two are growing fast and quickly becoming giants in the industry. You really can't go wrong with any of them.
How does senior dating work?
Senior dating is very similar to traditional online dating, except the focus on life experience and maturity is much more present. It's much more about depth, than a shallow focus on physical looks alone. Everyone on there has more mature expectations while they're on the site. 
You'll set up a profile that describes who you are, your interests, and your relationship preferences. Depending on the site, this can be a simple questionnaire or profile template, or it can be a more involved personality assessment that aims to quantify some of the aspects that make you who you are. Then the site will then crawl its database and identify a range of potential matches that it thinks would be a good fit for your profile. 
Once, both sides have agreed on a match, then the ball is in your court as you interact and connect with those matches. You take the conversation forward and hopefully, you find that person you've been searching for! No one experience is the same, of course, so stick at it, be patient, and you'll be surprised at just how successful it could be for you.
Do dating sites work for seniors?
Absolutely. The internet has really opened up incredible opportunities for like-minded seniors to connect and interact – and it's happening on a mass scale every single day. 
Instead of relying on chance and serendipity, you can make it very clear what you're looking for and use technology to bring those people to you. It's magical. If you're a senior and are a bit apprehensive, we understand entirely. But we've seen enough success to know that it works and that it's well worth the effort. 
If you're willing to be brave and put yourself out there, you'd be surprised by how many wonderful people are out there looking to connect with like-minded individuals. It all comes down to your attitude when using senior dating sites and how you communicate about yourself. If you do this authentically and playfully, these sites can be extremely valuable for you and could even change your life. You're never too old!
What is mature dating?
Mature dating is sleek, sophisticated, and free of the games people play in their youth. Seniors above 50 have much more life experience and more self-awareness, which leads to more depth and seriousness in the dating pool. This is what sets mature dating apart and quite frankly, it's wonderful. 
The kinds of people who go onto mature dating sites are those who want more out of life. They're curious, open-minded, and willing to connect with new people who can challenge them and make them better people. 
Mature dating is so much more than just companionship (although that is a great reason on its own), it's about fulfilling your potential and sharing your life with someone who can appreciate you for what's on the inside. Your age does not have to define you. In fact, it can be a powerful leverage point for you to re-ignite your love life and change your daily experience for the better.
How do I start a conversation on a senior dating site?
At the beginning, all you're looking to do is find some common ground and let that drive the conversation. So, look through the profile of whoever you're talking with and try to find a common interest or an interesting part of their personality that you can ask them about. 
Send a message with a genuinely curious question about that interest and let that kickstart things. People love to talk about what they're passionate about so if you give the other person the chance to do that, they'll feel much more comfortable and willing to converse. In the same breath, it's important then to share about things that matter to you – so you can show your personality. Get these right, and you'll break the ice and get a good conversation started.
What should I write about myself?
The most important thing is to be honest. So many people try to create a profile that they think others will want to read, but then get stumped because the inauthenticity shows through when they start talking with people. Just be yourself! There's no need to put on a mask of any type – the whole point is to find someone who appreciates you for who you are. So be sure to write about what you're passionate about, what matters to you, and what makes you unique. 
The more personality you can show, the better. How would your friends describe you? Write about that.
What does it cost to use senior dating sites?
Every senior dating site has a different pricing structure so it really depends on which ones you go with. Most of the sites have a monthly subscription fee that ranges from between £5 and £30 per month. They will also reward you from a price perspective if you sign up for a longer period of time, with the 1-month contract tending to be much more expensive than the 6-month or 12-month contracts. 
Some sites will have a free trial period where you can test all the functionality and the interface before you commit to a paid subscription. This is a good way to see what sites are right for you, before you part with any of that hard-earned cash.
Are senior dating sites safe to use?
Yes, for the most part. All the senior dating sites place a lot of importance on safety and security, focusing on maintaining privacy and a healthy environment for all of their members. So, you can rest assured that the sites are safe from that perspective. 
However, what is important to remember is that you really have to be responsible and aware that there are people on these sites with ulterior motives. Unfortunately, as with any online community, there is a small portion that go onto these sites to try and take advantage of people. As such, it's important that you keep your wits about you and take your time to get to know anyone you're talking with before meeting them in person. 
Do your research and take care of yourself. Most specifically, don't ever send money to anyone on these apps, no matter what they tell you. If you are careful and responsible, you'll be absolutely fine and you'll have a great experience all round!