For singles looking for serious and long-term relationships
Sophisticated and advanced matchmaking system
This article contains affiliate-links.
In-Depth Review of


eharmony


Whether or not you've had personal experience with online dating, you've probably heard of eHarmony. Originally created in 2000 by clinical psychologist Dr. Neil Clark Warren, eHarmony was the very first algorithm-based dating site providing matches based on scientific research and numerous compatibility measures. Over two decades later, its popularity still hasn't slowed down.
Reports claim that 15 million matches are made per day or, "every 14 minutes someone finds love on eHarmony"—that statistic itself is a ringing endorsement of the service.
While it became popular in the early 2000s from it's romantic (sometimes cheesy) commercials, a catchy jingle, fantastic host, the sheer novelty of the idea, and its ease of use—it's stood the test of time because, as a dating site, it has never stopped innovating.
In 2020, the eHarmony app started to implement video dates to accommodate for the COVID-19 pandemic and acclimatize itself to a cultural shift of in-person contact. Right now, it calls itself the "#1 Most Trusted Dating Site" in the world and, with consistent matches alongside the "highest quality" dating pool for long-term relationships, the stats help to back up that claim.
However, to make sure the reports are accurate and the great reputation eHarmony has built over the years holds up, we checked it out ourselves to see just how effective it is as finding love. Read on to find out what we've learned!
Only for singles who are serious about dating
Great matchmaking
Simple and easy to use
Lots of members in the UK and across the world
Registration takes a while – but it's usually worth the investment
6 MONTHS
Per month: 29.90 £
Total: 179.40 £
12 MONTHS
Per month: 23.90 £
Total: 286.80 £
24 MONTHS
Per month: 17.90 £
Total: 429.60 £
Signing Up for

eharmony
The process of signing up for eHarmony definitely isn't quick—and when compared to many other sites, it isn't inexpensive either. However, even though we've marked that as a "con" because of time and monetary investment it takes—that investment is worth it in the end.
Registering and signing up for eHarmony means more than just adding a bio and a few profile pictures—there is a deep dive on who you are as a person and what your interests are. The questions are targeted, time consuming, but the reason this method works is because it weeds out less-engaged parties.
To eHarmony, people willing to invest the time to answer everything honestly, have joined the site with sincere goals. With that, the people you find on eHarmony are invested in the process through both time, money, and are somewhat forced to be detail-oriented. In that way, eHarmony tends to lend itself toward long-term relationships rather than casual dating. That might mean eHarmony isn't for everyone, but as far as establishing a solid foundation for a long-term relationship—it's earned its place at the top spot.
Member Structure
As mentioned, eHarmony is a site focused on long-term relationships. However, even as a pioneer of the industry it still sees a lot of activity and a diverse set of members that range mostly from ages 25-34 years old. However, that's the most common age group—there are also specific subsets for age categories when creating your profile interests.
Currently, there are over 60 million users on eHarmony divided at roughly 47% women and 53% men in over 200 countries worldwide. Put plainly, there's a lot of fish in this sea.
Matching Process
After the meticulous registration process, eHarmony opens up with a detailed profile designed to find only compatible matches. As always in that regard, honesty is key for determining proper compatibility. However, to further refine your profile and narrow the results, you can also take part in compatibility quizzes. These compatibility quizzes and your answers to other questions in profile creation make the compatibility sections of both you and your potential matches worth a look. You'll find topics like Emotional Intimacy, Conscientiousness, Physical Intimacy, Relationship Values, Religious Values, Social Values, Affection, Athleticism, and Romance just to name a few.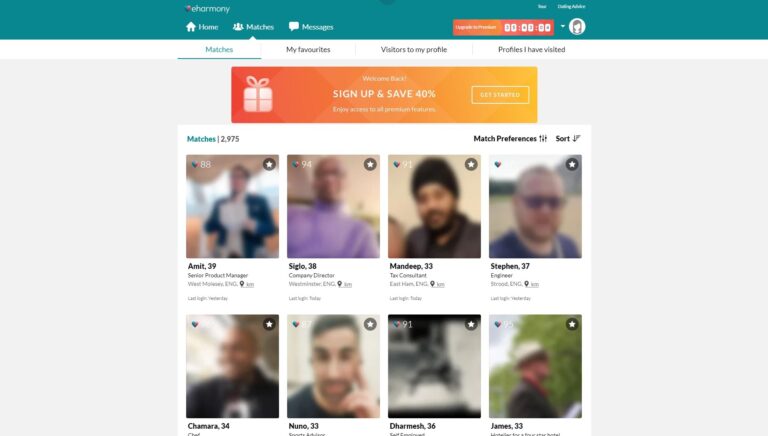 As far as getting matches on eHarmony, the algorithm works for you and generates potential matches which it will list on your homepage—although, it's still up to either you or them to reach out. You can look at their profile, read about their interests, note compatibility highlights, and scan pictures.
Even though the registration and profile creation can be time consuming, the benefits really show here. On your profile and others are the compatibility topics mentioned above but also Q&As to offer a way of really individualizing your voice on the site.
Contact Options
That all being said, when it comes to making actual contact, a premium membership is not required, but heavily recommended. While you can message and wink without one, there isn't enough autonomy to make it worthwhile.
Predominantly, reaching out is done through messaging and asking questions offered by the platform—but, as mentioned, another perk of the newest eHarmony update is video dates. These ways might be less complex than other, newer platforms, but it proves to be all that's needed for making matches.
Free Services
Registration/profile creation
Send winks and view matches
Send 5 site-generated questions
Browse matches outside your list
View pictures of potential matches
Premium Services
See who viewed your profile
See who added you to favorites list
Add matches to your favorites list
Unlimited messaging
Browse anonymously
Get matches outside your preferences
eharmony

App
As all the best apps, the eHarmony app comes with all the features available on the website. Through practice and research, it doesn't seem like anything is lacking in one to the other. There is messages, video dates, profile searches—but a premium membership is still required to access a majority of the features.
All in all, either the website or the app functions perfectly to get the most value from what eHarmony has to offer.
Conclusion
When it comes to online dating services that have been around the longest, there aren't many older pioneers than eHarmony. That said, eHarmony has stood the test of time because it continues to innovate and put long-lasting romantic relationships first in its mission statement.
If you're looking for a long-term relationship and detailed, researched based compatibility, look no further than eHarmony. This online dating site may have been around the block for a while, but it's learned a thing or two about finding love—and it's here to help you do the same.