Online Dating

❤️

The best online dating sites in the UK
When it comes to dating online, you are absolutely spoiled for choice.  There are a wide range of options out there and it can be overwhelming when you first get started.  Below you'll find a detailed list of comparisons between the very best online dating sites in the UK so you can make the best possible choice for your unique needs!
This article contains affiliate-links.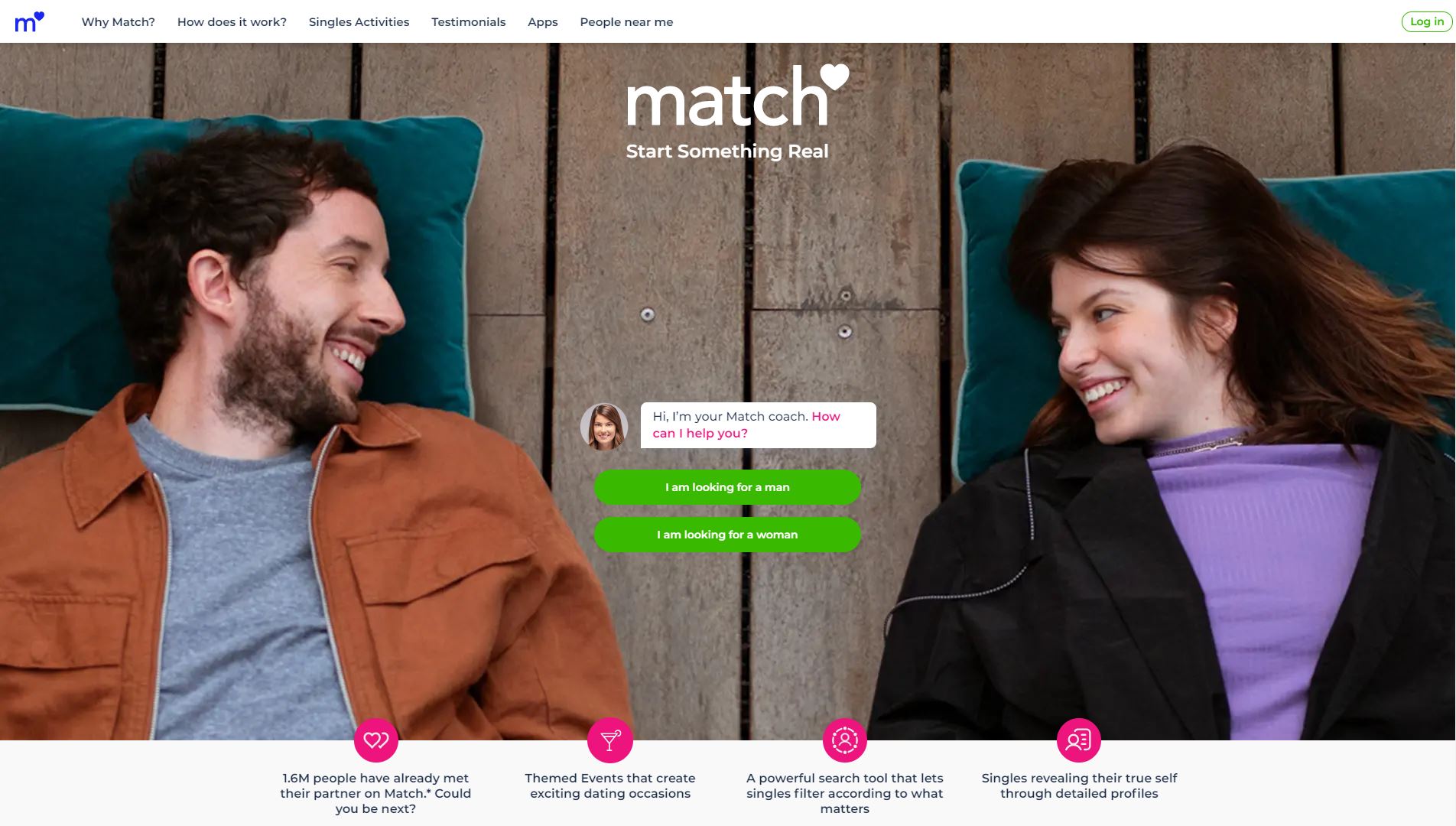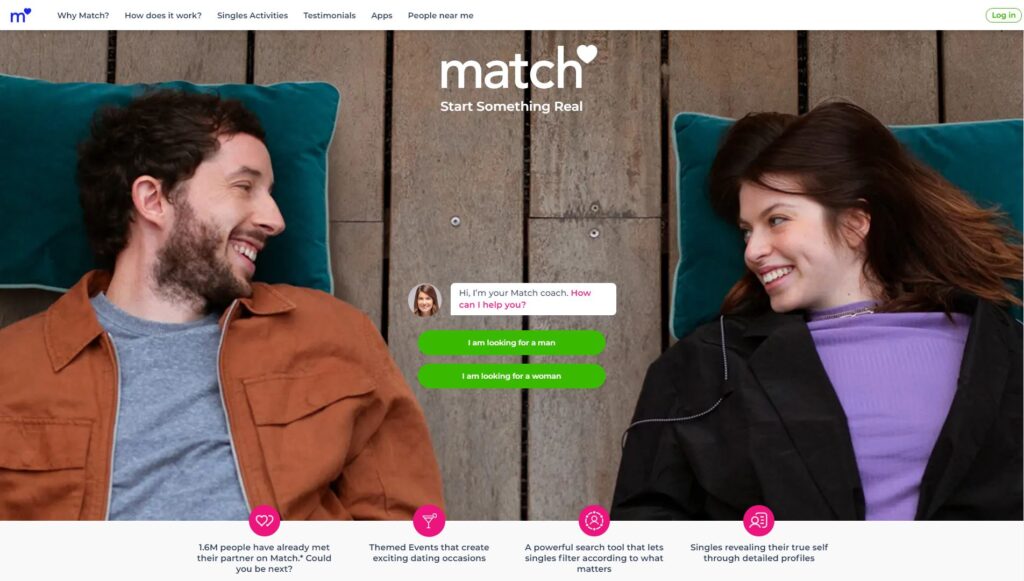 Match.com is an absolute behemoth with over 1.5m people on the platform. And even though they've been around for years, their interface still feels fresh and modern. There's a reason why they are one of the foremost brands when it comes to online dating.
Their philosophy is to focus on longer, more-detailed profiles where you go into depth about who you are and what you are looking for. Every component of the registration process is designed to pull out different aspects of who you are to create a nuanced summation of who you are as a person. This makes for much richer and rawer experiences because its slightly less superficial than some of its peers. In addition, the extra information allows the algorithm to perform advanced filtering and search capabilities which match people according to meaningful criteria that make them who they are. It's the most in-depth platform out there.
As such, effort and honesty get rewarded. The more depth you can display on your profile, the more attractive you're going to be to other singles on the site. If you're looking for a quick and easy option – then this isn't for you. But if you're willing to be authentic and share honestly about who you are, there are a large proportion of like-minded singles who are waiting to meet you. It's not an opportunity you get often, so take advantage of it!
Perfect for finding love
More than 20 years experience with online dating
Offers great smartphone app
Lots of members
The profiles are quite in-depth and can take some time to fill out properly.
How much does a membership at

Match.com

 cost?
| | | |
| --- | --- | --- |
| Duration | Price | Total |
| 1 month | 29.99 £ / month | 29.99 £ |
| 3 months | 19.99 £ / month | 59.97 £ |
| 6 months | 9.99 £ / month | 54.94 £ |
eharmony


Establish serious and long-term relationships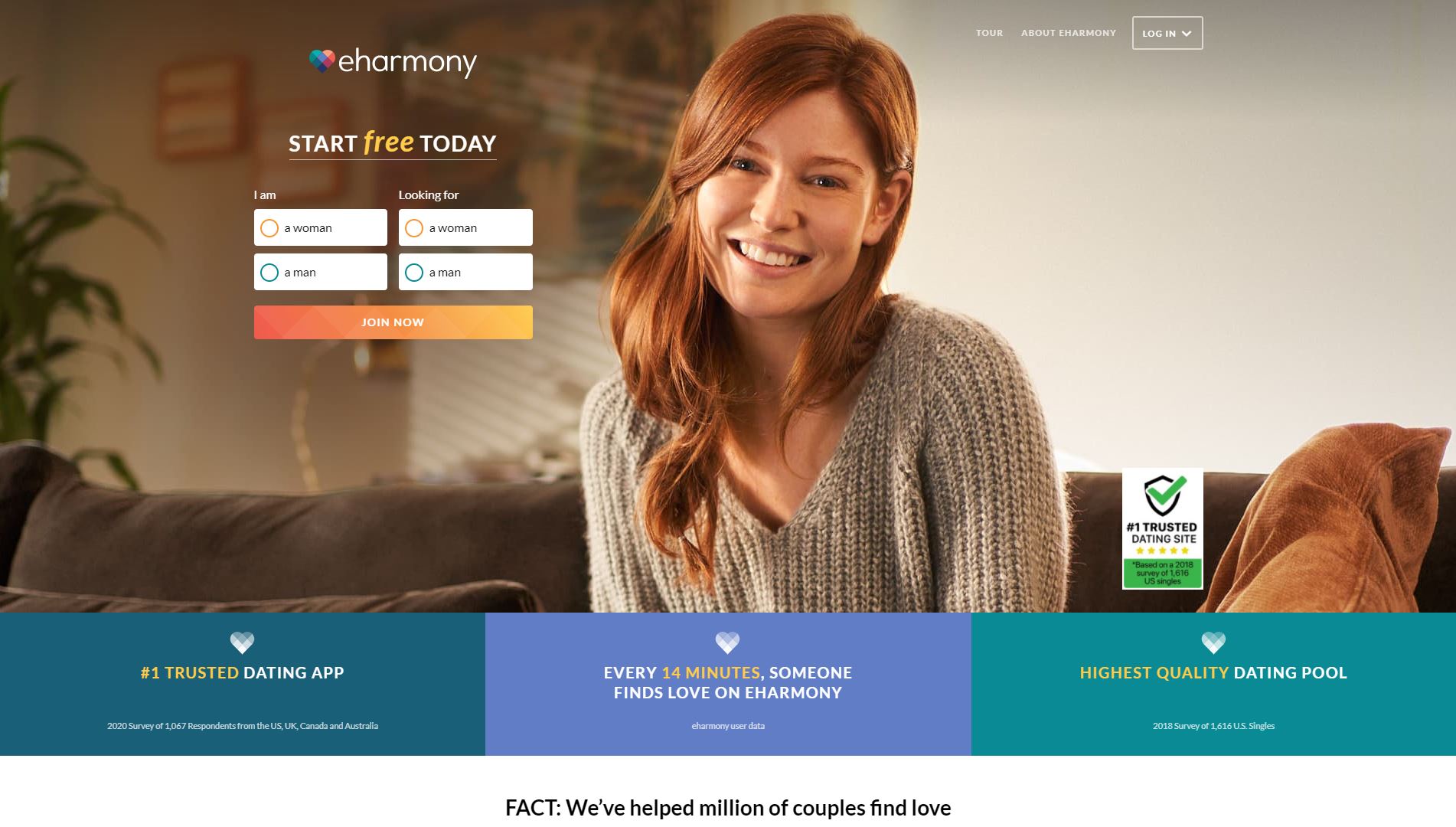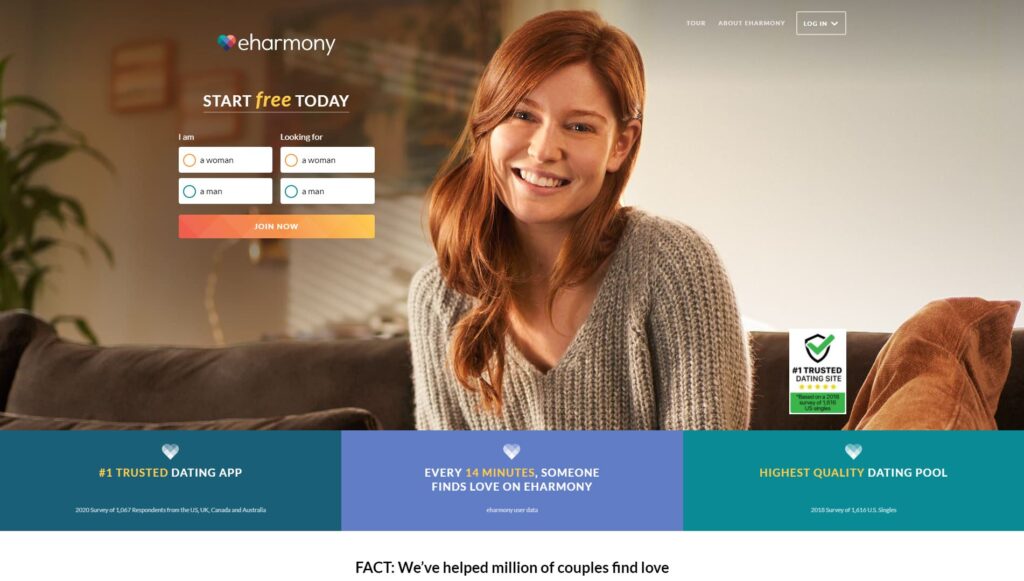 eharmony has been around for 20 years and they are still one of the best online dating sites on the market. They claim that they create a harmonious match every 14 minutes and it's hard to bet against that statistic with the vast scale they've been able to build.
Their profile set up uses various personality and compatibility tests which aim to quantify those quirks and preferences that make you who you are. These tests help to determine and categorize how you think, what you care about, and what you're looking for. All this information is then fed into the system and out the other side pops like-minded singles who you should have some connection with. Forget those boring conversations that go nowhere, you'll have points of commonalities immediately. And this works wonderfully for people who are looking for real, authentic partnerships.
The long registration process helps to self-select for those who are serious and are looking for something real. If you're looking for a long-term relationship with an equal, then you're in the right place. They might just be around the corner. The only way to find out, is to dive in.
Only for singles who are serious about dating
Great matchmaking
Simple and easy to use
Lots of members in the UK and across the world
Registration takes a while
How much does a membership at

eharmony

cost?
| | | |
| --- | --- | --- |
| Duration | Price | Total |
| 6 months | 29.90 £ / month | 179.40 £ |
| 12 months | 23.90 £ / month | 286.80 £ |
| 24 months | 17.90 £ / month | 429.60 £ |
EliteSingles


Serious online dating for singles with a higher education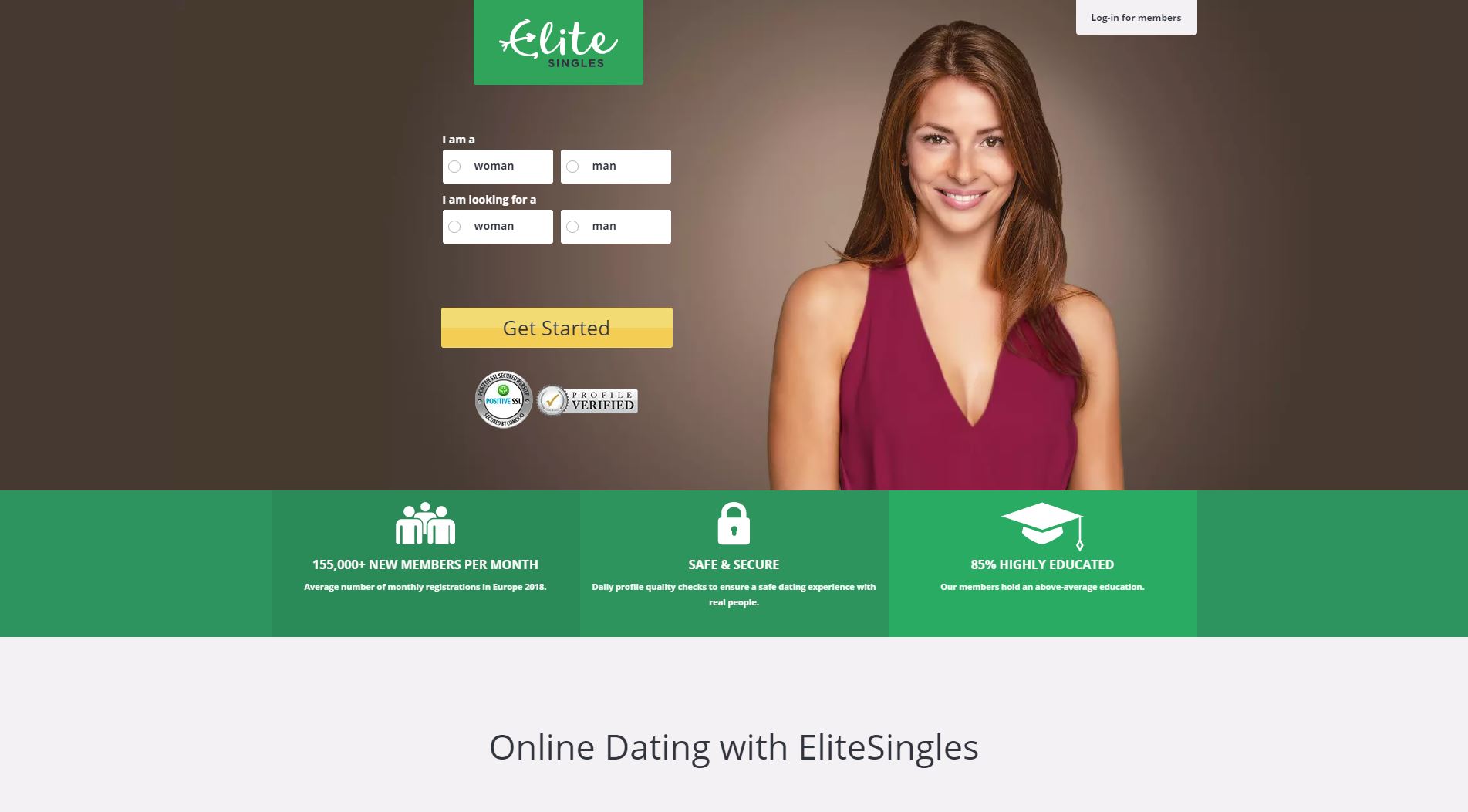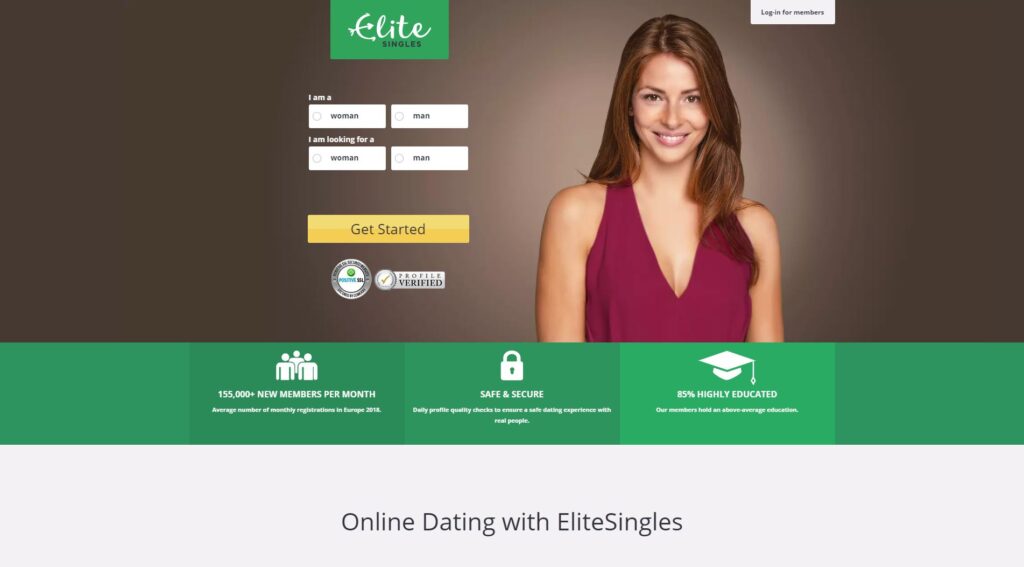 Elite Singles is exactly as the name suggests – focused on those who have been through higher education. To get onto the site you have to be well-educated which means that every conversation is immediately elevated as you're dealing with intellectuals through and through. Their process is different to others as they focus on quality over quantity, only showing you 3-7 potential matches per day, curated from their growing user base. This helps to keep things manageable and give you time to invest in a few different conversations rather than trying to keep up in open season.
It's likely that the people you'll meet here will be curious, ambitious, driven, and serious about looking for a long-term partner. If intelligence is important to you and you're tired of playing games – then this is a great place to try. It's not for everyone, but for some – it is a game changer.
Most members are university educated
Members are serious about dating
Profiles are manually verified
Personality-based matchmaking
Not suitable for those who didn't go through traditional education
How much does a membership at

EliteSingles

cost?
| | | |
| --- | --- | --- |
| Duration | Price | Total |
| 3 months | 39.95 £ / month | 119.85 £ |
| 6 months | 21.95 £ / month | 131.70 £ |
| 12 months | 19.90 £ / month | 238.80 £ |
Parship


Online dating based on personality-test compatibility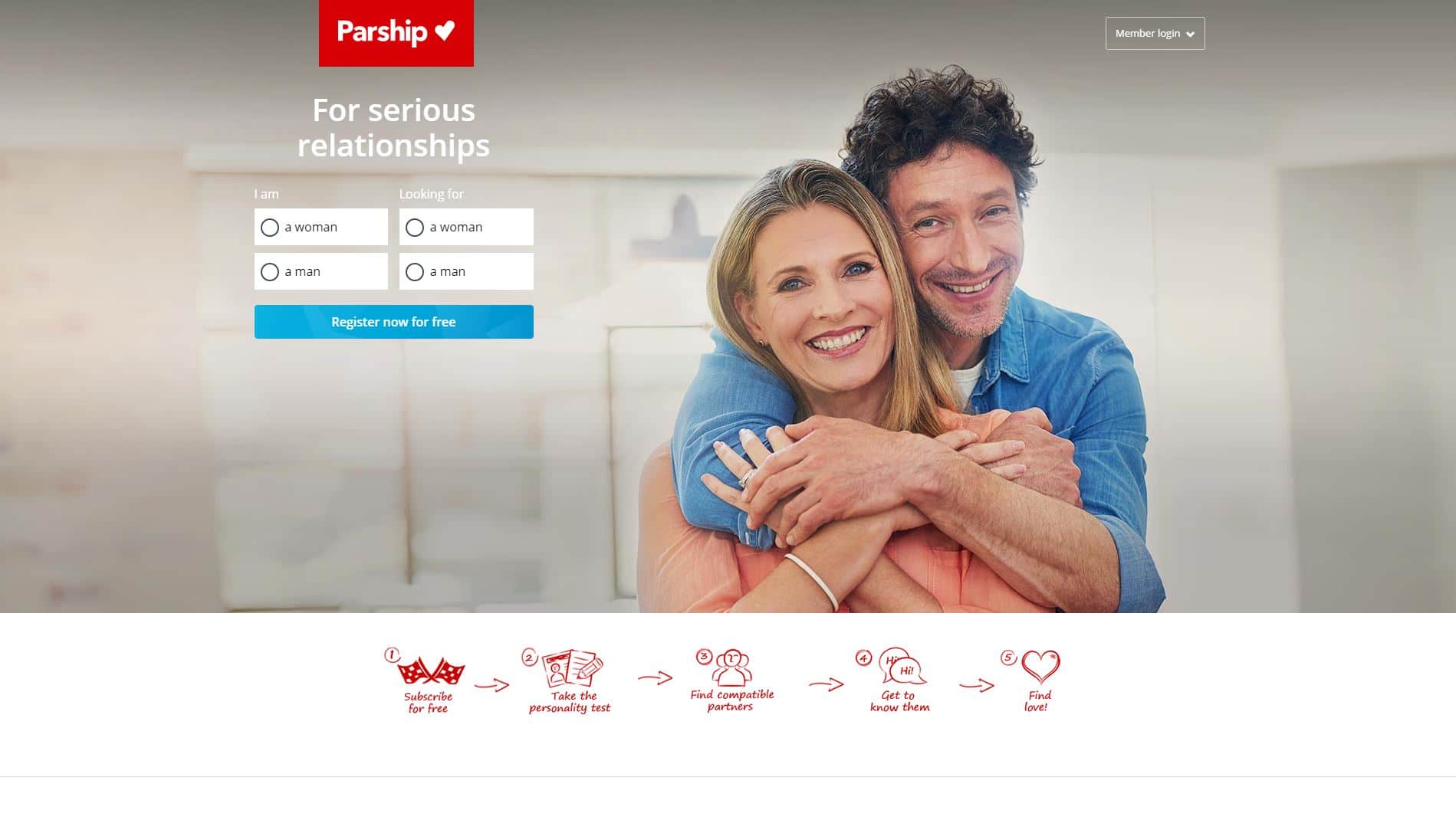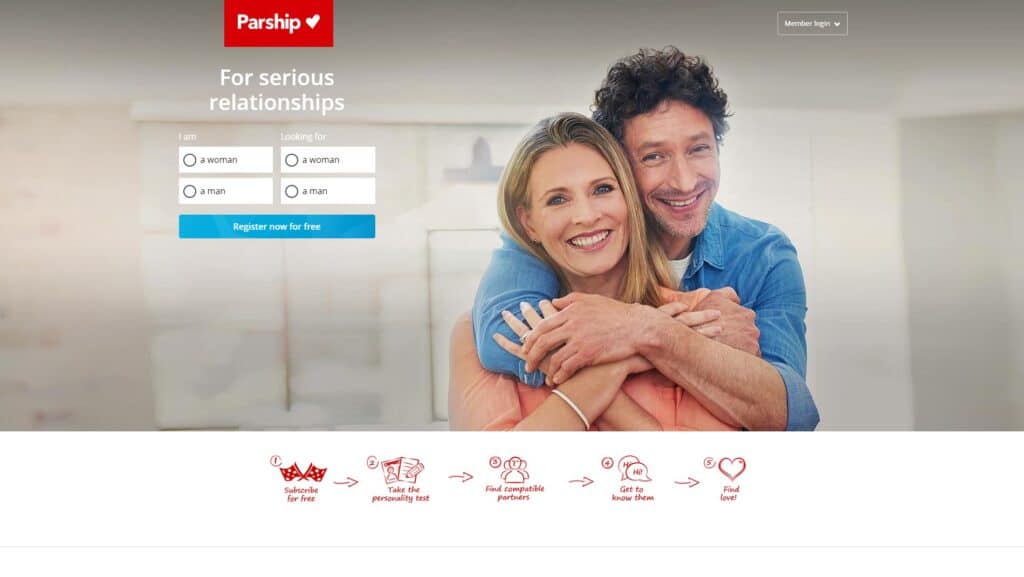 The 'Parship' Principle this proprietary matchmaking algorithm that sets this particular site apart. By analyzing 32 different traits using 136 different rules, they can form a data-driven profile that boasts a really incredible success rate. Even if you're skeptical, it really is worth a try. Whether we like it or not, love is an art and a science, and this particular site goes above and beyond on the science side.
In a world where data is. a huge buzzword, why not see what is possible when you apply it to online dating? The most exciting part of this is that it might just introduce you to someone who you typically wouldn't consider as 'your type' and show you that your preconceived notions are getting in the way. It's your own personal matchmaker in your pocket, working for you to find that special someone.
It's a young site and a relatively new concept, but the growth has been staggering. We wouldn't bet against it becoming a huge name in the next few years. If you believe in the power of data, then Parship is the place to be. Who knows, maybe you'll be inviting the algorithm to your wedding ceremony in the not-too-distant future.
Great for finding a serious and long-term relationship
Matching based on a unique system called 'Parship Principle'
Available in 13 countries worldwide
Few members when compared with Match.com and eharmony
How much does a membership at

Parship

cost?
| | | |
| --- | --- | --- |
| Duration | Price | Total |
| 3 months | 29.90 £ / month | 89.70 £ |
| 6 months | 19.90 £ / month | 119.40 £ |
| 12 months | 14.90 £ / month | 178.80 £ |
Ourtime


Popular online dating site for seniors above 50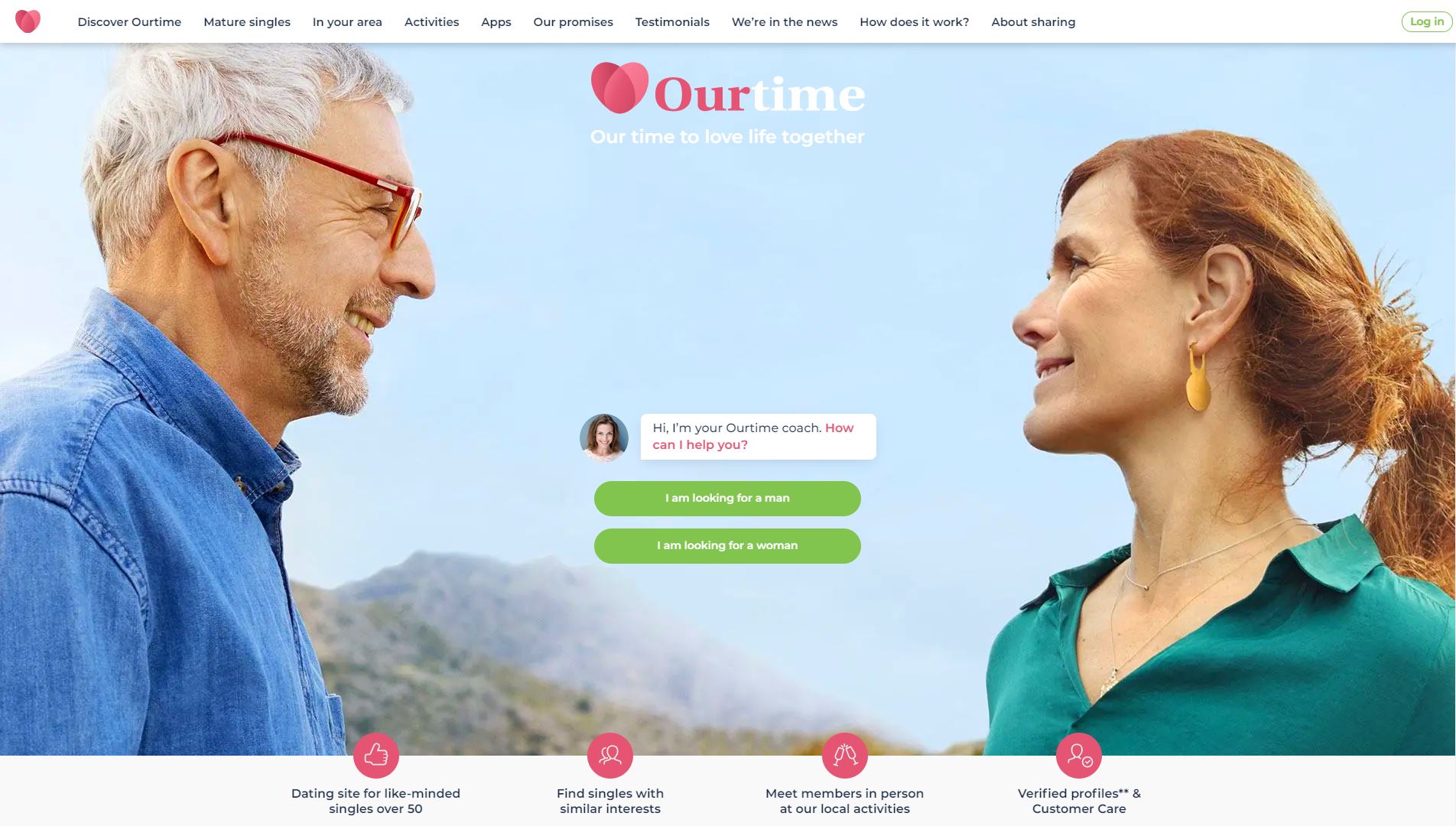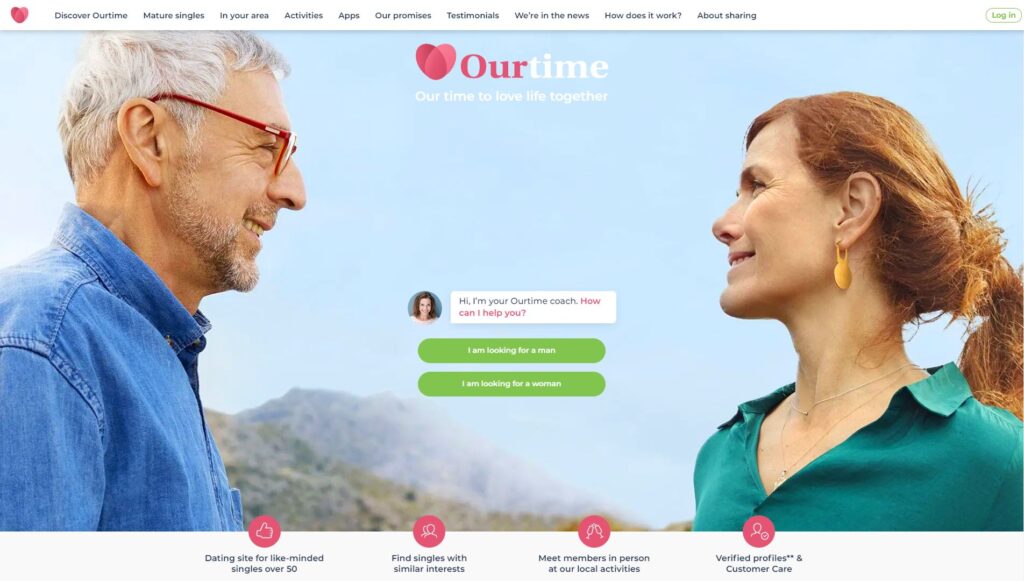 Dating as a senior is never easy, but with a site like Ourtime, it's become that much more viable and enjoyable. Their platform matches singles above the age of 50 with others who have similar interests and outlooks on love and relationships. What they've been able to build, very intentionally, is a safe space, both online and in-person at their events, for authentic connections and genuine companionship.
They believe that the best of your life is still to come, and we couldn't agree more. When you use Ourtime, it can open up your eyes to new people, new conversations, and new experiences that you will take you out of your comfort zone and into exciting new territory. And who knows – perhaps that turns into a wonderful long-term relationship. That's the hope anyway. There's a level of empathy here that dwarfs a lot of other options. It's hard to explain in words, but if you go on the siter, you'll find that the culture encourages open and honest communication, and a really wholesome community of people looking to connect with others in a similar age bracket.
This one is going to set your wallet back a bit, but we think that the value is there. The paywall helps to dissuade those who aren't serious, and you're left with those who are willing to dedicate the time and effort needed to facilitate deep connections. What have you got to lose? We think it's worth a go, at the very least.
Profiles are verified
Members are all 50 years and above
Hosts real life events
14-day money back guarantee
Lots of members

The price is above average
How much does a membership at

Ourtime

cost?
| | | |
| --- | --- | --- |
| Duration | Price | Total |
| 1 month | 39.99 £ / month | 39.99 £ |
| 3 months | 24.99 £ / month | 74.97 £ |
| 6 months | 19.99 £ / month | 119.94 £ |
Be2


Matchmaking based on a scientific personality assesment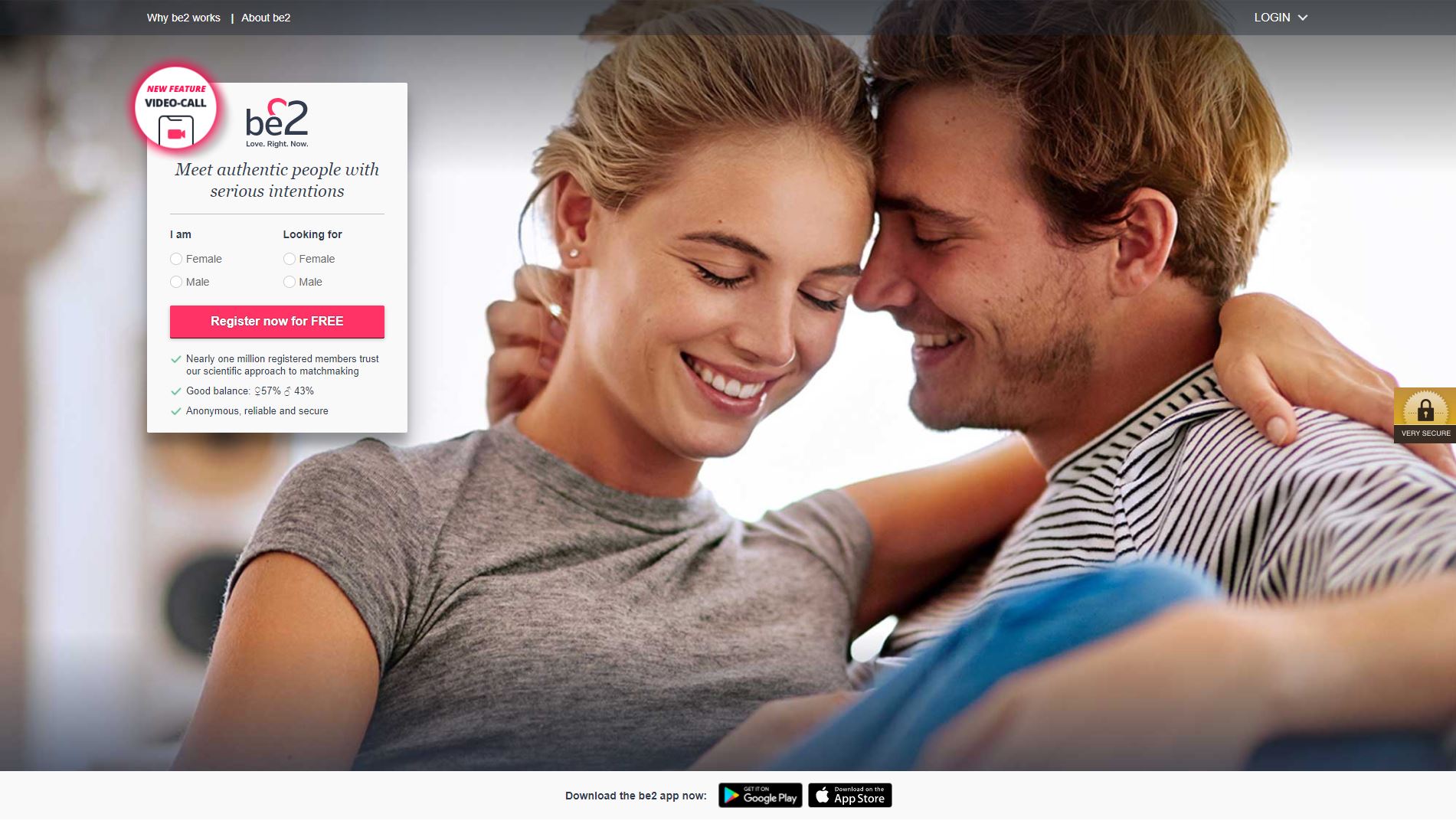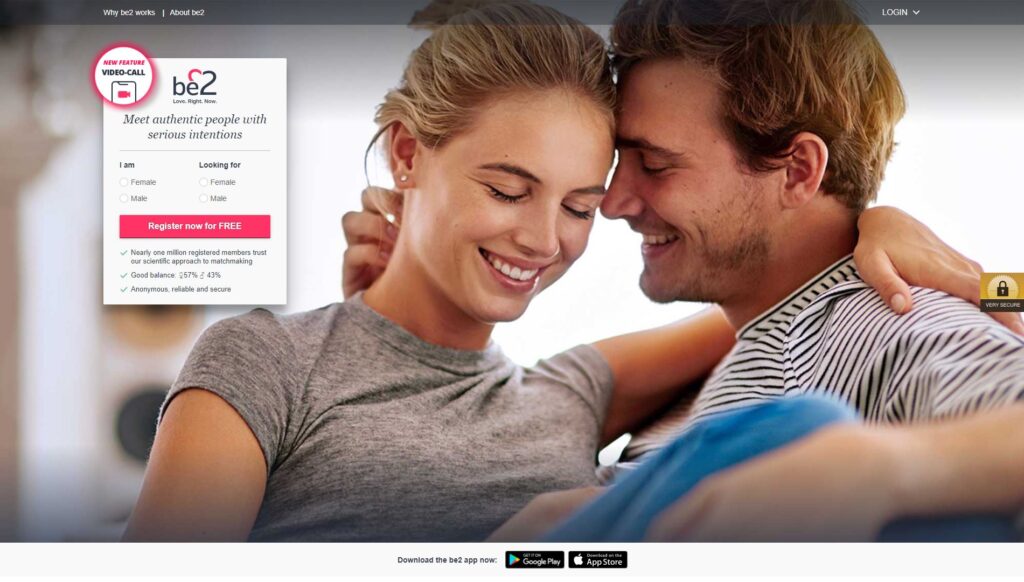 Matchmaking has both its supporters and its critics, but what Be2 are doing in the space is something new entirely. They have found a way to bring traditional matchmaking principles to scale in a major way. Their in-depth personality assessments feeds information to advanced algorithms that helps singles find others who have the right intentions and are the kind of people that they likely to get along with. You only have to look at the success they've enjoyed, to see that Be2 represents an exciting development in the space.
Before you even get to matching with someone else, the onboarding process guides you through a period of self-reflection so you can clarify exactly what matters to you and what you're looking for. This helps you to clear out the list of things that we often look for in a partner and forces us to reckon with what really matters at the end of the day. In order to be in a meaningful relationship, we have to first understand who we are and what makes us tick. The personality tests on the Be2 platform are a great way to start on this journey.
You'll pay more here than some other options but all that goes into the technology itself. It's much more than just a mere dating site and that's why you're paying top prices for it. Even if you don't find the right person, you might just learn something about yourself that can help you in the future. And if you do find the right person, then you can thank your lucky stars that you gave it a go.
Algorithm based matchmaking
Members are serious about their search for love
Partner suggestions are based on personality
The price is above average
Profile pictures are blurred unless you become a paid member
How much does a membership at

Be2

cost?
| | | |
| --- | --- | --- |
| Duration | Price | Total |
| 3 months | 39.99 £ / month | 119.97 £ |
| 6 months | 29.99 £ / month | 179.94 £ |
| 12 months | 19.99 £ / month | 239.88 £ |
SilverSingles


Online Dating site for those over 50 but still young at heart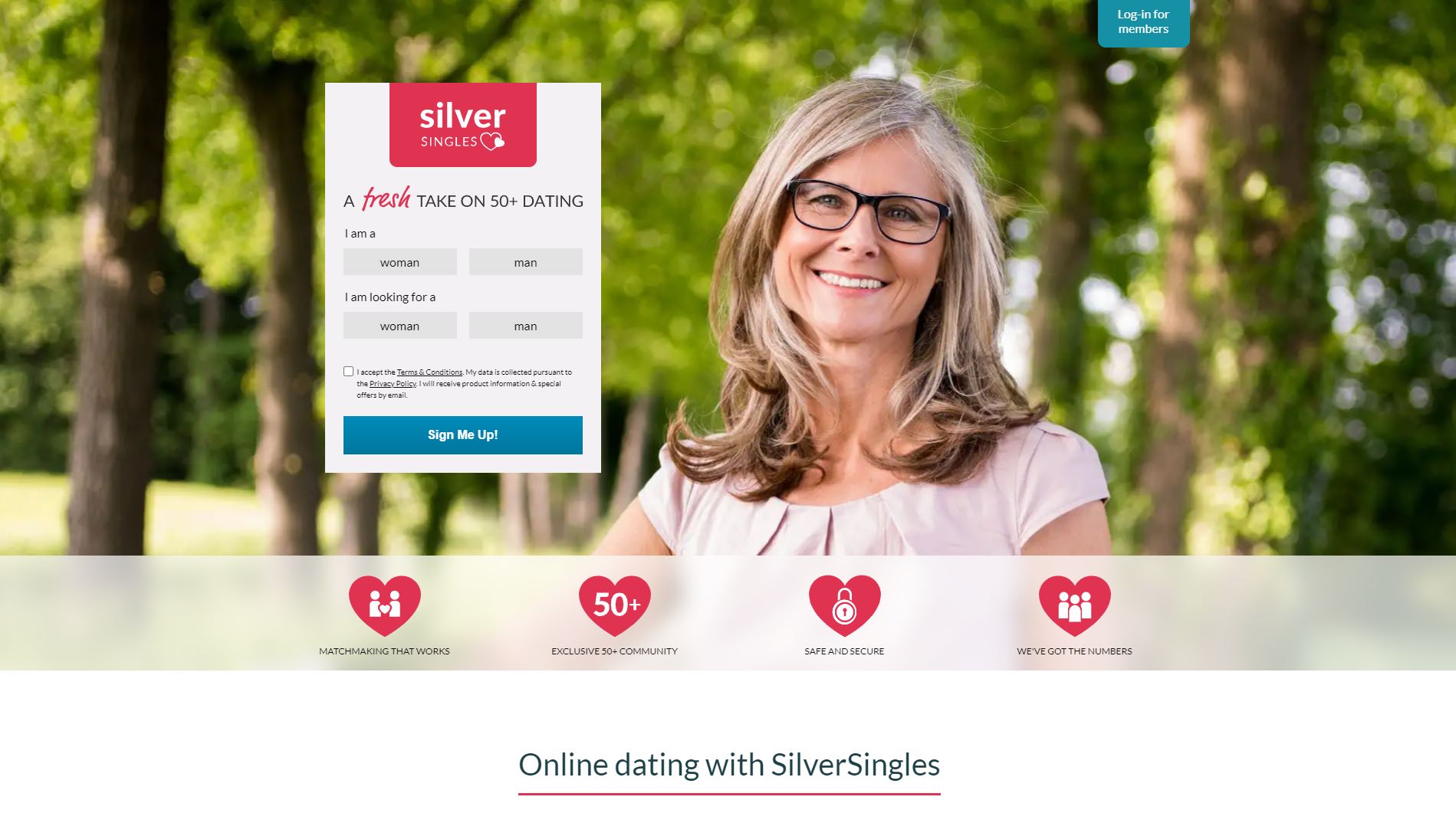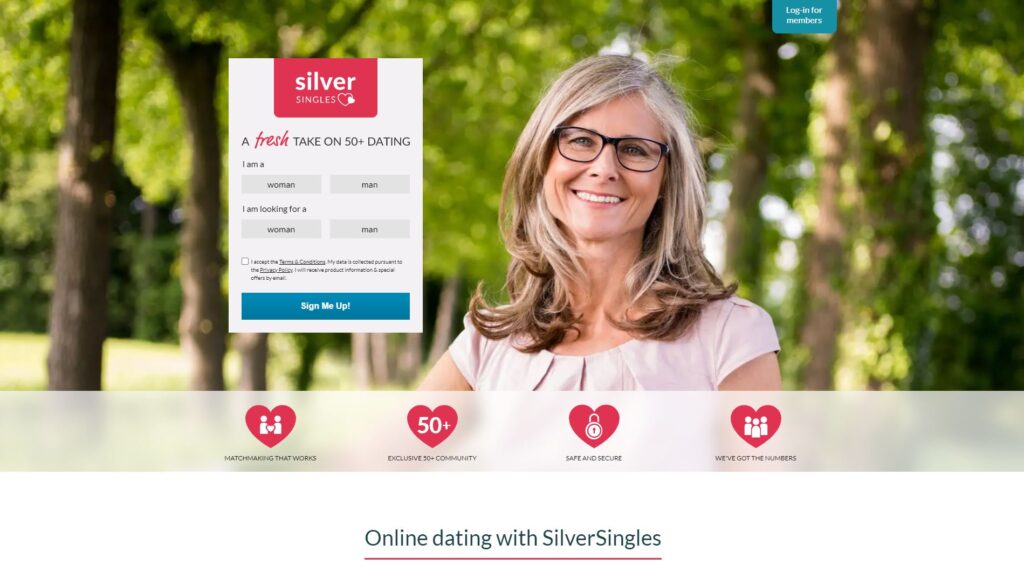 If you're looking for a vibrant community of singles over 50, then look no further than Silver Singles. They are one of the best places to go if you're looking to find love and companionship because they've nurtured the most endearing group of users that you could ever imagine.
The platform doesn't have all the bells and whistles that are present in others, but instead just focuses on the few features that make all the difference. Once you've filled out your profile and let the site do its thing, you'll be shown a list of carefully created matches which you can work through however you'd like. These matches are determined through personality compatibility assessments and a bit of magic so that you can be assured that you won't be wasting your time. They do an excellent job in matching people together in a way that encourages vulnerability and authenticity – both of which are key components of a senior dating experience.
If you do give it a go, we think that you'll be pleasantly surprised by what you experience. The interface is simple, and you'll be up and running before you know it. We've heard from so many seniors who really appreciate how easy it is navigate the app and use it effectively. There really is no good reason not to try it out – because it might just be the secret weapon you've been searching for.
Senior dating for people above 50
Safe and secure site
Matchmaking based on personality
Simple and easy to use
Photos are blurred for non-paying members
How much does a membership at

SilverSingles

cost?
| | | |
| --- | --- | --- |
| Duration | Price | Total |
| 3 months | 24.95 £ / month | 74.85 £ |
| 6 months | 14.95 £ / month | 89.70 £ |
| 12 months | 13.95 £ / month | 167.40 £ |
Zoosk
Extremely popular dating app targeting young singles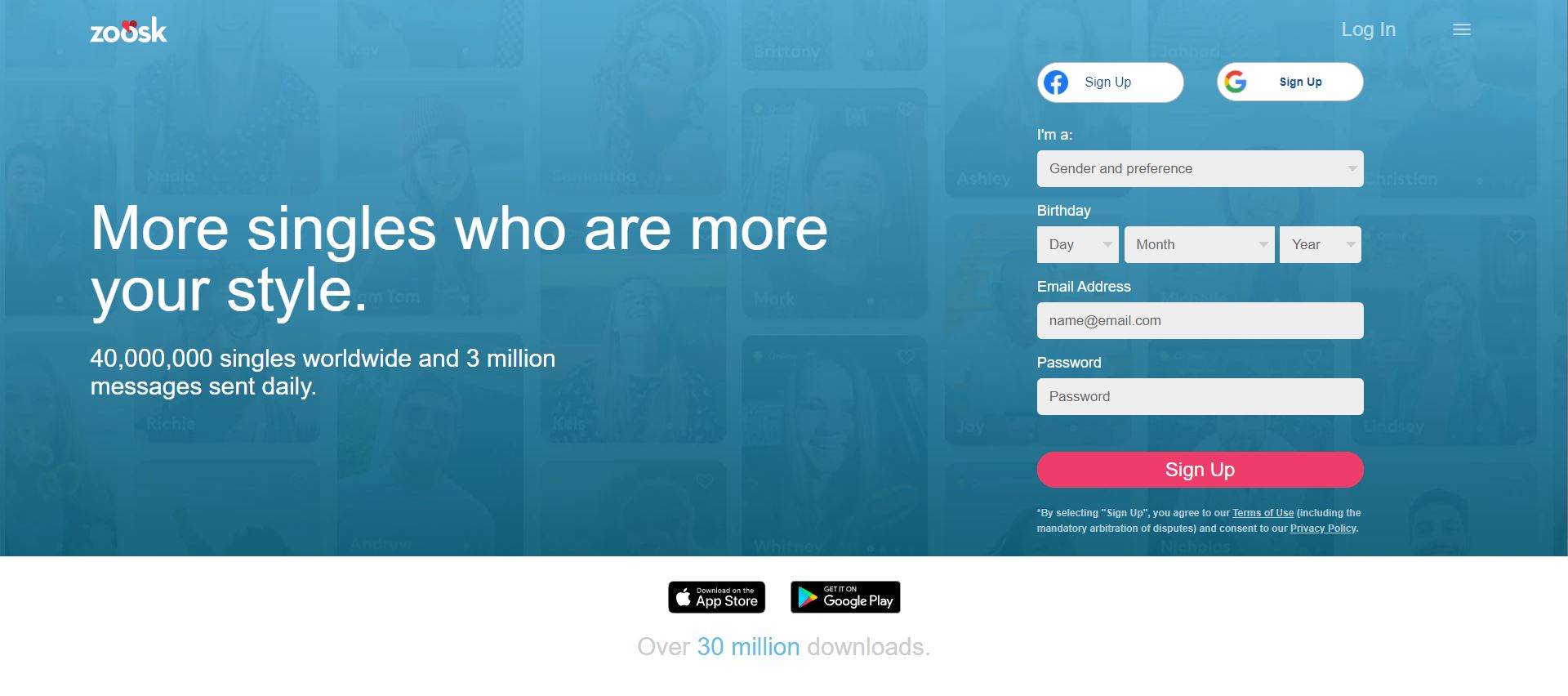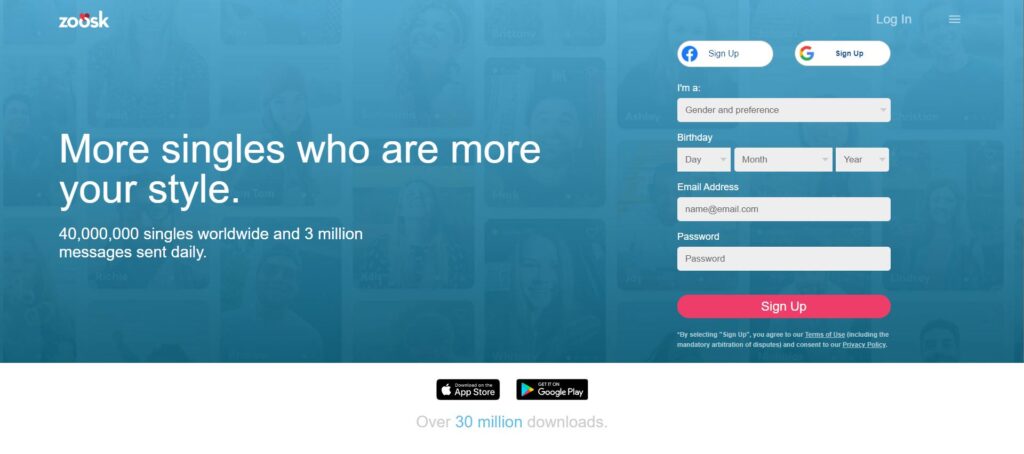 It's hard to imagine what a platform of over 40m people might even look like, but Zoosk manages to sidestep any preconceived notions with an agile and exciting interface that attracts young singles of all types to be a part of the fun. Their data-driven matching technology on the back end is just as effective in finding you a more casual short-term relationship as it is with a more serious long-term one. There is something for everyone here.
Their biggest strength is undoubtedly the mobile app which is the hub through which everything goes. They have fully embraced a mobile-first philosophy and the user experience is fast-paced and filled with novelty. It's clear that they've applied some of the key design principles from the most addictive apps in the world and brought that power to the world of online dating. As a result, they've created a very high-activity conversational ecosystem that rivals some of the bigger players who have been around much longer.
It's worth noting that the main focus is on young singles in their 20s and 30s who are living on their phones, but we wouldn't want to discourage anyone here because the userbase is growing so fast. If you're looking for a truly modern approach to online dating, then you wouldn't go wrong with Zoosk. It's breathtaking, when done right.
Great for finding short-term or long-term relationships
40 million users worldwide
Activity on the site is high
Unique features and a great mobile app
A bit superficial
Mostly targets young people
How much does a membership at

Zoosk

cost?
| | | |
| --- | --- | --- |
| Duration | Price | Total |
| 1 month | 29.99 £ / month | 29.99 £ |
| 3 months | 20.00 £ / month | 60.00 £ |
| 6 months | 15.00 £ / month | 90.00 £ |
ChristianCafe.com
Dating site for Christian singles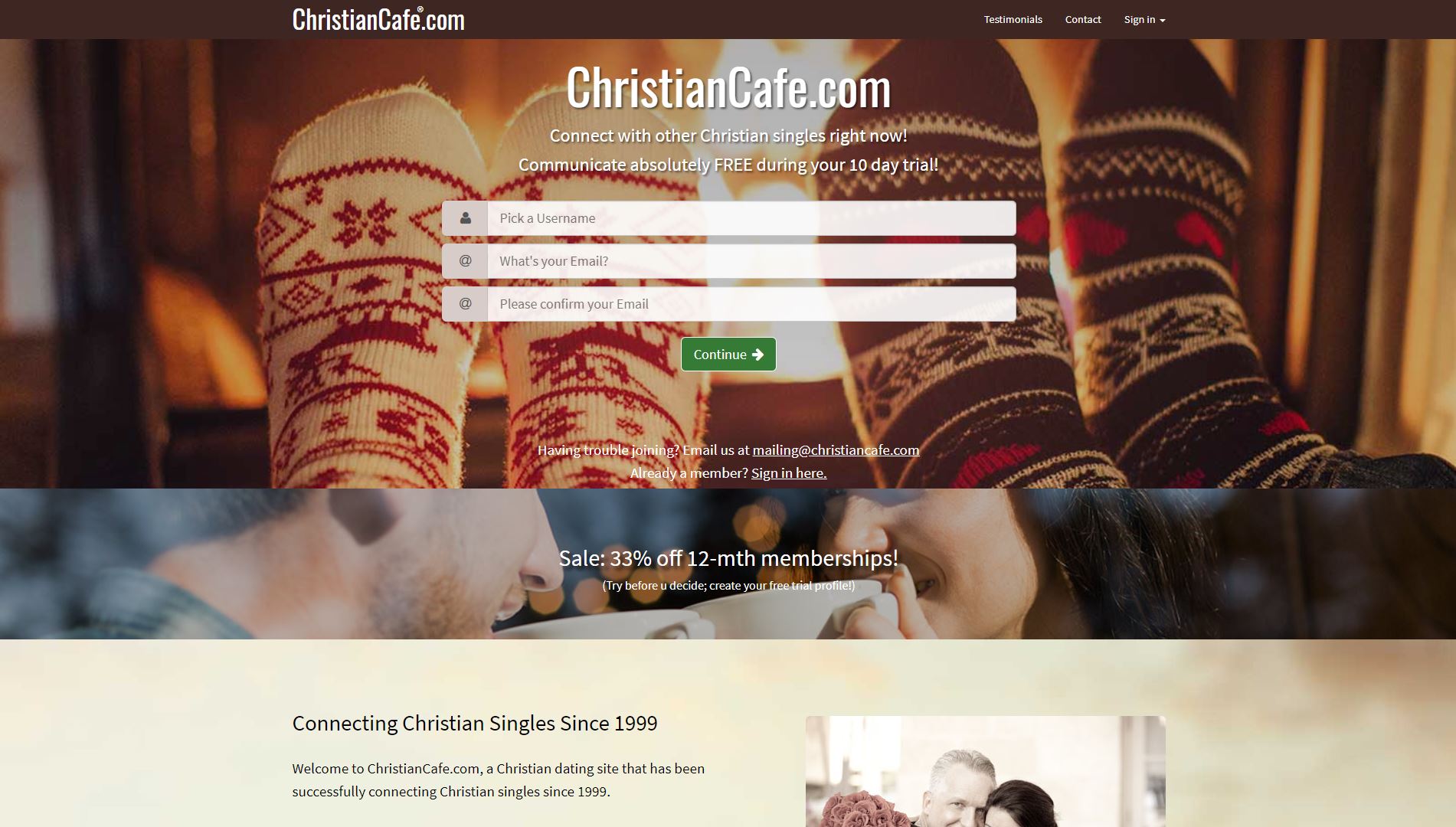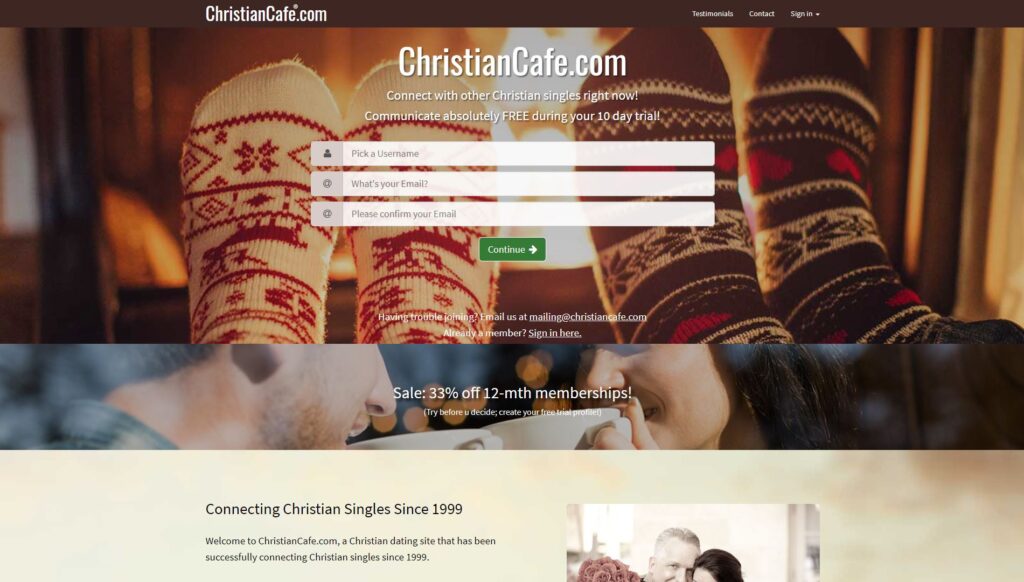 If you're a devout Christian and you're looking to find a partner who shares your faith, then Christiancafe.com is for you. The site is designed for Christians, by Christians, and the values and ethos shine through in every part of the process.
The site has been operational for over 20 years by now and it continues to connect people looking to fate for marriage. Thanks to the focus, you'll never have to doubt the intentions of someone you're speaking to because you know that your faith is going to make sure that you are aligned. Everything from the back end to the front-end is built with this in mind and you get a carefully curated experience that you just won't find elsewhere. It's a breath of fresh air, to be frank, and is one of the best ways for a Christian to find love in today's crazy world.
Some are turned off by the price, but it's probably a worthwhile investment for those who are serious about finding someone to marry. If you're on the fence, be sure to make use of their generous free trial which allows you to use the platform for a while to see how things go. We think that if you give it a try, you might just discover that the price is worth it because of the kinds of people you can be connected with. Quality over quantity.
Singles share same Christian values and beliefs
Generous free trial to test-drive the platform
Self-selects for people looking for serious relationships
Expensive monthly subscription
Only suitable for believing Christians
How much does a membership at

Christian Cafe

cost?
| | | |
| --- | --- | --- |
| Duration | Price | Total |
| 1 month | 32.83 £ / month | 32.83 £ |
| 3 months | 17.02 £ / month | 51.07 £ |
| 6 months | 13.38 £ / month | 80.27 £ |
C-Date


Find a casual hookup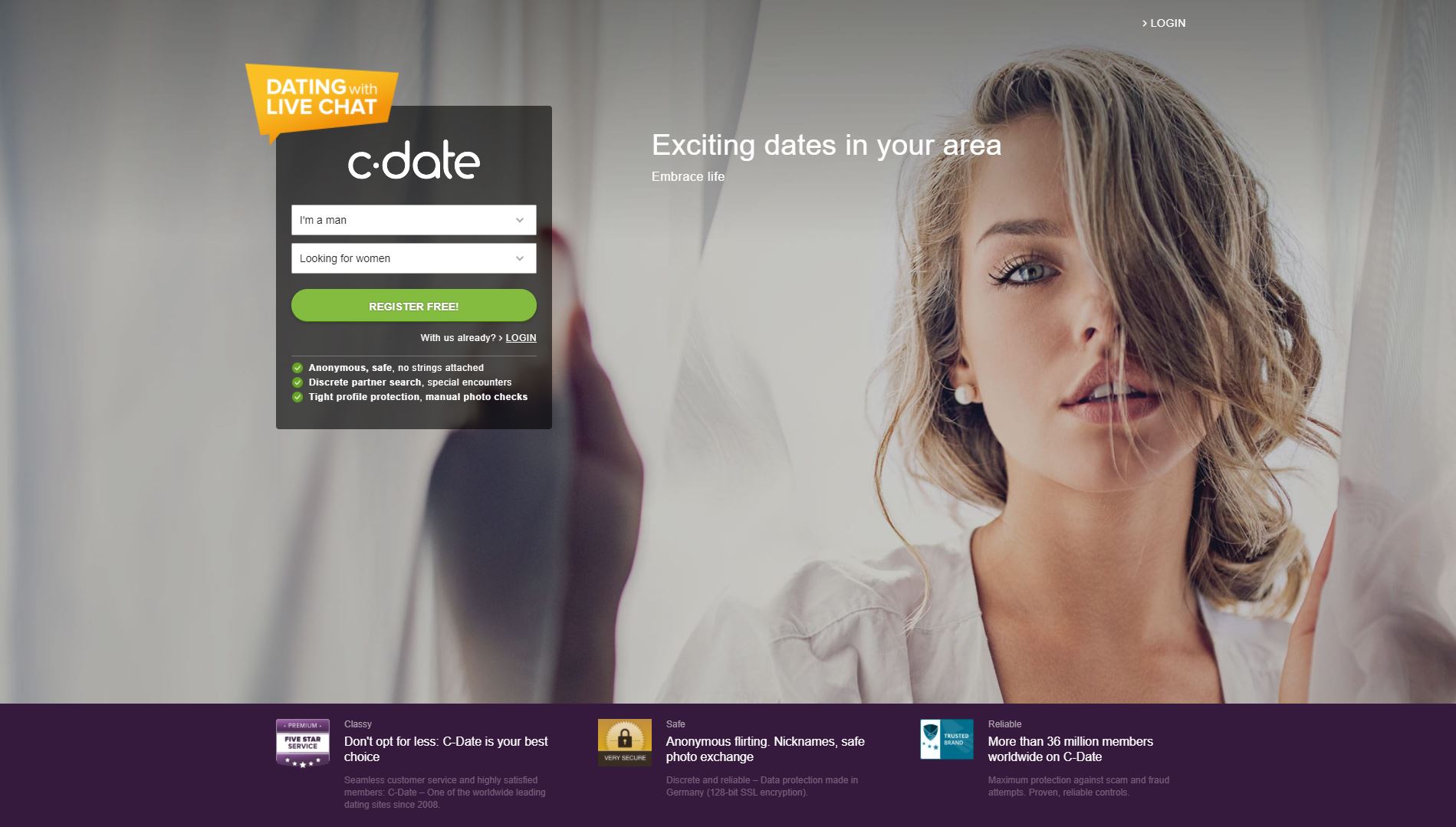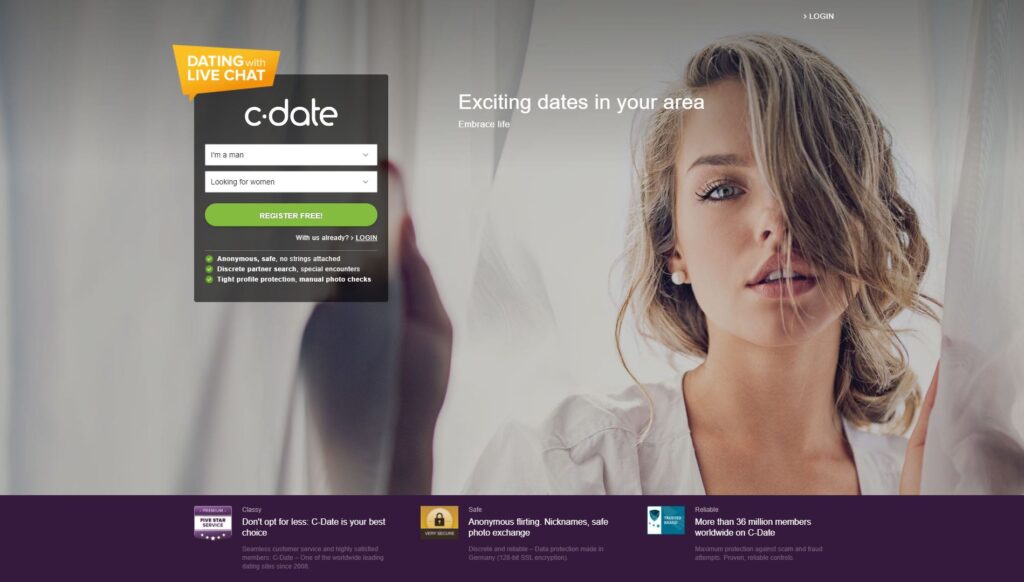 When it comes to casual dating, C-Date is the undisputed leader. Their platform has the most advanced safety and anonymity mechanisms in the business so you can focus on the excitement of finding casual dating partners without worrying about your activities leaking out in any way. You can let go of the societal expectations and connect with other like-minded individuals who want the same thing as you.
You avoid the awkwardness that exists on more general apps, and instead of playing games – you can get straight down to business because everyone knows why they're on the site. Casual hookups are so much more fun as a result. C-Date have built an environment that celebrates spontaneity, open-mindedness, and a willingness to push boundaries. This liberation could just be the source of your next adventure if you're willing to take the leap.
This site is not for long-term relationships, there are plenty others that deliver in that department. This is for those who want no-strings attached fun that will live in their memory bank way longer than the experience actually lasted. If this sounds like you, then click off this review and get straight to it – your partners await your call.
Perfect for casual hookups
Free premium trial
Fairly cheap to use
Free to use for women
You probably wont find your soulmate here
How much does a membership at

C-Date

cost?
| | | |
| --- | --- | --- |
| Duration | Price | Total |
| 1 month | 9.90 £ / month | 9.90 £ |
| 3 months | 13.30 £ / month | 39.90 £ |
| 6 months | 4.98 £ / month | 29.90 £ |
TrueLifePartner


Mature dating for 50 and above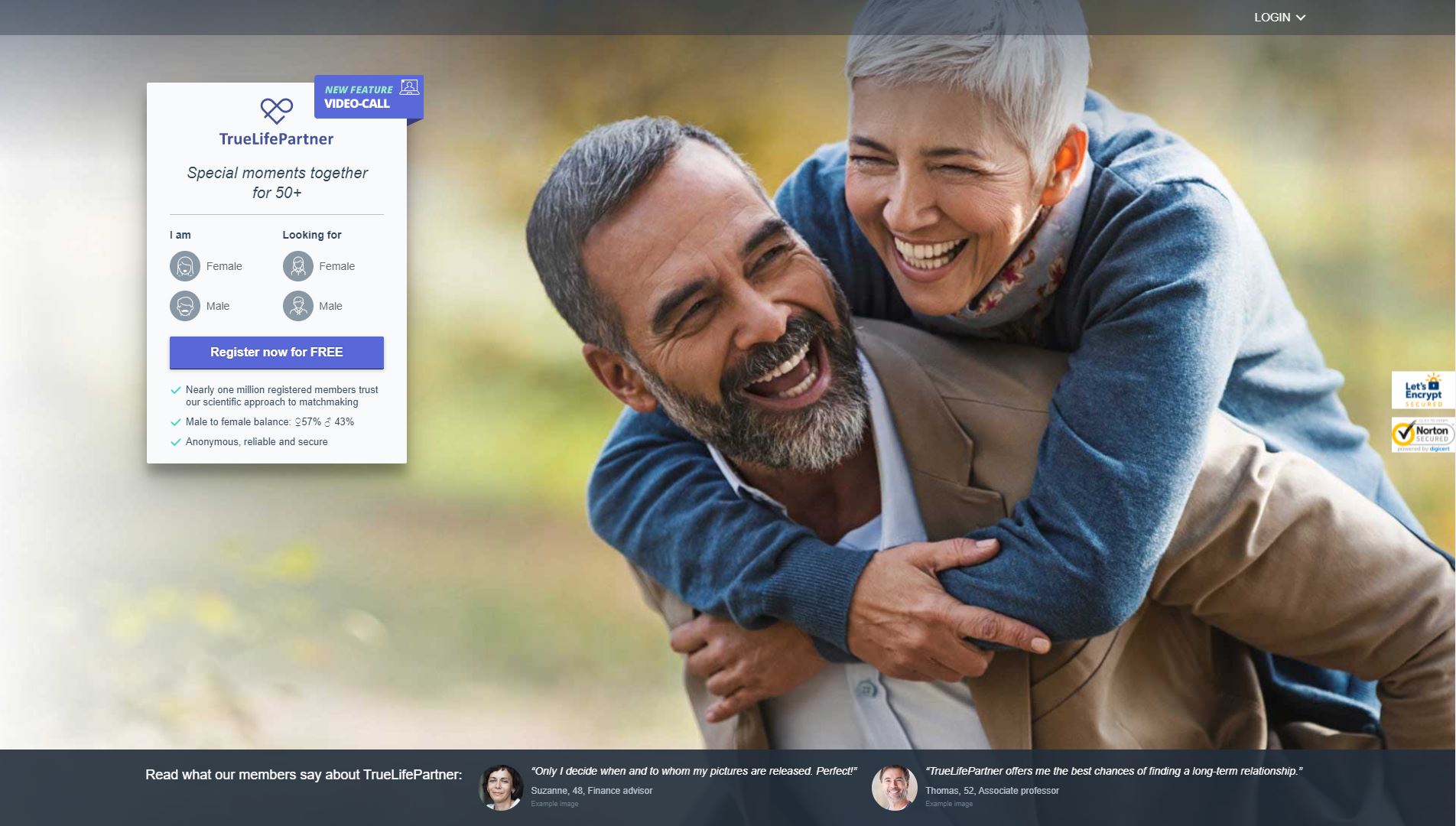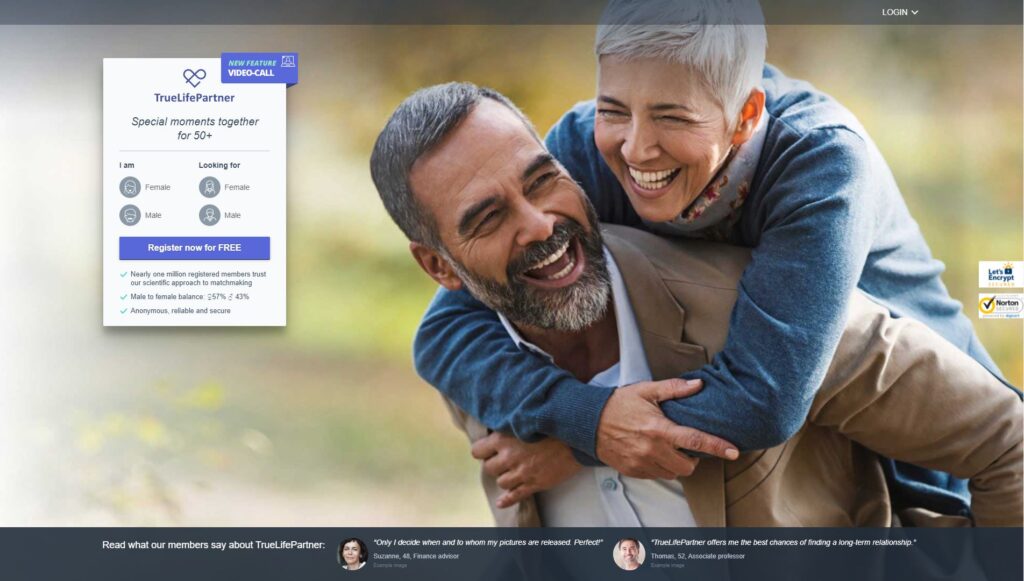 Out of all of the senior dating sites, TrueLifePartner is one of our favorites because they've been able to maintain a somewhat intimate community even as their user base has expanded well past the 1m mark. They are without doubt one of the safest and most reliable ways to find singles above the age of 50 who share your interests and worldview. Their success is no accident.
If you're over 50, you're going to find a wide range of people on the site who want to inject new life into the dating scene and are looking for like-minded people to connect with. When you start conversations, you'll find that there's something special about this community that's hard to put into words. And if text isn't working for you, they've got a really innovative video calling feature which can bring you face to face with your match. This is a wonderful way to test for chemistry and compatibility before committing to a real in-person date. When you combine this with the personality compatibility features that come as part of the profile setup process, you've got yourself a really powerful combination. It's a great example of what modern online dating can look like when it's done the right way.
If you want to send any messages, you need to sign up for the premium membership but that's something that's well worth doing because it opens up the whole community to you and allows you to jump on your first video call in no time at all. Before you know it, you could be chatting it up with someone who takes your breath away. Don't hesitate on this one – get involved!
Perfect for singles over 50 looking for love
Matchmaking is based on a scientific personality test
Video calls
Premium membership is required to send messages
How much does a membership at

TrueLifePartner

cost?
| | | |
| --- | --- | --- |
| Duration | Price | Total |
| 1 month | 19.99 £ / month | 19.99 £ |
| 3 months | 39.99 £ / month | 119.97 £ |
| 6 months | 29.99 £ / month | 174.94 £ |
Victoria Milan


For people seeking an affair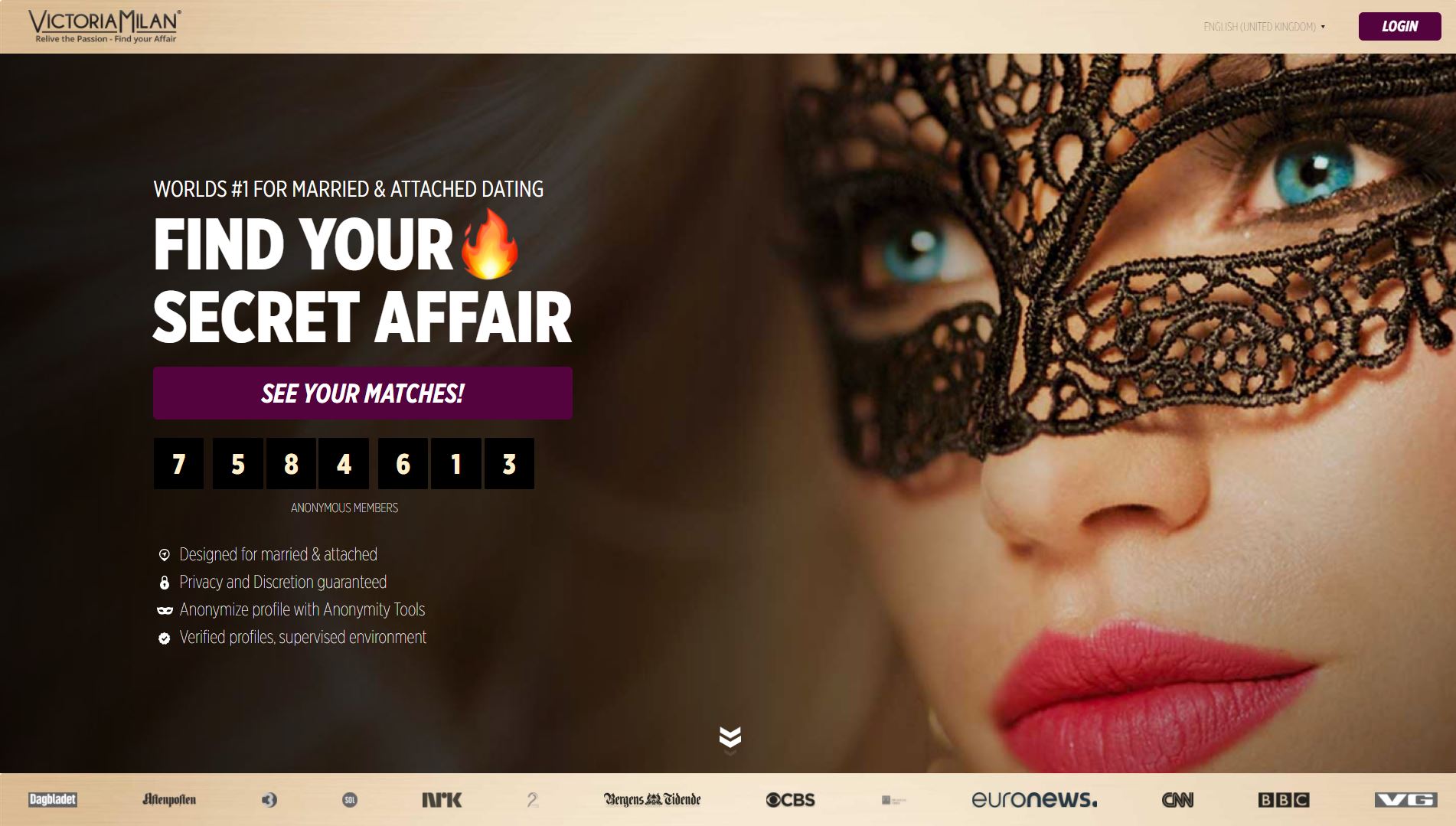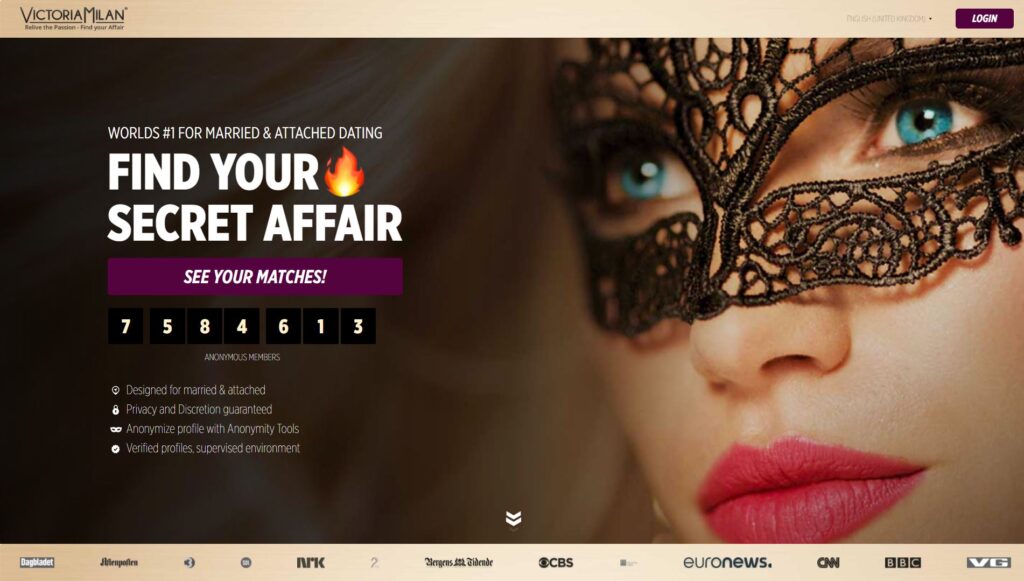 Simply put, Victoria Milan is the best place to go if you're looking for a discrete affair. It's built specifically for married and attached people who want something private and casual on the side of their relationship. It's not for everyone, for sure, but for those who are looking – you won't find a better spot. They have done a truly professional job, building systems and processes that protect anonymity, verify profiles, and champion privacy – so that you can have complete peace of mind as you connect with others who are also looking for an affair.
We've heard many stories about how the site has revived love lives and breathed fresh air into people who just haven't been able to make it happen in their marriage anymore. There is no judgment on the site, it just focuses on reigniting that passion by connecting people for casual fun. And boy, is it fun. Everyone involved is there for the same reason and this means that there aren't any wires being crossed in the process. Victoria Milan delivers discrete affairs in a way that no other site does, cutting through the nonsense and being unapologetic about what it is and who it's for. It's the market leader for a reason.
While many are uncomfortable with the idea of affairs, there are just as many who rely on services like these to spark what has gone dull and find connection that they have since lost. The passion and spontaneity shines through here making it one of the most exciting online dating experiences on the market.
For people looking for an affair or a casual hookup
Registration is quick and easy
Promotes adultery
Not ideal for finding the love of your life
How much does a membership at

Victoria Milan

cost?
| | | |
| --- | --- | --- |
| Duration | Price | Total |
| 3 months | 19.99 £ / month | 59.97 £ |
| 6 months | 14.99 £ / month | 89.94 £ |
| 12 months | 9.99 £ / month | 119.88 £ |
RichMeetBeautiful


A leading site for sugar dating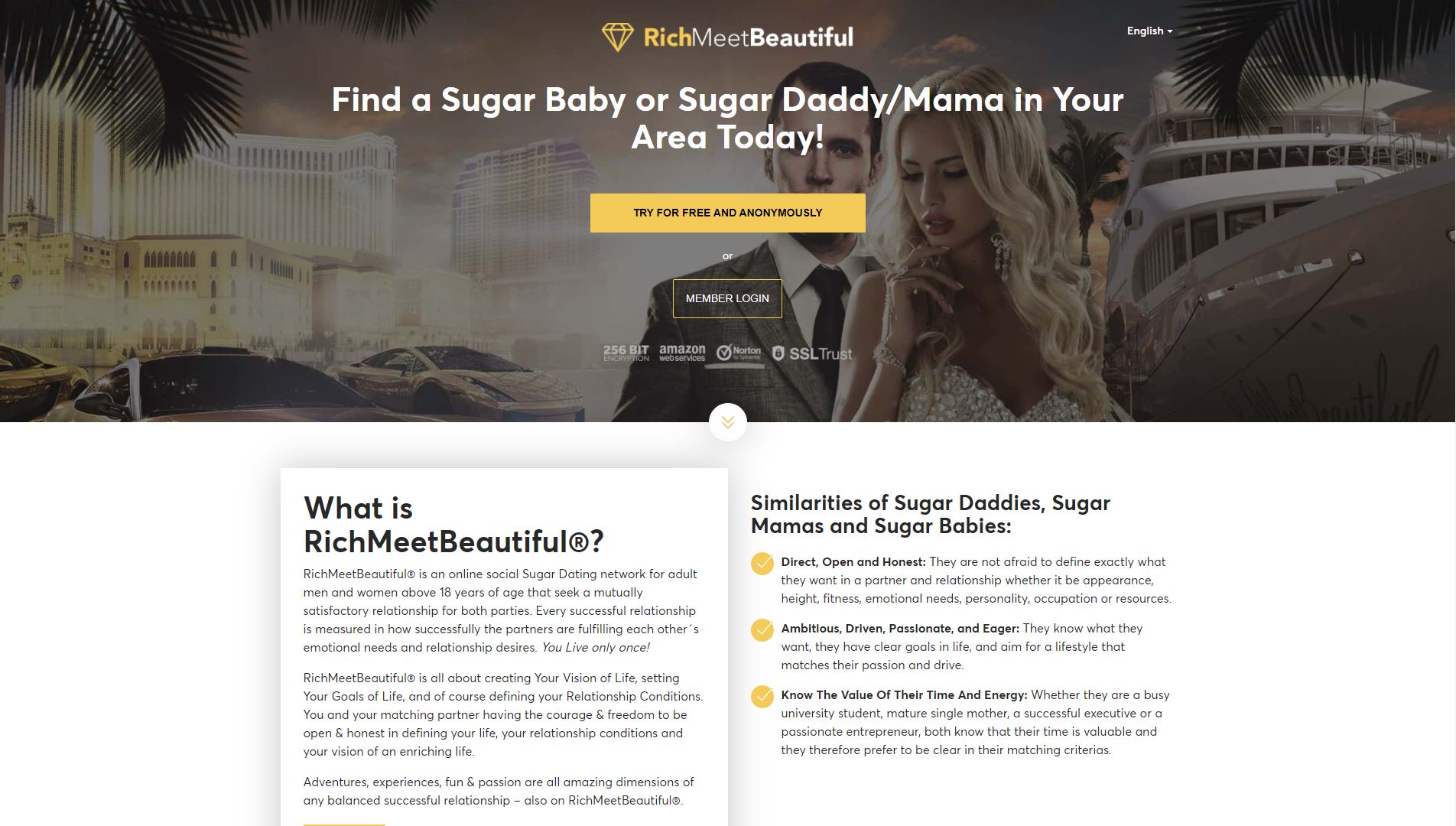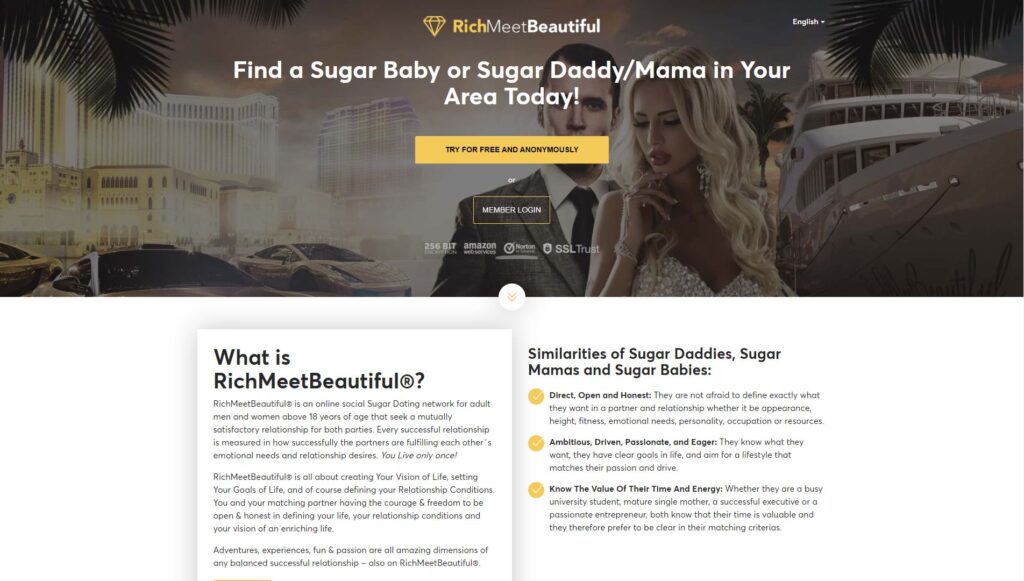 Sugar dating refers to a mutually beneficial relationship where the lifestyle of a rich and successful person is a major part of what brings the two people together – and if that's what you're looking for – then you have to be on RichMeetsBeautiful. The site is unapologetic about what it provides and that's quite refreshing.
Some people find the concept a bit bizarre, it certainly is unconventional, but it continues to gather steam and if you talk to its proponents, you'll hear just how passionate some people are about these sorts of arrangements. For the right person, RichMeetBeautiful can be the catalyst for a relationship that can transform your life. It attracts like-minded people who think in a similar way to you and aren't scared of being open and upfront with it. As such, you get a platform that delivers exactly what it promises.
If this sounds like it's up your alley, then be sure to give it a try. The interface is well-built, the experience is top-notch, and you can get started relatively quickly. The userbase is still relatively small, but it won't stay like that for long. The secret is out, and people are flocking to the site to take advantage of the opportunities it provides. Don't miss out on this one!
Dating site for sugar dating
Great for sugar daddies, mommas, and babes
Blog contains lots of useful information about sugar dating
Could use more members
You won't get far without a paid membership
How much does a membership at

RichMeetBeautiful 

cost?
| | | |
| --- | --- | --- |
| Duration | Price | Total |
| 1 month | 39.99 £ / month | 39.99 £ |
| 3 months | 29.99 £ / month | 89.97 £ |
| 12 months | 14.99 £ / month | 179.88 £ |
How do I succeed with dating online?
The best way to be successful with online dating is to be yourself. This sounds cliché but it's the one thing that will stand you in good stead, regardless of what site you're on. When you're authentic, both in your profile and in your conversations, you can make real connections and keep the conversation flowing in a genuine way. 
Once you've found someone with whom you have chemistry, focus your efforts on showing as much interest in the other person as possible, and then sharing the things that you are passionate about when appropriate. If you follow these simple principles, you can have great success with online dating and who knows, maybe you find the love of your life…
How do I start a conversation?
The tried and tested method is to make a comment referring to a mutual interest. Often you can find these details on their profile and use it to kickstart a conversation. 
Alternatively, ask them a question about themselves. This is a great way to get people to open up as long as you show genuine interest in their answer. 
The final way to get things started is to use a joke or an intriguing one-liner of some sort. This is definitely the more risky option and is not for everyone, but if that's your personality, go for it and let that lead into the conversation. A sense of humour is a large part of online dating so by going there first, you set the precedent for the fun that is to come.
What is online dating?
Online dating refers to the use of online websites and apps to connect with other singles over the internet. Instead of hoping to bump into that special someone at a bar or a party, online dating creates a virtual environment filled with eligible singles for you to meet. The industry for this has boomed in recent years and every online dating site has its own philosophy and way of doing things – but the general principle remains the same. 
You match up online, chat a bit to confirm that you are compatible, and then hopefully you transition that into a real in-person date. In today's modern world, online dating has lost the stigma it once has and is now the facilitator of millions of relationships and dating experiences worldwide.
What is the best way to date online?
The first thing you need to figure out is exactly what you're looking for. There are a range of different dating options out there but unless you have some clarity on what's important to you, it's going to be hard to wade through the noise. 
Once you know what you're looking for, do your research and pick the right platform(s) for you. Our comparisons above should be very helpful in this regard and it will ensure that you concentrate your efforts in the right places.
 Once you're on the sites, it's all about showing your true self and putting yourself out there. Don't take things too seriously and keep your sense of humour intact as you connect with various people. It's tempting to be impatient here, but just stick it out and eventually you'll find someone that you find compelling. This take time and patience, but it's well worth it in the end. Invest in it and you'll get your reward.
Why is online dating so hard for guys?
Unfortunately, as a male, the numbers are always going to be against you. On every platform available the ratio of men to women is very skewed towards men, so online dating is significantly harder for men. Every woman is bombarded with messages which they struggle to keep up with, and on the other side of the equation, men can get a bit disillusioned by a lack of responses even though they see plenty of women on the platform. This mismatch is something to be aware of so that you can understand the dynamics of this game. 
Don't be discouraged. Focus on bringing value to the conversations you're a part of and know that with a little creativity in your messaging, you can stand out from the rest. When the right person comes along, you'll forget about all the hardships you went through to find them. Trust us.
What online dating sites in the UK are the best?
This is not an easy question to answer. Every site has its own pros and cons and your experience is going to vary based on your circumstances and expectations. 
The reviews above represent our opinions on the various options and hopefully that should give you enough information to make an informed choice that is right for you. But, regardless of what site you go on, you are going to get out what you put in. Your attitude matters, first and foremost. Every site we've reviewed here has a strong network of people for you to meet and as long as you are authentic and real, while staying true to the values you care about, you can make it work. 
Don't fall into analysis paralysis. Pick a site and get started as soon as possible. You can always move around later.
What are the pros and cons of online dating?
The pros of online dating are that you can access vast numbers of potential matches from the comfort of your own home, you can chat to them and get to know them before meeting them, you are able to narrow down your selection on various meaningful criteria, and you can avoid the awkwardness of approaching people in real life when you're not sure if they're single. The cons are that online dating sites are sometimes used by scammers, they can be a bit superficial in some instances, some of them require a paid monthly subscription, and you don't know how many other people your chosen match is talking to while they are talking to you. All in all, the pros really do outweigh the cons and online dating represents a key component of courting in the modern world.