52% of members are graduates
38% succes rate for premium members
This article contains affiliate-links.
In-Depth Review of


Parship

Parship was founded in 2000 and launched in 2001, making it a matchmaking service with some serious experience under its belt. Based out of Hamburg, Germany, the company caters primarily to European singles across 12 countries on the continent, with an additional service offered in Mexico.
While its scope is geographically narrower than its competitors, Parship benefits from a unique compatibility philosophy that has been present from its inception: The Parship Principle.  Working in collaboration with psychologist Hugo Schmale of the University of Hamburg, the Parship Principle is a custom designed, unique personality test, designed to measure compatibility between members.
Though many matchmaking services advertise themselves as offering generic compatibility tests and algorithms, few have offered such specialty designed professional systems built from the ground-up for the actual service to use. That said, does Parship live up to its expert origins?
Great for finding a serious and long-term relationship
Matching based on a unique system called 'Parship Principle'
Available in 13 countries worldwide
Few members when compared with Match.com and eharmony
3 MONTHS
Per month: 29.90 £
Total: 89.70 £
6 MONTHS
Per month: 19.90 £
Total: 119.40 £
12 MONTHS
Per month: 14.90 £
Total: 178.80 £
Signing up for Parship is an extremely easy process to begin. An account can be made using an email or Facebook account, and there isn't any fee to simply make the account. What will take some time, however, is the namesake mentioned above: The Parship Principle.
This multi-stage personality test will be used by Parship to find you compatible matches. The test itself is broken into five stages and, through your answers, Parship "analyses 32 personality traits and is based on a matching algorithm of 136 rules."
For such an intricate process, some time commitment is definitely necessary. You can expect to spend about 20 minutes on this stage of the process alone—though that number can vary depending on the amount of time you spend in that wonderful self-reflection, introspective space.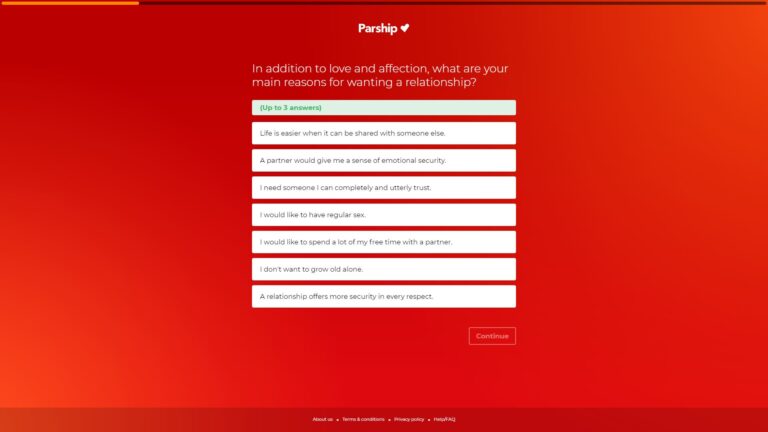 Member Structure
Parship is a matchmaking service that focuses on fostering deep, intimate connections between people that are meant to last a lifetime. For this reason, the application isn't meant for singles looking for more short-lived encounters. This is, of course, a good thing for those interested in serious online dating because potential matches are sure to share that goal of longevity and solid foundations.
However, outside of this one stipulation, Parship is a service open to all. Members are generally aged 28 to 55, and are described by Parship as primarily "affluent" and "educated".
The website advertises 52% of its members as graduates, and proudly flaunts a Male/Female ratio that is 51%/49%—a relatively narrow split when compared to other services.
They also claim to have a success rate of 38% for premium members. However, it should be noted here that there is quite a difference between free and premium members.
With a free membership on the dating site, you will still be recommended matches based on your compatibility and you will be able to send and receive contact requests, but your options beyond that will be quite limited. With a premium membership, you will have access to unlimited communication with recommended matches, be able to run searches in your area, view a list of people who have visited your profile, and also have access to Icebreakers. Icebreakers are a unique way of initiating conversations designed to cut through the awkwardness many feel when starting a conversation.
With millions of active members and an estimated 23,000 new members joining each week, chances are pretty good that you'll find compatible matches fairly quickly. Parship is also been proud to offer their services to the LGBTQ community through gayParship.
Matchmaking
Parship matches are unique in that they don't just rate a profile as compatible or not, but actually go so far as to rate the chances of compatibility and provide that number along with the match. A rating of 100 or more is a great sign, and typically means it's worth reaching out.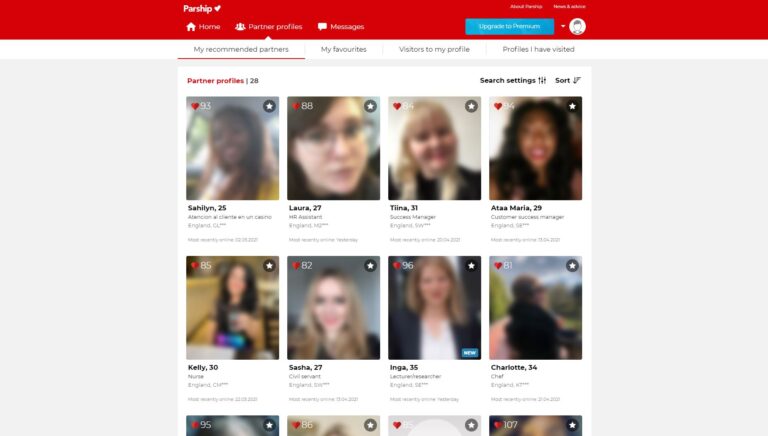 Outside of provided matches, Parship also allows premium members to search for members in their geographic area—this inevitably means a particularly active user can invest some of their own time into the search. If you are busy or disinterested in this process however, you can just let the algorithm do the work—the results speak for themselves!
Contact Options
There are several ways to make contact in Parship. The most popular is simple messaging. Members have the option to contact one another through direct messaging, and can talk until their heart's content. Other options include commenting and smiles.
Comments allow a user to respond to another user's "What's on my mind right now" box—a feature that works similarly to a Facebook status. Smiles are Parship's take on a like, allowing you to show your interest in aspects of other members profiles.
However, the most unique aspect of Parship's contact features is definitely the Icebreaker option.
If you happen to be nervous on the introduction, or aren't sure what to say, you can send an Icebreaker instead. This is a simple, four-person quiz that asks some easy but interesting questions for both of you to answer. Once completed, the Icebreaker gives you something to talk about as both of you can compare and discuss your answers.
It may seem simple, but a shared experience can really get the conversation going.
Parship

 App
There is a Parship mobile app available for free on both iOS and Android. The app has all of the same features that can be found on the official website, and is completely functional for members to use as their primary Parship device.
Conclusion
Parship is unique in its commitment to offer a specially designed personality test and related algorithm for match compatibility. These aren't just gimmicks employed to draw in users either, but are rather ground-up systems designed from Parship's inception to maximize the scientific basis for the services matching services.
With a diverse userbase of serious singles of all ages, the service has a lot to offer anyone interested in pursuing a committed relationship. While the services do not cater to hook-up culture or short-term encounters, this should an attractive quality for anyone looking for a more long-term commitment.
As Parship proudly advertises, their member base is a majority educated, successful, and professionally minded—if you meet these descriptions, or they appeal to you for a romantic partner and you live in one of the 13 countries they cater to—then perhaps Parship is the right matchmaker to sail with.