Free Dating ❤️


The best free

dating sites in the UK
In the world of online dating, very few are completely free. In most cases, you'll be able to register a profile for free and get some access to the basic feature set, but you'll need to upgrade to a paid membership for all the bells and whistles – including being able to send messages and connect with other singles.
All of the sites we've reviewed below offer free registration so that you can try before you buy. It's a great way to test drive a platform before handing over your hard-earned cash. Some people see payment as a bad thing, but it actually serves to maintain a great user experience and ensure that everyone on the site is serious about dating.
Below that, we've also included a few dating sites that are completely free for those who don't want to spend a cent.
We hope that you find some value and figure out the right dating site for you.
This article contains affiliate-links.
Completely Free Dating Sites
The sites below are completely free to use, for the most part. Some of them will offer access to a range of additional features if you're willing to pay – but these are often ancillary to the core functionality.
It's important to note here that when a dating site is completely free, as these sites are, they are often funded through ads on the site. So, you'll have to tolerate these as part of the user experience.
Dating Sites with Free Registration
These sites in this category allow you to create a profile for free and test the platform before you sign up for any of their paid plans.
It's important to note here that you get what you pay for when it comes to online dating sites, and so often it is well worth it to use a paid site. Because they are being supported by paying customers, they have more money to spend on developing the site, improving the matchmaking, and creating a great user experience.

Match.com


A market leader when it comes to online dating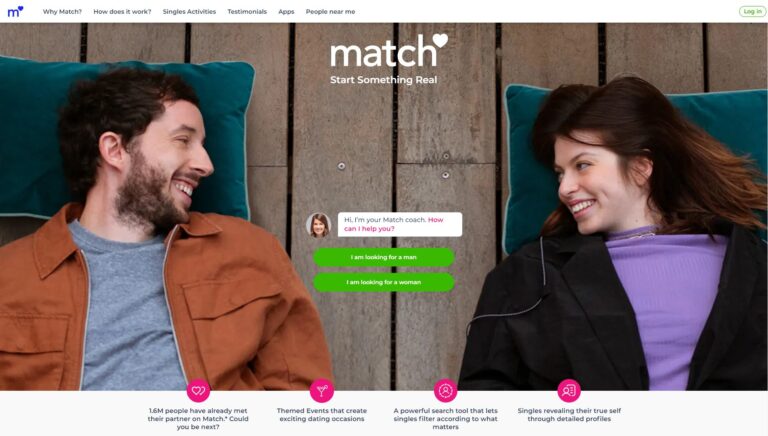 Match.com is probably the most well-known dating site in the world and they've helped connect over 1.5m people on the platform. Through the years, they've continued to develop their platform and today it's a sleek and powerful matchmaking tool is hard to beat. It's an incredibly strong brand for a reason.
You can register a profile for free on their site and see what the platform is all about. When you create a profile, you'll notice that it is much more detailed than on some other sites – which points to the depth of connection they look to create. Every component is specifically designed to articulate parts of who you so you can codify a holistic picture of who you are. It's well worth going through this process because it makes for much richer experiences when you connect with someone else on the site. The detail also makes the actual matchmaking that much more precise and that is what puts the platform in a league of its own.
You really do get out what you put in here. The site rewards effort and honesty first and foremost. The more effort you put into your profile and the more authentic you are, the greater your chances of success. Why not create a profile for free and check it all out before you commit? You might just find that this is the perfect space for you to find that special someone.
Perfect for finding love
20+ year track record
Offers great smartphone app
Lots of members
The profiles are quite in-depth and can take some time to fill out properly.
How much does a membership at

Match.com

 cost?
| | | |
| --- | --- | --- |
| Duration | Price | Total |
| 1 month | 29.99 £ / month | 29.99 £ |
| 3 months | 19.99 £ / month | 59.97 £ |
| 6 months | 9.99 £ / month | 54.94 £ |
eharmony


Designed for those seeking serious and long-term relationships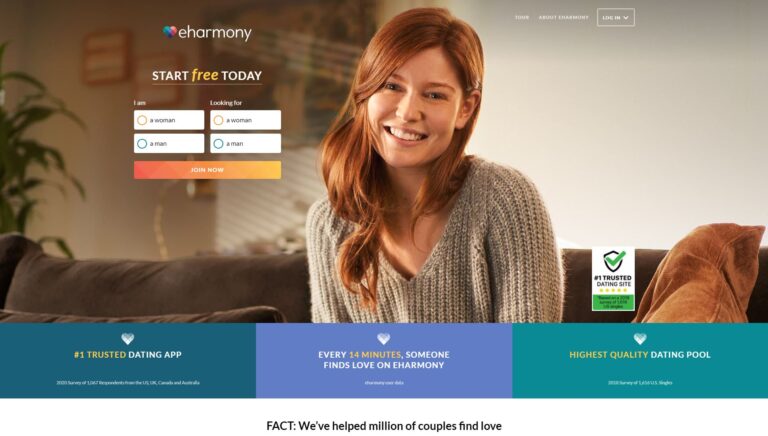 eharmony has been around for two decades now and they are incredibly relevant when it comes to online dating. Every 14 minutes they facilitate a match and that's a pretty insane statistic. Luckily, you can try their platform for free and experience some of the basic functionality before deciding if this is the place for you.
Their personality and compatibility tests are the heartbeat of their matchmaking as they try to determine what you care about and who you might be suited for. The algorithm will process your answers and seek to match you with like-minded people who value the same things as you do. This ensures that you're not wasting any time with people who you aren't going to get along with. Everyone that you're matched with has something that you share – to get the conversation started. As a result, eharmony remains one of the best places to find truly authentic relationships.
It's a good idea to put some time into the registration process because this is the major screening mechanism that makes sure that only those who want serious relationships are on the site. It skews towards those looking for long-term relationships and partners so if you're in search of something more casual, then you'd be best served elsewhere. But if you are looking for a real partner – you'll be hard-pressed to find a better option.
Only for singles who are serious about dating
Great matchmaking
Simple and easy to use
Lots of members in the UK and across the world
Registration takes a while
How much does a membership at

eharmony

cost?
| | | |
| --- | --- | --- |
| Duration | Price | Total |
| 6 months | 29.90 £ / month | 179.40 £ |
| 12 months | 23.90 £ / month | 286.80 £ |
| 24 months | 17.90 £ / month | 429.60 £ |
EliteSingles


85% of members are highly educated singles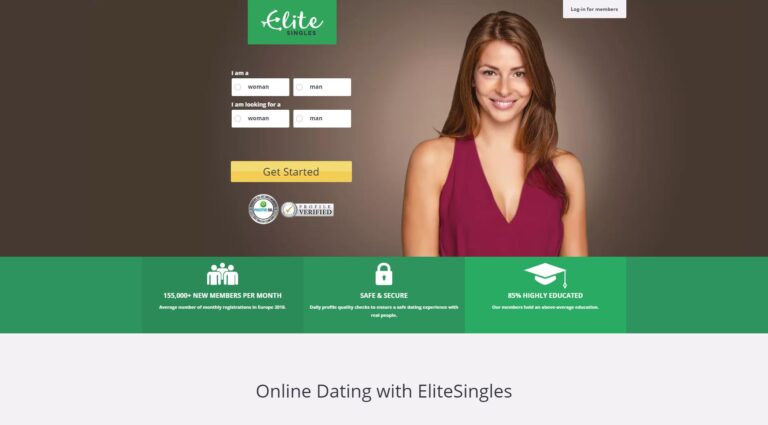 Elite Singles focuses all its attention on connecting singles with a higher education. So, you can sign up for free and use a lot of the basic functionality to find a partner who is intellectually minded. The sign-up process is very efficient and every day, you'll receive 3-7 potential matches so that you aren't wasting any time. Quality over quantity here.
Because of the way that this site is set up, those potential matches are bound to be intellectually stimulating, ambitious, driven, and serious singles who are looking for something that will last. This is not the place for casual dating. And so, if intelligence is something that is important to you, then this site should be your main priority.
We think that after trying the free version and seeing the quality of singles on the platform, you'll be convinced that it's worth paying for. But don't take our word for it – dive in and check it out for yourself. You'll be amazed at what you find.
Most members are university educated
Members are serious about dating
Profiles are manually verified
Personality-based matchmaking
Not suitable for those who didn't go through traditional education
How much does a membership at

EliteSingles

cost?
| | | |
| --- | --- | --- |
| Duration | Price | Total |
| 3 months | 39.95 £ / month | 119.85 £ |
| 6 months | 21.95 £ / month | 131.70 £ |
| 12 months | 19.90 £ / month | 238.80 £ |
Parship


Online Dating based on Personality Tests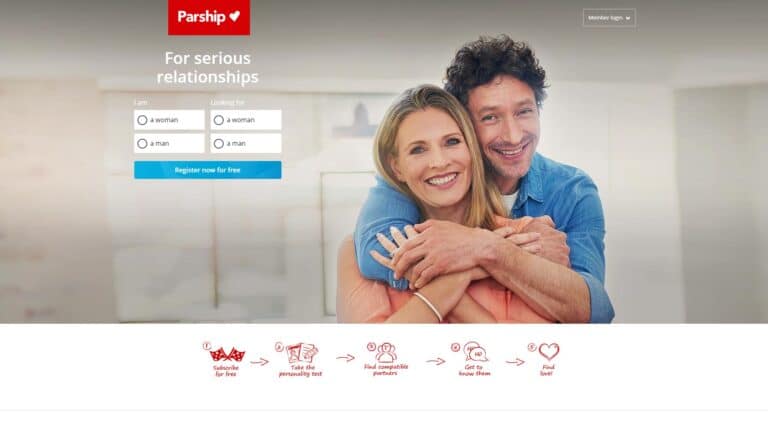 Parship makes use of a proprietary matchmaking algorithm to identify 32 different traits using 136 different rules that all come together to form a data-driven profile that is used to match you with someone you might have been looking for all along. And the magical thing is that the basic membership is absolutely free – which is wild.
The platform goes beyond the surface level and applies some rather sophisticated science to the filtering process so that your matches are those who click with you on a deeper level than some of the other sites out there. The advanced pattern recognition and matching criteria make this a one-of-a-kind dating experience, and it helps to sidestep your preconceived notions. Sometimes you don't actually know what's good for you – until you find it.
It's a relatively small site at the moment, but it's growing really fast, and it looks like it is going to be a force to be reckoned with in the years to come. If you believe in the power of data, then why not apply it to your relationships. You might just find that what you were looking for was right in front of you all along.
Great for finding a serious and long-term relationship
Matching based on a unique system called 'Parship Principle'
Available in 13 countries worldwide
Few members when compared with Match.com and eharmony
How much does a membership at

Parship

cost?
| | | |
| --- | --- | --- |
| Duration | Price | Total |
| 3 months | 29.90 £ / month | 89.70 £ |
| 6 months | 19.90 £ / month | 119.40 £ |
| 12 months | 14.90 £ / month | 178.80 £ |
Ourtime


One of the best senior dating sites out there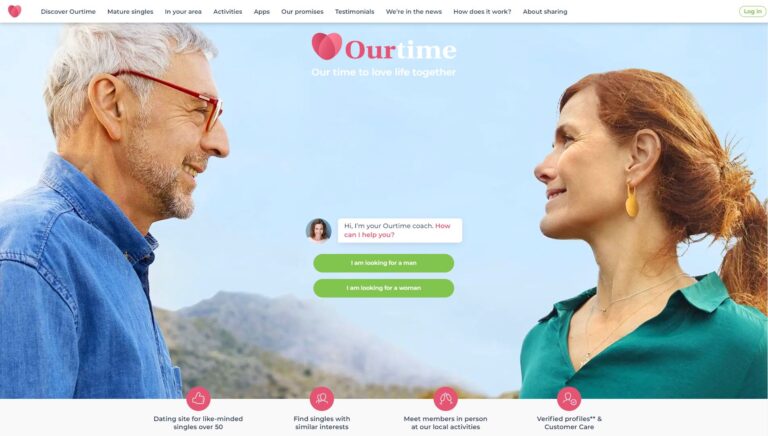 Ourtime set out to help single seniors connect with like-minded people and they've delivered on that mission tenfold so far. Their key focus is on matching singles who have similar interests and similar outlooks on love and life. In everything they do, they strive to create a safe space, both online and in-person at their events, for real, authentical connections. And they've managed to curate one of the most wholesome communities out there.
When you're over 50, the best of your life is still to come and a site like this can open up your horizons to new people that you never would have had the chance to meet or get to know. Plus, you get the added opportunity of those turning into long-term relationships with a bit of luck. There's a depth and empathy on Ourtime that is very rare in the industry, and it's something that's not easy to explain. They've built a culture where everyone seems to be open and honest about themselves which makes for really great conversation and authentic connection.
If you give it a go, you'll find a self-selected group of people who are willing to dedicate the time and effort to seek real connection. You've really got nothing to lose.
All profiles are verified
All members are all 50 years and above
Hosts real life events
Large user base
Lack of advanced features
How much does a membership at

Ourtime

cost?
| | | |
| --- | --- | --- |
| Duration | Price | Total |
| 1 month | 39.99 £ / month | 39.99 £ |
| 3 months | 24.99 £ / month | 74.97 £ |
| 6 months | 19.99 £ / month | 119.94 £ |
Be2


Scientific Matchmaking at its Best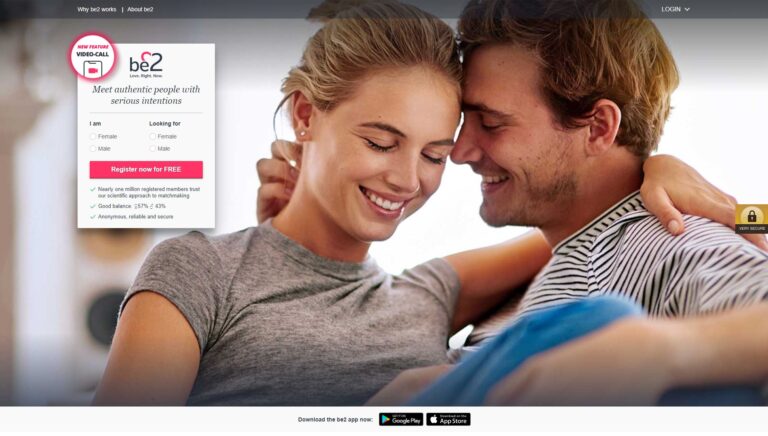 Be2 brings a rigor in terms of their personality assessments that makes for a really interesting online dating experience. These inputs feed proprietary algorithms that aim to facilitate real connections between people who have some key things in common. There's nothing else on the market that is being as ambitious with data as they are.
In fact, the personality assessments are actually super valuable to get to know yourself. They have this knack of holding up a mirror to those parts of yourself that matter and showing you what sort of person you are and who you should be trying to connect with. Whenever we are looking for a partner, we have to first understand who we are and so that is why this site is so great. It starts on the right foundation.
There is a lot of technology behind the scenes here and so it's actually much more than a mere dating site. We don't think you'll regret giving it a go – if only for the chance to understand yourself a bit better. And who knows – maybe that unlocks the door for a really wonderful long-term partnership? Only time will tell.
Algorithm based matchmaking
Members are serious about their search for love
Partner suggestions are based on personality
The price is above average
Profile pictures are blurred unless you become a paid member
How much does a membership at

Be2

cost?
| | | |
| --- | --- | --- |
| Duration | Price | Total |
| 3 months | 39.99 £ / month | 119.97 £ |
| 6 months | 29.99 £ / month | 179.94 £ |
| 12 months | 19.99 £ / month | 239.88 £ |
SilverSingles


Dating for seniors with a new lease on life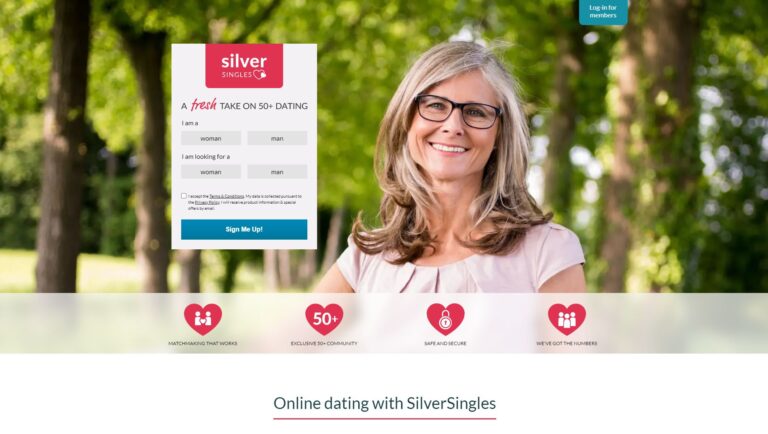 Silver Singles has managed to nurture a community of singles who are over 50 years old and are looking to connect with others who share their vitality and attitude towards life. You won't find downers on this platform, everyone on there seems to be in this for the right reasons.
As far as interfaces go, this one is the easiest to use. By removing a lot of the fluff that clutters up other apps, it allows you to focus only on what matters – that carefully curated list of matches. These potential soulmates are brought to you thanks to powerful personality compatibility assessments that make sure that you have something in common right from the start. You can get straight to it without any awkwardness. Chemistry is all but guaranteed.
This fresh take on over-50s dating is awesome and we think that you'll be pleasantly surprised by what you experience when you get involved. There is no steep learning curve to get started and you can access a lot of the basic functionality for free. There really are no excuses for this one – you just have to put yourself out there and see what happens.
Senior dating for people above 50
Safe and secure site
Matchmaking based on personality
Simple and easy to use
Photos are blurred for non-paying members
How much does a membership at

SilverSingles

cost?
| | | |
| --- | --- | --- |
| Duration | Price | Total |
| 3 months | 24.95 £ / month | 74.85 £ |
| 6 months | 14.95 £ / month | 89.70 £ |
| 12 months | 13.95 £ / month | 167.40 £ |
Zoosk
Dating app based on behavioral matchmaking technology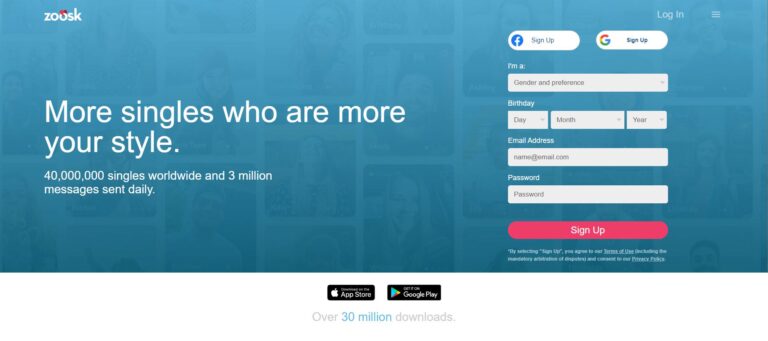 Zoosk is a really exciting dating app that is mostly targeted towards young, mobile-first singles. They have amassed a huge platform of over 40m users worldwide over the past few years and they're taken all that data to craft a really unique matchmaking experience that is perfect for finding you a more casual short-term relationship or a more serious long-term partnership.
As you might expect, their mobile app is really good, and it is the hub through which everything happens. It wouldn't be too controversial to say that they dominate the mobile dating space – they've really focused their attention there. The whole platform is fast-paced, vibrant and exciting. Some would even say – addictive. In a good way. They have managed to create a dating experience that feels fresh and unique and can compete for attention with the best of the best. There's a reason why people keep coming back time and time again.
Throw caution to the wind and you never know what you might find with Zoosk. They've got something special. Just be careful that it doesn't take over your life it's addictive, remember?
Great for finding short-term or long-term relationships
40 million users worldwide
Activity on the site is high
Unique features and a great mobile app
A bit superficial
Mostly targets young people
How much does a membership at

Zoosk

cost?
| | | |
| --- | --- | --- |
| Duration | Price | Total |
| 1 month | 29.99 £ / month | 29.99 £ |
| 3 months | 20.00 £ / month | 60.00 £ |
| 6 months | 15.00 £ / month | 90.00 £ |
ChristianCafe.com
Top Christian Dating Site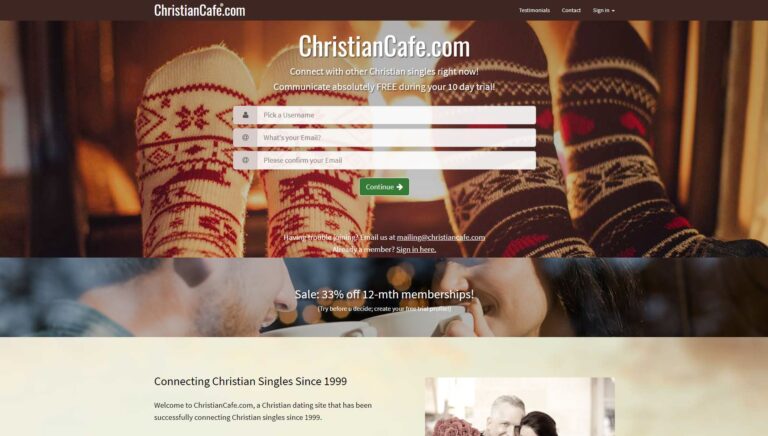 If your Christianity is important to you and you want to find someone who shares that faith, then you have to be on Christiancafe.com. The site is specifically targeted for Christian singles who want to connect with people who love God in the way that they do. And you really have no excuse because they offer a 10-day free trial for new members so you can see exactly what it's all about.
As one might expect, the site is for people who are dating for marriage, so you won't find anyone there that isn't looking for a serious relationship. As a result, you'll never have to doubt someone's intentions on the site, because your values will be aligned with theirs. The site has Christian owners who have done everything they can to build a platform that stays true to its mission. And it does a great job at that.
It makes sense to try their very generous free see if you like it. We think that if you give it a try, you might just find that the investment is worth it because of the quality of Christian singles on the site. You've got nothing to lose.
Singles share same Christian values and beliefs
Generous free trial to test-drive the platform
Self-selects for people looking for serious relationships
Expensive monthly subscription
Only suitable for believing Christians
How much does a membership at

ChristianCafe

cost?
| | | |
| --- | --- | --- |
| Duration | Price | Total |
| 1 month | 32.83 £ / month | 32.83 £ |
| 3 months | 17.02 £ / month | 51.07 £ |
| 6 months | 13.38 £ / month | 80.27 £ |
C-Date
The Best Site for Casual Dating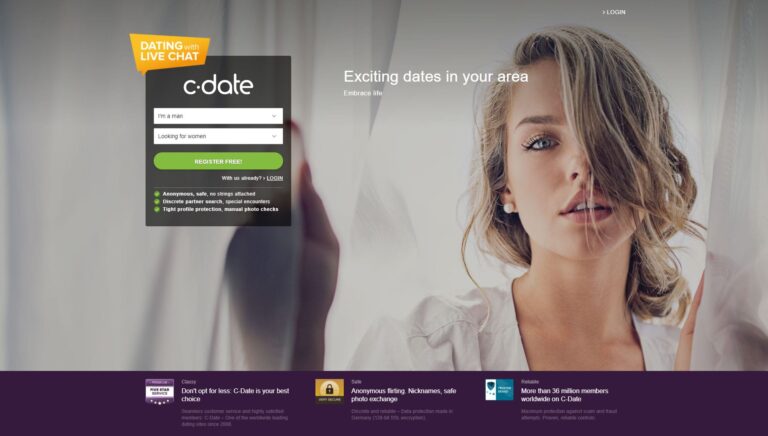 C-Date shines when it comes to casual hookups. It's gone above and beyond to ensure complete safety and anonymity so you can connect with other casual daters without any concerns. And with tens of thousands of new singles joining every single day, the world is really your oyster. We can highly recommend signing up for their free premium trial if this is something that you're into.
On the platform, you'll know that the people you meet are on the same page as you are, so you don't have to go through any awkwardness. You can get straight to the point. It's refreshing to see a site so honest and unapologetic about the reason it exists. Naturally, every interaction could be the start of an adventure – which keeps things very exciting.
If it's just fun that you're after, C-Date is the place to be. In no time at all, you'll be connected to open-minded people who don't want any strings attached. Feeling spontaneous? Well, then you've come to the right place. Step in…
Perfect for casual hookups
Free premium trial
Fairly cheap to use
Free to use for women
You probably wont find your soulmate here
How much does a membership at

C-Date

cost?
| | | |
| --- | --- | --- |
| Duration | Price | Total |
| 1 month | 9.90 £ / month | 9.90 £ |
| 3 months | 13.30 £ / month | 39.90 £ |
| 6 months | 4.98 £ / month | 29.90 £ |
TrueLifePartner
High quality mature dating site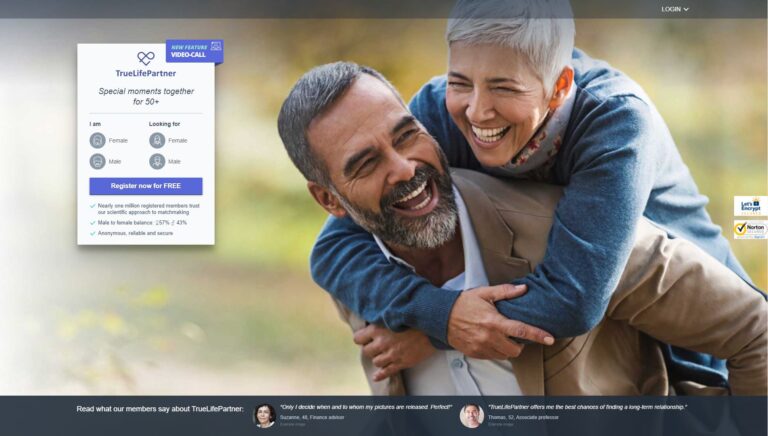 If you're getting into the online dating game as an over 50-year-old, one of the best sites you can get onto is TrueLifePartner. They have shown tremendous growth over the years, and they are one of the safest and most reliable ways to find singles above the age of 50 who share your interests and worldview.
What really sets this site apart is their video calling feature which allows you to test their chemistry before committing to a real in-person date. There's only so much you can pick up from someone over text, but a video call helps you to pick up body language, tone, and personality in a way that just isn't possible with most sites. It's a game changer and it's something that you just have to try.
Your person is just around the corner with TrueLifePartner. All it takes is some courage and little bit of effort and you could be finding that companion you've been searching for.
Perfect for singles over 50 looking for love
Matchmaking is based on a scientific personality test
Video call functionality
Lack of advanced features
How much does a membership at

TrueLifePartner

cost?
| | | |
| --- | --- | --- |
| Duration | Price | Total |
| 1 month | 19.99 £ / month | 19.99 £ |
| 3 months | 39.99 £ / month | 119.97 £ |
| 6 months | 29.99 £ / month | 174.94 £ |
Victoria Milan


For people seeking an affair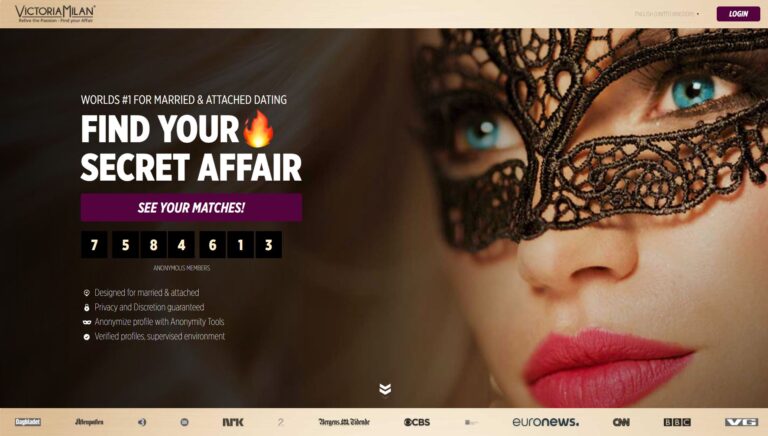 Victoria Milan is the number one platform for discrete affairs. They cater exclusively to attached people who want something private and casual on the side – because perhaps they've not getting what they need out of their marriage. You don't need to worry about security when you're on the site because they've worked incredibly hard to ensure anonymity in every part of the process. Combine this with verified profiles and the extra privacy measures and you've got an airtight platform for you to have fun in.
Millions of people worldwide have already used it and it's become a common story to hear how the site has revived peoples' love lives, giving them that magical feeling that's been missing. Victoria Milan doesn't judge why you are using the platform. Instead, it goes above and beyond to help people uncover the passion that they are missing in their lives. Every person on the site is clear about what they're looking for and that's a breath of fresh air, if we're honest.
Many are uncomfortable with the idea and so write the site off. But for many others, Victoria Milan is the place they can go to rediscover the spark and connection that they lost. If that sounds like you, then maybe it's time you do something about it.
For people looking for an affair or a casual hookup
Registration is quick and easy
Promotes adultery
Not ideal for finding the love of your life
How much does a membership at

Victoria Milan

cost?
| | | |
| --- | --- | --- |
| Duration | Price | Total |
| 3 months | 19.99 £ / month | 59.97 £ |
| 6 months | 14.99 £ / month | 89.94 £ |
| 12 months | 9.99 £ / month | 119.88 £ |
Plenty of Fish
Popular free dating site for finding real connections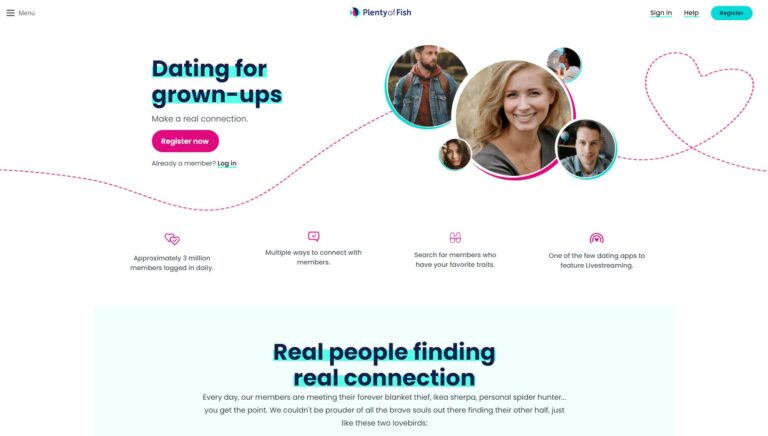 PlentyofFish is one of those sites that delivers incredible value and somehow manages to fly under the radar. They have around 3m members logging in every day and have really created a unique and compelling online dating experience for each of those members.
You can send messages for free and access most of the functionality without paying a cent so you can soak in the atmosphere and chat with eligible singles to your heart's content. If you like what you see, you can pay for more features an unlock the full value of the platform. But there is so much good stuff available for free that we simply had to include it here.
You can search for other singles who share certain traits with you and if you're bold, you can take advantage of their industry-first livestreaming feature that puts you face to face from the comfort of your own home. It's a site that focuses on facilitating real connections through and through. As far as free dating sites go, you can't go wrong with this one.
Large user base with 3m people logging in daily
Free to send messages on the platform
Unique livestreaming feature
Some features still remain behind a pay wall
App design is a bit old-fashioned
FreeDating.co.uk
A completely free dating app with a 16-year track record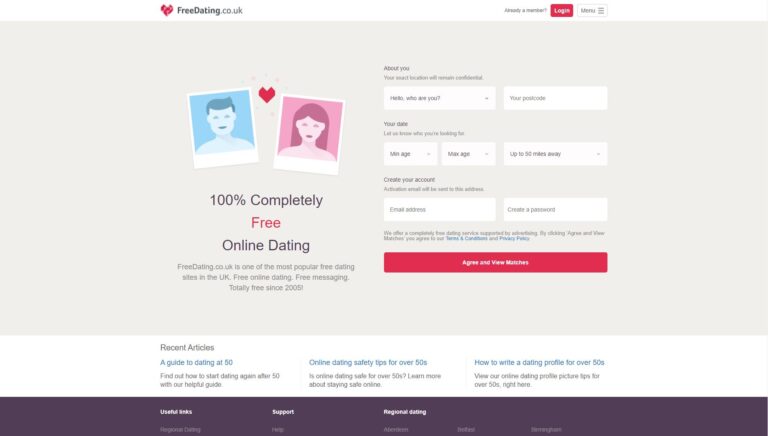 The name really does say it all here, and the platform does as it promises. After you've signed up, you'll have access to the entire database of eligible singles for free. Of all the sites we've reviewed, they might just have the simplest registration process ever – making it one of the quickest ways to get into the online dating game.
It's almost an homage to the old generation of online dating that was based purely on age, location, and gender preference. There is no fancy personality assessments or anything here, it simply acts as a hub for people to meet each other and see where things go. And what more could you expect from a completely free service.
It's important to note that they keep the site free by running a lot of ads, so that's something that you'll need to be ok with if you're going to use the site for a long period of time. But that's par for the course here, so nothing nefarious about that. It's simple, efficient, and does what it says on the tin. You won't get any surprises here.
Completely free to use
Simple registration process
Quick and efficient interface
OkCupid
Traditional dating site with generous free daily activities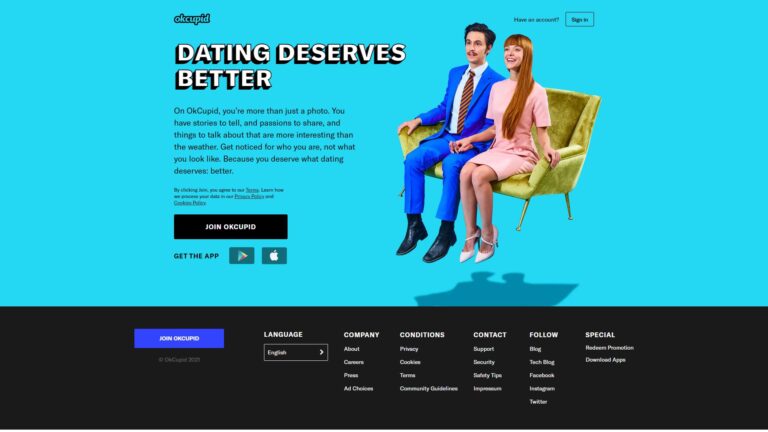 OkCupid is one of those old-school dating sites that have managed to re-invent themselves for the modern world in a really cool way. From the days of mainly text-based profiles, they now offer a hybrid experience combining the mobile-first experience of the modern world with the detailed profiles that made them so unique in the first place. And they still hold a significant cache in today's online dating industry because of the scale they maintain around the world.
We're including them here because they have a free membership option which allows you a certain amount of activity every day without having to pay anything. This is designed to whet your appetite a bit and convince you that it's worth paying for the rest of the features. We've seen that this limit is actually quite generous, so if you are strategic about it – you can get a lot from this platform for free – which is really cool to see.
If you're the kind of person who wants to focus more on personality-based dating as opposed to simply looking at aesthetics and superficial interests, then this is the place for you. Be sure to take advantage of their free membership and test drive the site for yourself. We think you'll be pleasantly surprised by what you discover.
Very popular site with over 1m people
Offers a free membership which gives you daily activity credits
Great user interface
Stereotyped as a dating site that's out of fashion
You have to pay once you've reached your daily activity quota
Completely Free Dating
The name says it all – this is completely free!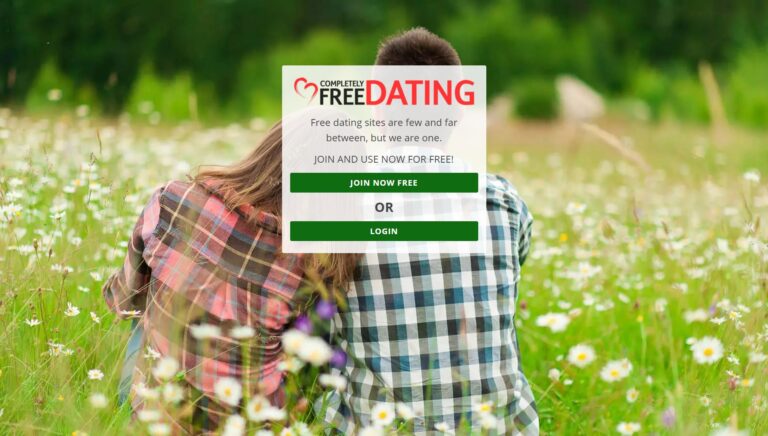 This site has a very simple value proposition and that is to create a safe and comfortable environment for singles to date online without ever having to pull out their credit card. It's kind of amazing to see what they've built on the back of this simple idea, and they now have over 200,000 people using their platform. Everything is completely free, and you don't have to worry about any sneaky paywalls – you can just focus on connecting with people.
They are very proactive when it comes to identifying fraudulent profiles and they use their active monitoring system to make sure that everyone on there is who they say they are. This is very rare in the world of free online dating and that's what sets this site apart.
The registration process is efficient, and the interface is really quite pleasant – so we're more than happy to recommend it as a great free option if you're living in the UK. Take advantage of their regional dating feature to make sure that you actually have a chance of meeting up in real life and try it out. It's the start of a new adventure, as long as you're willing to take a chance and put yourself out there.
Simple registration process
It's completely free!
Thoughtful interface design
Proactive fraud monitoring
 Lack of advanced features
Ads on the site
FAQ Free Dating Sites
Which dating sites are completely free?
It's quite rare to find dating sites that are completely free because these sites need to have some sort of sustainable business model in order to survive as an operation. We've detailed above all the different sites that offer free components to give you a sense of what is possible without paying something. 
If you definitely want something that is completely free, then you'd have to go with FreeDating.co.uk and Completely Free Dating.
What is the best free dating site?
Every site has its own pros and cons and so it's important to know that your experience is going to vary based on your circumstances and expectations. There is no 'best' here. Every person is going to have different preferences which come into the equation. 
In the review above, we've done everything we can to detail all your options and lay out the information you need to choose the best possible site for your needs. Every site we've reviewed here has a strong network of people for you to meet and as long as you are authentic and real – but it really does come down to how much effort you're willing to put in. 
Our standard advice is don't get stuck trying to find the perfect site, just get out there and get stuck in!
How do free dating sites work?
If a dating site is completely free, they have to have another sort of business model in order to fund the continual operation. So, in most cases, free dating sites are subsidized by ad revenue. As a user, you'll be shown targeted ads while you're on the platform which is how the owners of the site are able to keep things running. Beyond that the sites run as other paid sites do, but often with fewer features and what not – because of the lower revenues.
What free dating site should I choose?
It depends on what you're looking for in a relationship. Every site has its pros and cons, and we've tried to detail those above. Take your time to identify what you're looking for and then you can use the comparisons on this site to select the best suited one for you. 
Every site is going to have a slightly different feel – so do your research and look at your options to find the right one for you. And the best part about free dating sites is that you don't lose anything by giving them a go. You could try 10 different sites and not spend a penny – while you figure out what's right for you. Take advantage of that opportunity as much as you can.
Do free dating sites actually work?
Yes, they can definitely work. After all, there are other people out there like you and they come to these same sites to meet people. As long as it's a reputable site with a decent track record, you can find like-minded singles who are into the same things that you are into. 
As long as you are real and authentic on these sites, you can find the partnership you're looking for. We've seen it time and time again – these sites do work. Especially in today's modern age!
Should I pay for using a dating site?
This all depends on your unique circumstances. In most cases, we would say yes – because all of the best dating sites in the world are paid sites. This is because they need to have a sustainable business model in order to invest in their product and create a great user experience. You get what you pay for in the world of online dating, so it can be really worthwhile to invest in your dating because you're going to have a better chance of succeeding. 
All that being said, there are some great free sites as well and if you don't have the money to pay for online dating – then they are a great option. You should never be spending anything that can't afford to, so if that's you – then make use of the free sites, you can still meet lots of people there.