More than 1 million members in the UK
Use your social media acccounts to set up your dating profile
Simple an intuitive interface
This article contains affiliate-links.
In-Depth Review of


OkCupid


Another among the original titans of the online dating industry, OkCupid has been around since 2004 and seems to be showing no signs of slowing down. Eventually bought up by the Match Group alongside many others, OkCupid has never let that encourage them to stop innovating. Seeing the value of the newest online dating trends such as Tinder or Bumble, as well as voicing an active stance in the political arenas regarding dating, OkCupid has done everything they can to stay relevant and keep thriving.
In that way, their member base has continued to rise from the very beginning and new services are still being released in recent years to help it stay competitive in an ever-evolving market.
However, is OkCupid doing enough to stack up against the new and emerging titans of the industry, or is it still stuck in its own way where it really counts.
And most importantly, all these years later, can you still find love with OkCupid?
Very popular site with over 1m people
Offers a free membership which gives you daily activity credits
Great user interface
Stereotyped as a dating site that's out of fashion.
You have to pay once you've reached your daily activity quota.
1 MONTH
Per month: 5.60 £
Total: 5.60 £
3 MONTHS
Per month: 4.48 £
Total: 13.44 £
6 MONTHS
Per month: 2.78 £
Total: 16.68 £
In keeping with tech innovations from recent years, OkCupid has modernized to make sign-up a breeze. By linking your account to your social media account, you have access to all your photos from Facebook and can easily pick and choose which ones you'd like to display.
Further, the actual sign up is simple, straightforward, and effective. It takes somewhere between 5 and 10 minutes and that includes profile creation (whether linking through social media or not) and also answering a personality quiz.
Beyond that, OkCupid always strives for inclusivity, and in the regards of interests, orientations and identifications, that allots nearly 60 different options to display your own sexuality and sexual preferences.
All said, after sign-up is complete, you'll be receiving matches and recommendations within seconds!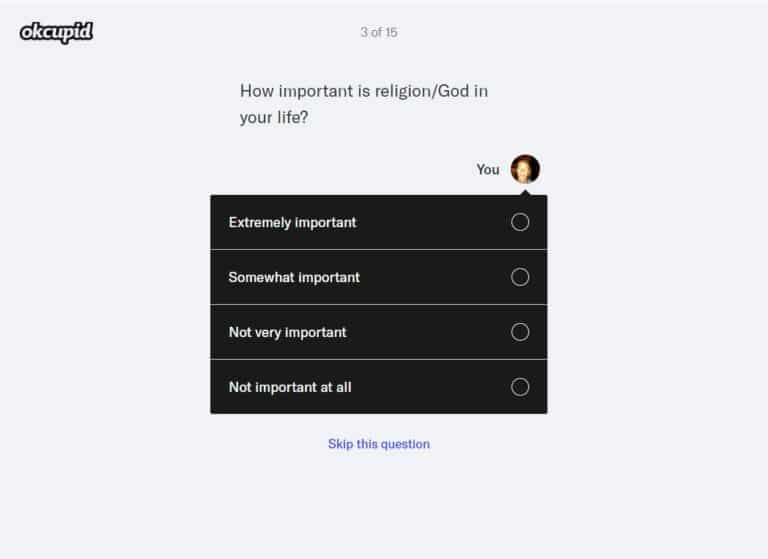 Member Structure
OkCupid is definitely a very big sea with a whole lot of fish swimming within. With over 50 million members worldwide, and millions in the UK alone, members are on the site daily and its an extremely active community. You can expect to hear about 1 million daily logins and a fairly favorable split between male and female—with only a tad more males than females.
And still, beyond that a wonderfully inclusive variety of identities and orientations. In other words, there's someone for everyone on OkCupid.
However, beyond just the general structure, there really is a wonderful division of what members find themselves interested in on OkCupid. For example, most members range from 25-34, but among those there is a fairly even split between people looking for long-term connections and short-term hook-ups.
That makes OkCupid quite the effective hybrid in the dating arena, catering to all variety of people and all variety of interests.
Matching Process 
Again, straightforward, simple, and easy to understand OkCupid boasts a matching process catered to your own interests. However, at it's base, it revolves around likes. If you like another person's profile and they like yours then contact can occur between you. They do this to block attention from undesired users and keep the site user friendly for all.
However, before the likes, you still have to connect. To do so you can search directly for people, scroll through catered matches, or use one of the many special features of the site which include: Double Take, See Who You Like, See Who Likes You, or Boost (extra paid add-on) to get your profile highlighted.
Each of these features allows you to search through members, and they search the same, and once you find someone you'd like to reach out to, it's as simple as clicking a button. However, for the most part, the algorithm takes care of the brunt of the work by matching targeted interests to the answers of your questions from the beginning, profile specifics, and compounds all that with location.
You won't have to swim very far to find your match!
Contact Options
As mentioned, you can contact users on OkCupid through a direct messaging platform, but the other users first have to like you as well—very similar to Tinder. There has to be a baseline of mutual interest before proceeding. In that way, you like their page and send a message as an 'intro' and if they like you back then both of you will move to the 'Conversations' section—allowing for further connections.
Beyond that, the key is really finding the places where you'd like to make contact. In regards to those features mentioned above, OkCupid also offers a 'Stacks' system to organize your lists of potential matches. To add to that, and due to the sheer amount of people on the site, there is a real benefit to OkCupid's credit system.
At its base, the credit system on OkCupid means you can send a certain number of likes through the free account, but any after that you'll need to pay for through the basic or premium plan—the latter of which offers unlimited likes. Still, that offers a lot of value for the free service, as they offer you a daily quota of credits at no cost.
Sometimes that can be enough to try something out and see if sparks fly!
OkCupid

App
Keeping up with the times in every way it can, OkCupid has an app on both IOS and Android that functions fundamentally the same as the website. The key difference is how you search through members, and also the heavy influence on the location services to find matches nearby.
On the whole, however, the app really shines when using the 'Double Take' service, which functions almost identically to Tinder. Swipe left or right on matches to have all the functionality of your OkCupid account on the go, whether in your home location or slightly outside it. If that's your biggest interest with OkCupid, then the app is tailor-made for you.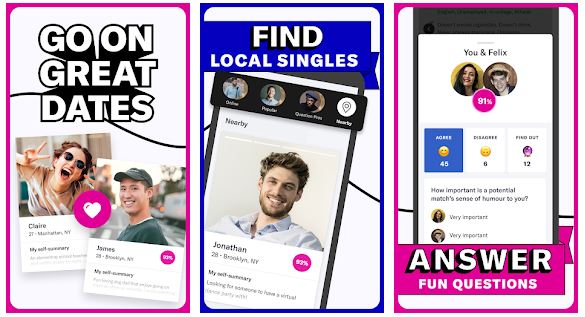 Conclusion
OkCupid has been around for a long time and that can make people hesitant to believe that it is offering the same amount of value and modernization of other recent dating services. But to set your mind at easy, OkCupid has done nothing but innovate since the very beginning. To keep up with the times, both politically and practically, they have gone to great lengths to make their hybrid service the one-stop-shop for both casual users and users searching for a long-term connection.
The longevity of OkCupid is nothing short of astounding and if you're looking for a reliable service that caters to absolutely every demographic and has a userbase in the millions, then OkCupid really might be the perfect dating app for you. Try it out and let Cupid's arrow lead you to your next great love!