Members are all 50 years and above
This article contains affiliate-links.
In-Depth Review of


Ourtime
Given the speed at which online matchmaking services have taken over modern dating culture, it's understandable that older individuals entering or re-entering the dating pool may feel uncomfortable or even ostracized in using such platforms. While this isn't always the case, plenty of matchmaking services make clear that their intended audience tends to range between the ages of 25-50.
However, we all know that love, and the quest for it, is not confined to such a narrow age range. And for that reason, the Meetic Group created Ourtime—a senior dating site intended for singles over the age of 50, who are serious about finding a true love connection with similarly aged singles. A noble goal and seemingly a niche market, but does Ourtime live up to its promises?
Profiles are verified
Members are all 50 years and above
Hosts real life events
Lots of members

The price is above average
1 MONTH
Per month: 39.99 £
Total: 39.99 £
3 MONTHS
Per month: 24.99 £
Total: 74.97 £
6 MONTHS
Per month: 19.99 £
Total: 119.94 £
Signing Up for

Ourtime
Signing up for Ourtime is an intentionally quick, intuitive, and cost-free process. Using either the official mobile application or website, new users begin by entering their first name, gender, date of birth, and sexual orientation.
Once you've accomplished this step, you will be prompted to elaborate a bit more on yourself, and what you are looking for in an ideal partner. This can be as simple as age, height, and weight, but also expands into interest and passions. After all that is done, the final step will be for you to upload a profile picture, something that you may want to spend some time on—it will be front and center for potential matches.
The service also allows you to input your current city of residence. This is of particular importance for Ourtime, as they not only match you with fellow singles in your area, but also hold local events where they encourage their premium users to get to know each other in person. This is a feature that truly separates Ourtime from other online services, bridging the gap between real world and digital dating.
The whole process should only take about 10 minutes if you're really just trying to get going, but there are enough profile options that you can spend as much time as you need to properly present yourself.
Member Structure
While the initial account and profile creation is free, most of the core features that really allow for the matchmaking part of the Ourtime process are locked behind a monthly subscription. If you do sign up for a premium account however, the features that will be available to you are numerous.
Some examples include sending and reading messages (a must for online dating), viewing other people's profiles, seeing who has viewed your profile (though the incognito mode allows users to view profiles discreetly), and having access to the real-world events the service holds.
Ourtime caters to an over the age of 50 user base. This is ensured through a profile verification process that not only secures your information, but ensures that the individuals you interact with online are both who they say they are, and genuine in their eligibility for the service.
While Ourtime's user base is quite curated, its membership in the Meetic Group provides opportunity for expanding your profile to other matchmaking services too. That is actually one of the unique features of Ourtime, a cross-integration into the Meetic Group ecosystem of dating services.
With eight different matchmaking services covering 15 European countries and 13 languages, users of Ourtime will have access to an absolutely massive pool of fellow singles and potential matches. This is of course entirely optional for Ourtime users, however. And should they feel at ease staying within the comfortable surroundings of the Ourtime app, as there is no pressure to expand into other services.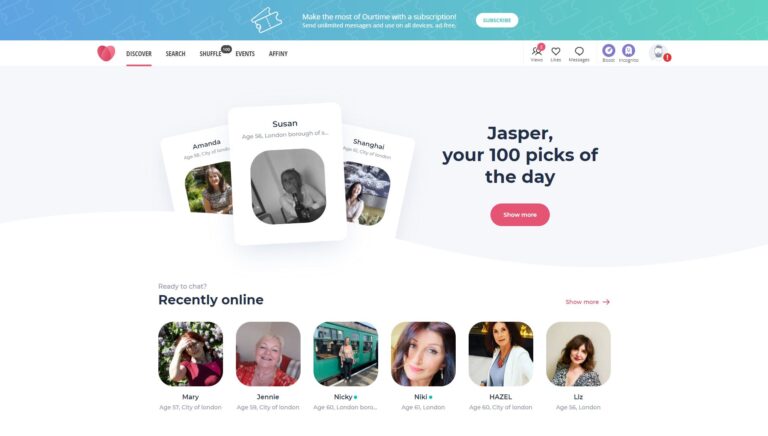 While the Meetic Group does not provide statistics for Ourtime specifically, they do advertise it as the origin of more than 6 million couples. With such a large presence in the UK and throughout Europe, the service is proud to have moderated 15.5 million profiles and 20 million pictures per year. Their mobile application also averages about 250k downloads per month. With numbers like that, Ourtime really proves that there are a lot of fish in the sea—and they swim here.
Matchmaking
Ourtime offers a variety of ways to get matches. The easiest way to meet singles is through "Daily Matches"—these are 10 profiles the platform's personality matching algorithm picks based on potential compatibility based on profile information.
Users can also take the initiative and access an in-depth search function. This provides a wide range of criteria to choose from, so you can customize your search around your own idea of ideal compatibility. Additionally, if you are looking for a bit more randomness in your choice, the service offers the "Gallery." This is a Tinder like service where profiles are presented one at a time, and you can select yes or no for a potential match.
Perhaps the most unique way to match through Ourtime and the Meetic Group is not through their apps at all, at least not directly. As mentioned, Meetic hosts regular in-person events where users can gather with other singles in their area to mingle in a more traditional format. This can be a great opportunity to meet someone new, in a comfortable or at least somewhat familiar situation. The events are also planned and presented entirely by Meetic, so no stressing about planning that first date required.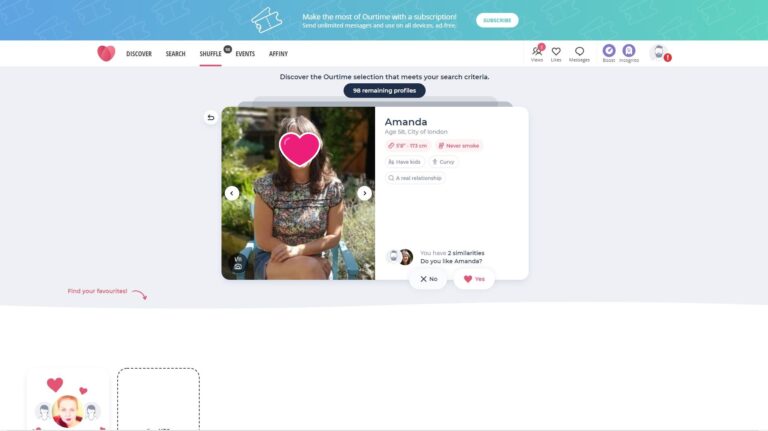 Contact Options
Outside of the in-person meetings, there are still plenty of options for the strictly digital user. Private messages and emails are a core feature, and a video chat option has been added so first dates don't need to be in person.
Ourtime does the work to make sure every interaction is private and secure, but every user also has complete control over who can message them and when. If you don't like an interaction, feel uncomfortable, or just don't want to talk, you can end contact from any user at any time.
Ourtime

A

pp
The Meetic Group prides itself on the companion apps that accompany its many services, having launched its first mobile service in 2003. The Ourtime App is no exception to this. It is available on iOS and Android, and brings all of the features of the website to a mobile setting without sacrificing accessibility.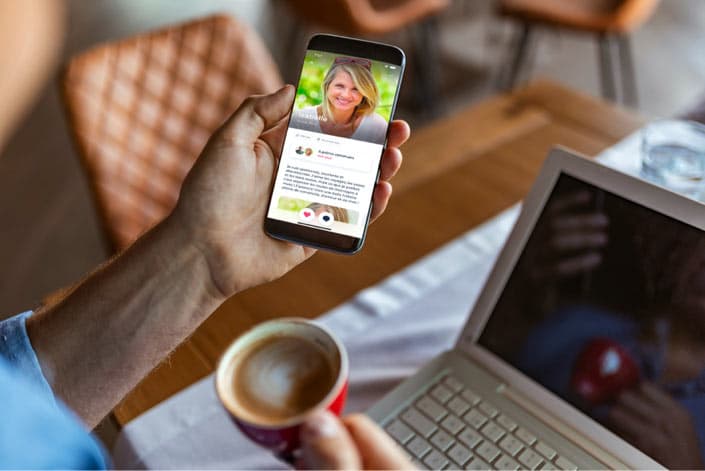 Conclusion
In a digital space that can feel incredibly targeted towards younger singles, Ourtime succeeds at its goal to provide quality matchmaking services to the over 50. As an integral part of the Meetic Group, Ourtime users have access to a wide array of dating services and features.
In particular, the in-person events are a fantastic way to get the most for your premium membership, allowing for a more traditional matchmaking experience that is a great option to support Ourtime's targeted age groups of over 50. If you are looking to get the best of both worlds in your new search for companionship, then Ourtime might just be the service for you.