Dating site for Christian singles
Free trial for new members
This article contains affiliate-links.
In-Depth Review of


ChristianCafe.com


When it comes to finding lasting companionship having shared values and worldviews can be just as, if not more, important than physical attraction and flirtatious conversation. While many dating sites differentiate themselves by focusing on specific age or social demographics, ChristianCafe takes a different approach.
Founded in 1999 by Christians and for Christians, ChristianCafe is a Christian dating site that is deeply committed to connecting compatible partners within the Christian community. With over 25,000 marriages resulting from their service, and over 3,000 testimonials available on their website, ChristianCafe does seem to have a lot of success finding "Christ-centered" marriages.
But does the experience match the data?
Singles share same Christian values and beliefs
Generous free trial to test-drive the platform
Self-selects for people looking for serious relationships
Expensive monthly subscription
1 MONTH
Per month: 28.20 £
Total: 28.20 £
3 MONTHS
Per month: 14.10 £
Total: 42.30 £
6 MONTHS
Per month: 10.58 £
Total: 63.48 £
Signing Up for

ChristianCafe
ChristianCafe offers a quick and easy to use process for creating a profile, taking no more than a few minutes to fill out the most vital information. It starts with some basic information like email, city, country of residence, gender, and birthday. Everything you need to lay the foundation of a profile.
Once this is done, you can start expanding the content of your profile. This includes information on your appearance, education, employment, homelife, and perhaps most uniquely religious activities. As a Christian dating website, profiles offer a lot of opportunities to display your specific faith, spirituality, and church involvement. Once that is completed, the service also offers a series of questions to answer, which will allow you to express a bit more of who you are to anybody viewing your profile. These will generally relate to your personality and general character. As a final inclusion, you may also fill out a self-description paragraph where you talk a bit about yourself and your interests.
The ChristianCafe sign-up process does differ from other matchmaking services in two specific ways. One is your username and password. While other services allow you to choose these, ChristianCafe will provide you with a username and password. Even if this may be a negative for some, it is balanced out with the initial sign-up plan the service offers. Though ChristianCafe is a paid service, it offers up to 10 days free as a trial. New members can experience all of the premium features of a paid account, without having to immediately commit.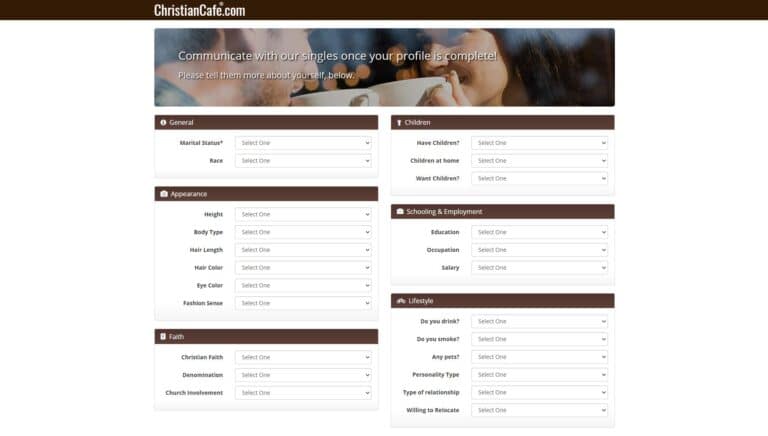 Member Structure
ChristianCafe advertises itself as having members across the world, in such places as the United States, Canada, Australia, South Africa, New Zealand, across Europe, the Philippines, and of course the UK. Although the site does not have a high number of members compared to more popular sites without these somewhat niche stipulations, there's still plenty of traffic to find potential matches.
Even without the biggest member-base, ChristianCafe still benefits in a few very specific regards. One is gender proportions. The site stands at roughly a 50/50 split between men and women, a really great ratio to have for any matchmaking service. Additionally, the site is also quite diverse in its membership, still catering and being open to individuals of various ages, faiths, and nationalities.
That said, the service takes its Christian focus very seriously. A lot of the profile questions are related to faith, and the service goes so far as to offer a prayer forum where users can post prayers for any member of the service to view. This is beneficial for those individuals looking for a serious relationship built on Christian values. 
While the site is technically open to anyone, the service is clearly built and targeted to Christian singles.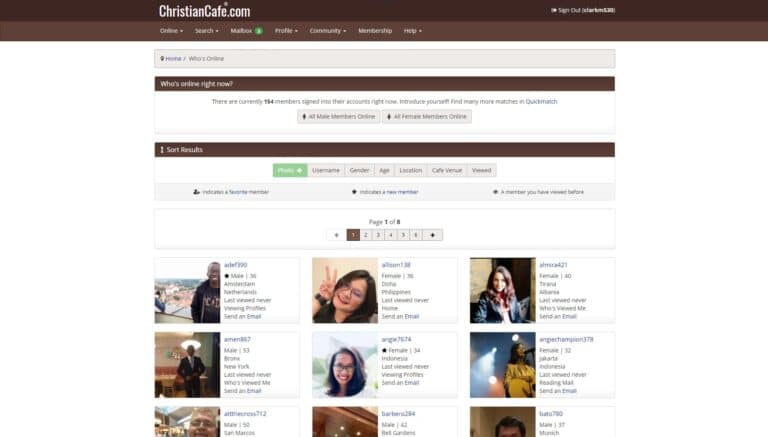 Matching Process 
The service provides matches through a "QuickMatch" feature. Through this service, other members are ranked based on compatibility with your profile. This is determined based on the answers you gave to your profile questions, as well as similarities in age, relationship interests, Christian denomination, faith, and location. This compatibility is quantified through a percentage number. When reviewing the list, members can sort results based on ranking, gender, age, location, and other such features.
Overall, it all helps to make the matchmaking process a breeze.
Making contact through ChristianCafe is a straightforward process. Premium members can send 'winks,' messages, and exchange contact information. While the first two of these are available for both paid and free trial members, exchanging contact information is relegated to paying members only. Any email or phone number will be blurred out for free members.
This may seem odd, but it brings up another great feature of ChristianCafe. In order to maintain a clean and professional service, private messages are monitored for content. 
This means that chats between matches are not entirely private, and are monitored by admins. This can be seen as a benefit for some, as it reduces the chance of receiving rude or unwanted messages. At the same time, some may be uncomfortable with the reduced sense of privacy.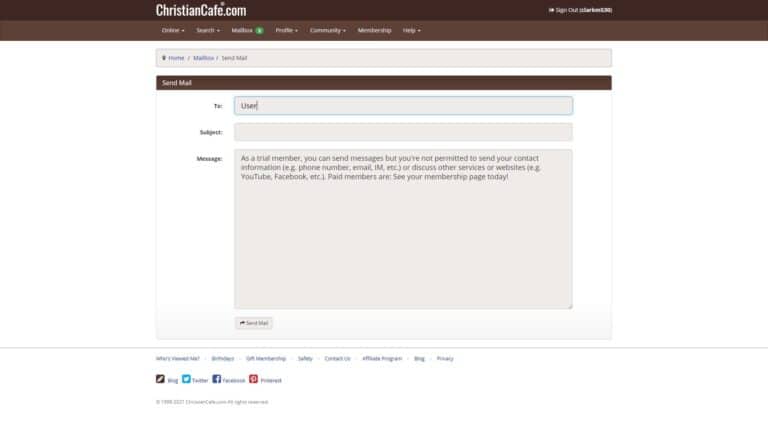 ChristianCafe

 App
ChristianCafe does offer a mobile application, though it is only available for iOS users. An Android version of the app is slated for release in 2022. While the application does allow users to send and receive messages, as well as view suggested matches, it is quite limited in other features.
Forums and the 'Prayer' feature are not included, and anyone wishing to create a profile will be redirected to the ChristianCafe website through the app.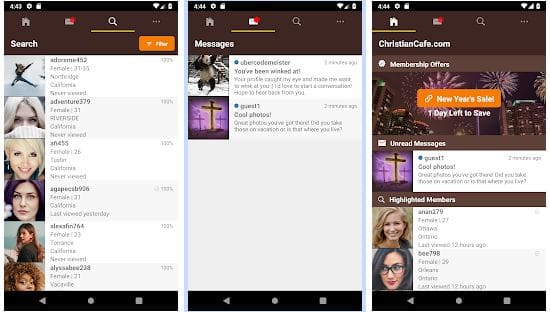 Conclusion
ChristianCafe is a matchmaking service unabashedly focused on its target demographic. While singles of all faiths are able to join the service, its focus as a place for Christian singles to meet and find lasting relationships is clear. Though its overall user base may be small, customizable profiles and admin message monitoring ensure that other members are as committed to Christian relationship values as you are.
If you are a single Christian looking for a matchmaking service that understands and caters to your unique expression of faith, then ChristianCafe may be the perfect service for you.