For people looking for casual hookups
Lots of members in the UK and worldwide
This article contains affiliate-links.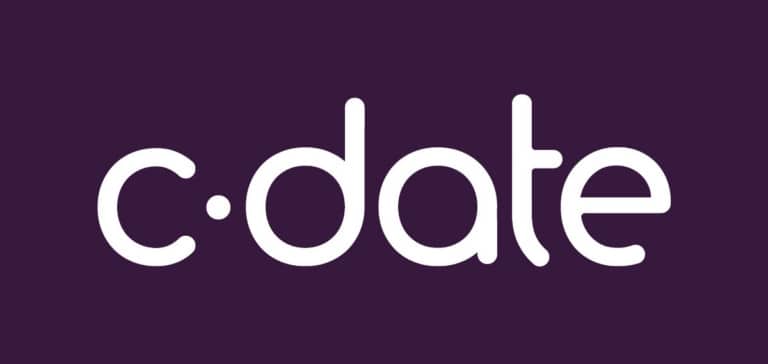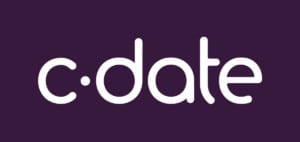 If you're not looking for a long-term relationship, but rather a short-term connection, hook-up, or fling—then C-Date is the perfect site for you. While some of those phrases might be a turn off to the general online dating crowd (and is a major reason for the site's mixed reviews), the bottom line is not everyone is looking for the swept off their feet love. Some people just want to make a quick connection.
C-Date caters to the casual dating and one-night-stand culture—and it doesn't shy away from that. With over 500,000 users in the UK and 50,000 active every week, this is a site and app that garner a lot of heavy traffic. However, with stiff competition from sites like Tinder or Bumble, how does C-Date set itself apart?
Perfect for casual hookups
Free premium trial
Fairly cheap to use
Free to use for women
You probably wont find your soulmate here
1 MONTH
Per month: 9.90 £
Total: 9.90 £
3 MONTHS
Per month: 13.30 £
Total: 39.90 £
6 MONTHS
Per month: 4.98 £
Total: 29.90 £
Signing Up for

C-Date
The process to sign up for C-Date is a breeze. There are six basic steps. The first is simply to sign up for the site using your email. Following that you'll be asked what you're looking for, who you're interested in, the city you live in alongside your age and relationship status. After that you upload a picture (which needs to be approved) and it's off to the races.
All in all, the process to sign up for C-Date couldn't be easier and it doesn't ask more of the complex questions of traditional dating sites. There's an algorithm at work, but far less along the lines of extensive questionnaires and lengthy profile descriptions.
After signing up, everyone has access to the premium membership for a few days. However, an interesting feature of C-Date is that women never have to pay for a premium membership—for them, it's always free!
On the other hand, men have to pay to continue using the service after the free trial ends. Fortunately, compared to many dating sites, the monthly cost is minimal.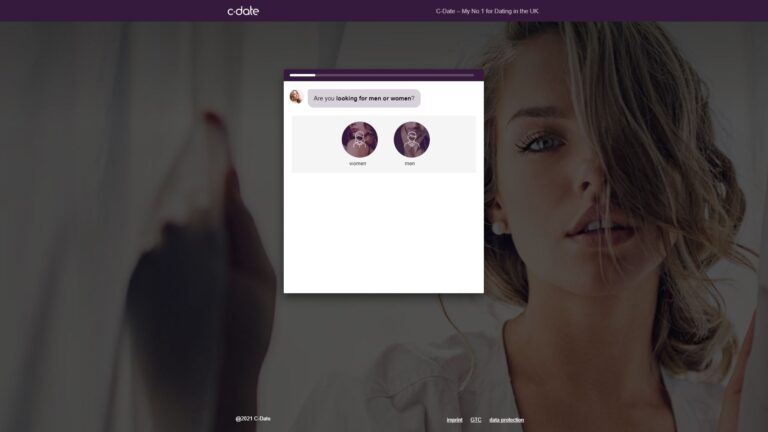 Member Structure
C-Date is a worldwide service with over 36,000,000 members. However, refined to the UK there are still the aforementioned 500,000. That's a lot of fish in the sea! When looking at how it's divided between females and males, the stats are actually fairly surprising.
Women offered the free premium memberships really works well as a balancing act. There are still more men than women on the site, around 52% to 48% women, but that's a pretty low split comparatively. What that means it the offer for free memberships is working to keep things level!
Another surprising factoid about the service is that over 80% of them refer to themselves as business professionals or entrepreneurs. This stat, along with 25,000 new sign-ups daily show that C-Date is doing a lot right in the casual dating scene and it caters to a very specific crowd extremely well. That being said, there's also a relatively even spread across age groups, with ages 25-34 taking the majority at 14% of users, but the other age groups not far behind at 8-10%.
Matchmaking Process 
As you might expect, the matching process on C-Date is simple to understand and easy to use. After signing up and creating your profile, the algorithm goes to work finding you a set of potential matches in your age range and desired characteristics.
To show you what it finds, C-Date presents a number of lists such as 'Now Online', 'My Matches', 'My Visitors', 'My Favourites List', and 'My Likes'. All of these lists help to refine the algorithm as you "like" more profiles or refine your favourites.
However, other than those lists and directly contacting or messaging potential matches (assuming you have the paid membership), C-Date also offers something called 'Contact Proposals.' As the name implies, these proposals are how other members can be connected to you and you to them without you having to message each other.
As mentioned, these proposals become more refined as the algorithm understands you better, but it also works as a great icebreaker. C-Date brought you two together, might as well see if some sparks fly!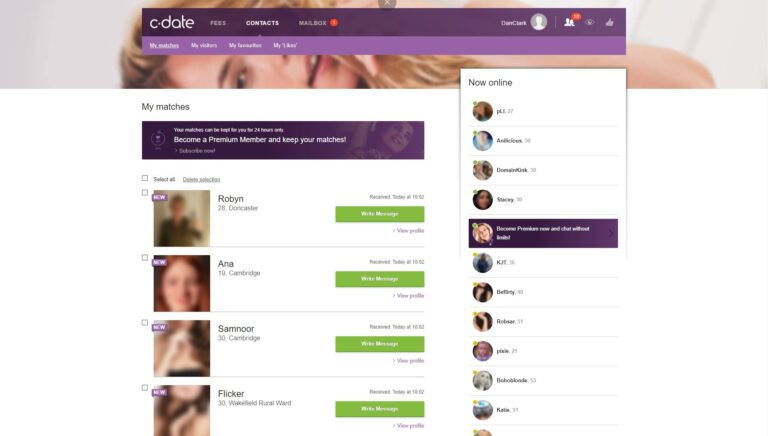 Contact Options
To further expand on just how the matching process work, the biggest part as far as C-Date goes comes from methods of contact. The most important thing that should be mentioned before contact options however, is what people see when they see your site.
When creating the profile on ­­C-Date, you'll be asked to identify your "Erotic Type" by selecting five specific images. Choosing these images will label you as conventional, romantic, adventurous, or wild. With that label on your profile, other members know exactly what they're in for with you and vice versa.
To contact other members, you check out their profile, pictures (possibly their "erotic gallery" for paid members, and "erotic type" to see if you'd like to explore the connection further.
After that, you simply send messages. It's not necessarily a chat room, but it's plenty to break the ice and get to know a little about each other. Quick, easy, and extremely effective!
C-Date

App
In addition to the website, C-Date has an app with some limited accessibility. With the erotic nature of the site, some countries require getting it through APK Pure rather than the iOS or Google Play store. If not that, you can always access it through your phone's web browser.
However, if the app is available to you, it has all the features of the online site including your different lists and recent conversations.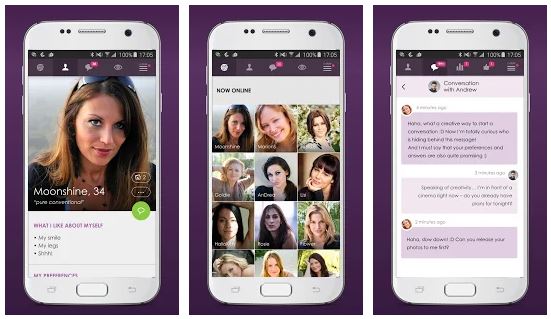 Conclusion
C-Date isn't shy about what kind of dating service it is. It caters predominantly to hook-up culture and the casual dating crowd and it's proud to do so. The service isn't overly complicated to sign up for and the monthly premium charges (for men at least because it's free for women) are nominal.
Another benefit of C-Date not shying about what it is allows them to further refine what kind of hook-up or sexual interest people using the site are interested in. "Erotic type" ensures that people engaging in the fling are on a level playing field and security preferences to block unwanted attention is a great feature as well.
On the whole, C-Date might not be the dating service for everyone, but to the casual dating crowd it targets—it's the perfect app and site to meet and make an instant, sexy connection.