Plenty of Fish – PoF
Review 2022
3 million logins from members each day
This article contains affiliate-links.
In-Depth Review of


Plenty of Fish


Created out of Canada back in 2003, Plenty of Fish has been somewhat of a household name for dating services for nearly two decades. Over those many years, it has been brandished in celebrity music videos like Lady Gaga and Jason Derulo and gained quite a bit of clout from early marketing campaigns.
Its popularity made it one of the most well-known dating and matchmaking services all boiled in to one and in 2015 it was bought by the Match Group for a whopping $575 million (USD).
However, even after turning the head of the giant in the dating industry, Match.com and the Match Group, Plenty of Fish has still maintained its own standing separate from the conglomerate. In recent years, Plenty of Fish still boasts a massive user base of its own with 3 million logins daily and a unique livestream feature in this new-age, post-COVID dating market.
That being said, with the many dating sites and matchmaking services out there, is Plenty of Fish truly the one-stop, all-in-one shop for your dating needs–or just another old fish left swimming in the sea about to be swallowed up by the newcomers? Let's find out!
Large user base with 3m people logging in daily
Free to send messages on the platform
Unique livestreaming feature
Some features still remain behind a pay wall
App design is a bit old-fashioned
2 MONTHS
Per month: 19.35 £
Total: 38.70 £
4 MONTHS
Per month: 12.75 £
Total: 51.00 £
8 MONTHS
Per month: 9.99 £
Total: 79.92 £
Signing Up for

Plenty of Fish
Something you might notice about Plenty of Fish right off the bat is that it's old school. During the signup process you will be asked a plethora of questions from multiple questionaries to create your profile in as much detail as possible—much like matchmaking services used to be known for. In this one, you'll need to answer your gender identity, gender of interest, types of relationships you want, ambitions, desire for children—a lot.
However, even though that isn't necessarily out of the ordinary, Plenty of Fish does stick to its guns by not allowing any social media crossover during signup. In that way, there's no easy connectivity by linking your Facebook or Instagram (allowing users access to other pictures or bios.) Everything on Plent of Fish is exclusive to the site. It may be old-fashioned, but it allows for a lot of autonomy when displaying everything you want to be seen (and avoiding what you don't—like an embarrassing tagged photo on Facebook).
Member Structure
Plenty of Fish is a worldwide service but is immensely popular in the UK. With 3 million daily logins, there is always a lot of activity. However, it is definitely skewed toward a male audience with nearly 20% more males than females. On the plus side, of those members, it still seems to be a site that caters to a younger audience—which is strange given how long it's been around. Even so, a majority are between 25 and 34.
Further, the reason it avoids social media connectivity is because it actually functions a little like a social media site itself—even if it's mostly like Myspace. That said, the community of would-be matches make forum posts all aiming to make a connection. To help with that, Plenty of Fish offers a compatibility rate through the 'POF Chemistry Predictor.' That's gathered from signup, but expanded through interactions.
Matching Process 
The matching process on Plenty of Fish is two-fold. On one end you can just scroll through users like Tinder, looking to find who you match with based on your criteria. In that way, it functions a lot like a dating site. In that regard, they even have subsections on the site for "MeetMe" or "Nearby" to find other users that are game to meet up on the fly.
However, on the matchmaking end, Plenty of Fish also has something called "UltraMatch", which is where you let them take the wheel and come up with 50 compatibility partners. On the plus side, this juxtaposition of ideas means to process accommodates to what you're looking for, whether long-term relationship or shorter-term fling.
Contact Options
Relying on the bare essentials, Plenty of Fish encourages a number of basic chat conversations. You can message other members, and receive messages assuming it's someone you haven't blocked. However, beyond that, you can also send voice memo messages (which is pretty rare from any service.)
Additionally, they have adapted to the COVID dating arena by offering live stream and video chat, which is a huge bonus for the site.
Free Services
– Send messages
– Add users to Favorites List
– View profiles
– Interact on forums
– See who is nearby
Premium Services
– See users full profiles and who views yours
– Read receipts
– No ads
– Send virtual gifts
– Meet Me
– Show up on more searches
Plenty of Fish

 App
Plenty of Fish has a mobile app on Android and IOS which is amazingly easy to use and features everything you will find on the website. The only cause for concern, some users have acknowledged a slightly different pricing structure for the mobile version of Plenty of Fish as opposed to the web service signed up for.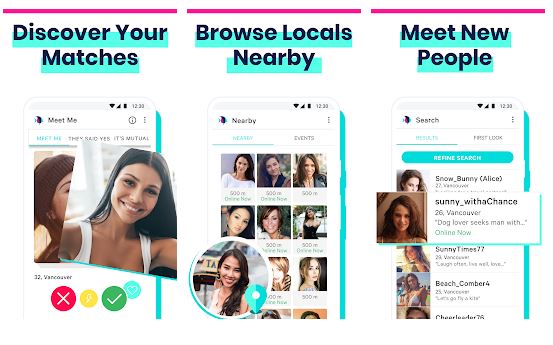 Conclusion
When it comes down to it, there is very good reason that Plenty of Fish has stuck around for as long as it has. As a dating site and matchmaking service that has been around almost from the beginning of the entire phenomenon, just like eHarmony and Match.com, they've had the time to work out the quirks and really shine as a premiere (and free) service.
They may not have all the updates of other modern services, but they have the goods where it counts. With an immensely active user base, a number of methods to contact, a separation between dating and matchmaking catered to your preference—the basic conclusion is that there are plenty of fish in Plenty of Fish's sea, and plenty more ways to play in the water. Just keep swimming!