Matchmaking based on sophisticated algorithm
Used by more than 30 million singles worldwide
This article contains affiliate-links.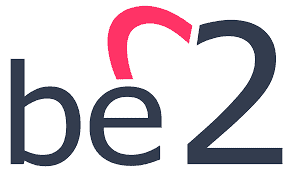 Be2 is a dating site with some history and worldwide renown. Launched in 2004 out of Germany, the company has since expanded to cover 38 different countries and its many citizens in search of love.
Using a detailed questionnaire to determine your personality type and compatibility, Be2 will work to match you with like-minded singles who truly have a chance of becoming your next great love. All this is done through a service that prioritizes security and privacy above all else—giving users control over who they contact and how they wish for conversations to continue.
With all that being said, does an over 15-year-old matchmaking service still have what it takes to succeed in the modern-day market for love?
Algorithm based matchmaking
Members are serious about their search for love
Partner suggestions are based on personality
The price is above average
Profile pictures are blurred unless you become a paid member
3 MONTHS
Per month: 39.99 £
Total: 119.97 £
6 MONTHS
Per month: 29.99 £
Total: 179.94 £
12 MONTHS
Per month: 19.99 £
Total: 239.88 £
Much like its sister website Academic Singles, Be2 has a longer sign-up process intended to weed out less serious singles, and ensure members are committed in their search for a long-term partner. The process is free to begin, and requires the previously mentioned lengthy personality questionnaire which can take about 15 minutes to complete.
Once done, you will be prompted to complete your profile with regards to bio and a few ancillary fields. This process can also take several minutes, as many of the fields are required to begin using the service. However, once this is completed, you can upload a profile picture.
This isn't required, but it is highly suggested if you want to get the attention of other users. To free users, your profile image will be blurred out, and there are further options allowing you to limit who can view your photos. Likewise, if you have the free version, your search parameters are limited in that way.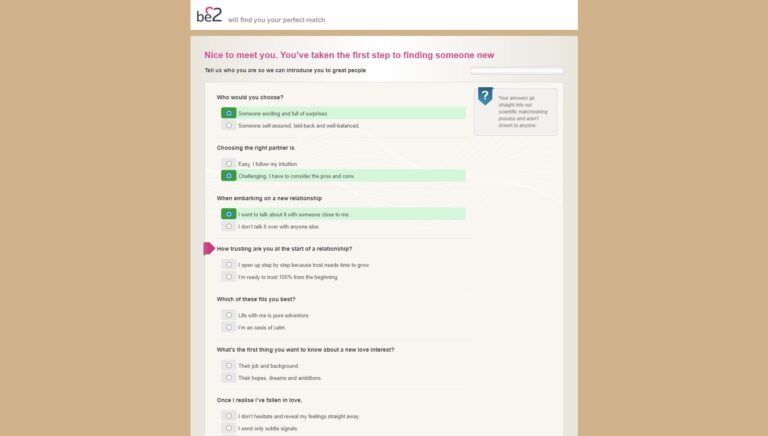 Member Structure
Be2 currently has a smaller userbase than many of its competitors, a fact that they have no shame in sharing, harkening to the exclusivity of the service or its desire for only serious romantic members. On their website, they advertise an active userbase of nearly 1 million users. Of those, members are divided into 57% male and 43% female. While this number is a bit far from the coveted 50/50 split, the number is an honest and reasonable one for any online dating service.
It should be noted that Be2 is a service based in Europe. While they do offer services in North America and elsewhere outside of the EU, the majority of its users will be found on the European continent.
Additionally, Be2 is a service that is heavily reliant on paid membership for users to enjoy fully. Free members will receive matches and can technically browse them, but photos will be censored and there is no means of contact, meaning you need to spend the money to capitalize on your matches.
With a paid membership, users will have access to a wide host of services. Sending and receiving messages are of course available, as is a recently added video call service. Additionally, you will be able to view users' photos (depending on their settings) and see who visited your profile. You can also begin adding contacts to your favorites list, and will gain access to a matching service called "Picture Voting."
Match recommendation is the backbone of Be2's process. Every 24 hours you will be provided with a list of compatible users. Each of them will be suggested along with a compatibility number to show how likely you are to really hit it off. This is primarily based on your personality questionnaire taken in the beginning, so it is important to be honest when filling that out.
The second matching option is called "Picture Voting." This is a Tinder style matching process, where you will be presented user profiles one at a time that you can either select or reject.
On top of these curated options, there is also the ability to search through Be2's user base, comparing compatibility scores and deciding for yourself who to take a chance on.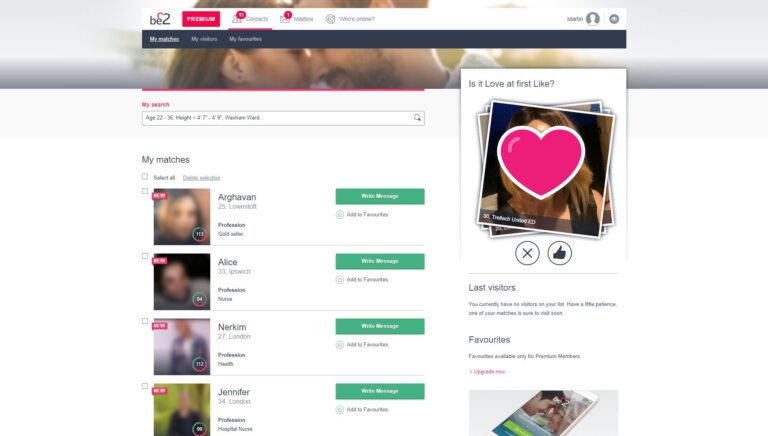 Contact Options
Be2's contact options are a fairly standard affair, though they provide all the necessities for romantic communication. Users have access to unlimited messaging, and can even video call once both parties are comfortable.
For users more nervous about contact, you are free to cut off communication at any time and have a great deal of control over who and how you communicate. This mentality carries over into profile privacy, with Be2 offering 128bit SSL encryption for all video calls, and ensuring no third-parties have access to your secure communications or profile data.
For users more hesitant to start a conversation, the "JUST ask" feature is a welcome addition to your conversation arsenal. This allows users to select from a list of pre-formulated questions to send to a match. These are guaranteed to be interesting and provide opportunity for the recipient to express a bit of themselves in answering.
Be2

 App
The Be2 app is a clean and easy to use service available for Android and iOS. It offers all of the services available on the full website, with a design catered to mobile architecture.
While you shouldn't expect anything new or unique out of the application (other than portability), it is an excellent companion to make use of while on the go.
Conclusion
Be2 is an excellent matchmaking service for those singles looking to find partners in a smaller but highly curated dating pool. While membership is primarily based in Europe and skewed slightly towards the male side, the somewhat costly monthly membership and high quantity of premium users ensures that the vast majority of members share your own interest in intimate, committed relationships.
If you are looking for a serious dating experience that cuts out the false starts and provides a good estimate of match quality before even speaking, then Be2 is the matchmaking service for you.