Ashley Madison
Review 2022
Married dating for people looking for an affair
This article contains affiliate-links.
In-Depth Review of


Ashley Madison


When it comes to dating services of questionable well, moral character, Ashley Madison is probably the one you've heard of. The hookup site is not only famous for catering to those looking to have an affair or cheat on their significant other, but also for an infamous 2015 data leak that left thousands of users' private information exposed.
While this information may shine an unfortunate light on Ashley Madison, that isn't the intention, because Ashley Madison has actually made great strides in the last few years to clean up its image. Cybersecurity has been bolstered, with much greater emphasis and focus placed on its maintenance. The platform has also expanded its user base to include those seeking less nefarious relationships.
As a disclaimer, we don't personally condone cheating or non-consensual affairs. However, with all these updates that have made Ashley Madison a more secure and accessible platform, is it worth it for individuals with that particular predilection?
 Heightened security after data leak in 2015
Free to use for women
Promotes adultery
Not ideal for finding the love of your life
100 CREDITS
Per credit: 0.47 £
Total: 46.90 £
500 CREDITS
Per credit: 0.26 £
Total: 130.80 £
1000 CREDITS
Per credit: 0.21 £
Total: 214.80 £
Signing Up for

Ashley Madison
The registration process for Ashley Madison is a relatively simple process, and should only take a few minutes to complete. It doesn't ask for much personal information, which is pretty understandable given the focus of the service. It will ask some general information about your physical attributes, such as height and ethnicity, and it will also require that you input your current relationship status. There are some options here, since the service does now cater to other types of relationships outside of affairs.
As a discreet service, member profiles will be pretty barren here. You can put your city of residence and some inconsequential things like zodiac signs, but there isn't even space provided for most personal information. Instead of your actual name, users will select a username that they can go by when using the service. Member profile pictures are equally discreet, allowing you to obscure your face through either a blur filter or mask filter.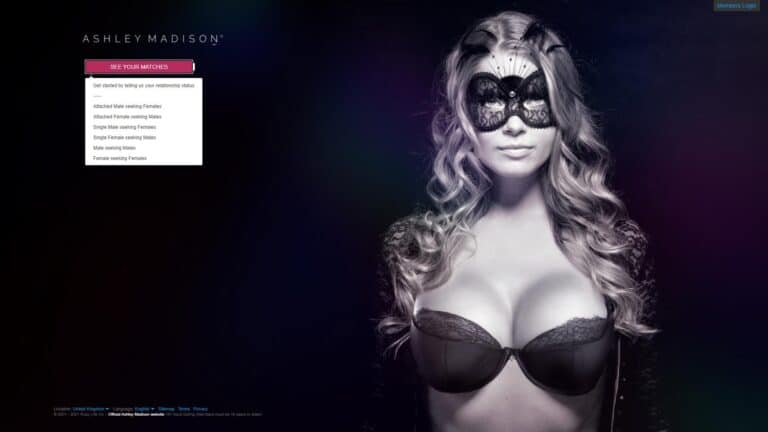 Member Structure
As is often the case with matchmaking services like this, the membership gender dispersion does skew pretty strongly towards men. Older men are also overly-represented, though there are a good number of members in the 24–35-year range—so there are plenty of young users as well.
For those interested in women, Ashley Madison's gender dispersion may be disappointing, but those poor numbers are generally diluted by a massive user base. There are millions of users around the globe, and thousands that login every day. Members are also well-represented around the globe, so you won't be suffering from a North American-centered user base.
While the website still caters to affair dating, it has shifted in recent years to also include more modern relationships, such as polyamorous couples or those in open marriages. So, though many members will be looking for something extramarital, there will be others who are looking to spice up their marriage together or are looking for something on the side that their partner has consented to.
There are also single users on the site. Typically, these are people looking to date someone taken, or looking to be the third wheel in an open marriage.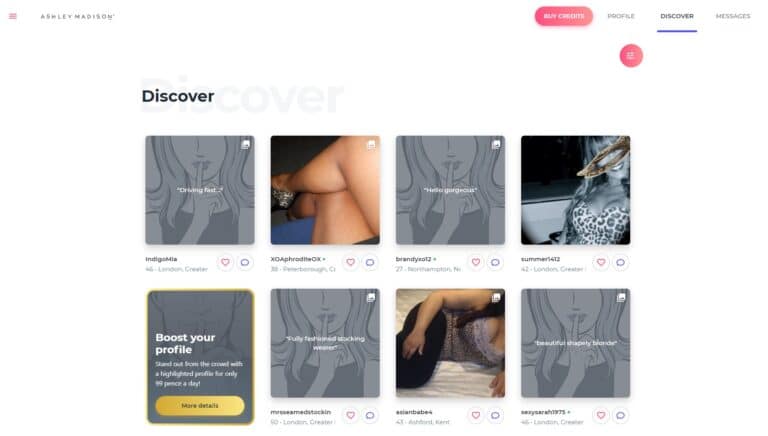 Matching Process
Ashley Madison is a pretty basic service when it comes to making matches. If you are looking for an algorithm or compatibility test to send profiles your way, you may be disappointed. Ashley Madison is a very 'hands on' service, in that you will be spending much of your time manually searching through and viewing the profiles of users in your area.
There are options for paid users to boost matches and visibility. For a fee, you can change your location to somewhere you will be traveling to, allowing you to get the conversations going days before our arrival. You can also pay to boost your profile, so you will appear more readily in other users' searches.
Contact Options
The contact options for Ashley Madison are another feature of the service that can be described as simple, but definitely get the job done. A free account will be quite limited, being able to like profiles and send winks. This can come across as limited, as anyone who has used the Facebook 'like button' is likely aware.
Free users can use the private showcase feature, a method where you provide a user with private access to your uncensored photos, but this can be a riskier action if you haven't communicated previously.
Paid male users have a lot more options, however. And gender does need to be distinguished, as female members have access to paid subscription services free of charge. With these plans, many more contact options become available. Users can initiate chats and engage in private messaging to their heart's content. They can also use the Travel Man feature to move their physical search location around, and Boost their profile range.
Additionally, paid users are able to send virtual gifts. These operate on a credit system however. In fact, features like the Travel Man and Boost function also work with credits. The number of credits a user has access to will be tied to the kind of premium account they pay for. This service can end up being quite expensive, if you intend to use a lot of the credit-based premium features. 
Ashley Madison

 App
The Ashley Madison app is available on Android and iOS, and is free to download on either. It offers all of the same features as the full website, without taking up too much space on your phone. The icon is also intentionally inconspicuous, so it is easy to hide in the clutter of your home screen.
The one service offered by the app that the website doesn't have is a swipe feature, which can be nice for leisurely browsing profiles.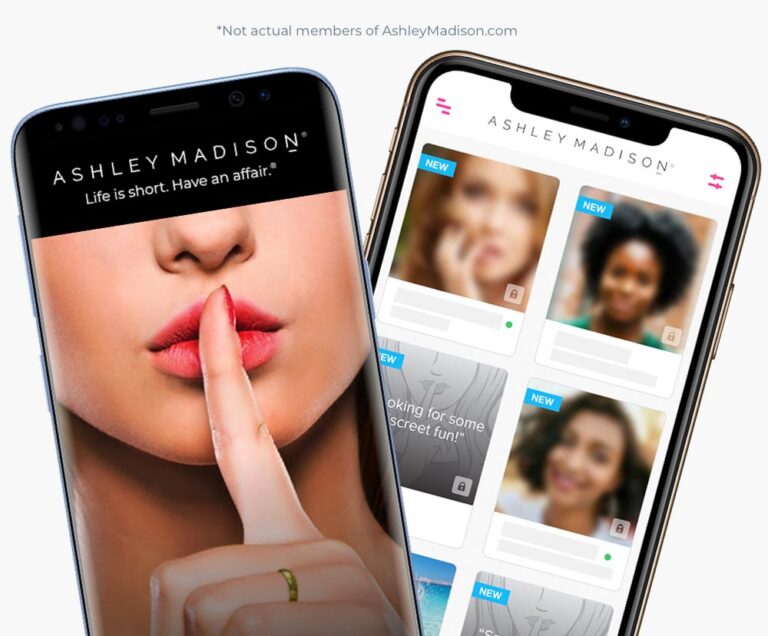 Conclusion
Ashley Madison is a dating site that continues to offer the same affair-based dating service that it has since 2001. Despite some scandals in the mid-2010's, the platform has progressed leaps and bounds in the realm of user security.
A more diverse userbase of sexual interests has also expanded the website beyond its more morally questionable origins, allowing for users to find open marriages and polygamous couples to date with the consent of all parties.
If you are someone interested in dating outside of your own marriage, or within someone else's, Ashley Madison might be the right site for you!