EliteMeetsBeauty
Review 2022
Dating site for sugar dating
Blog contains lots of useful information about sugar dating
This article contains affiliate-links.
In-Depth Review of


EliteMeetsBeauty


As online matchmaking services and dating sites grow in popularity, it can be difficult for new services to successfully launch and capture a broad enough userbase to be viable. This is even more true for those seeking to enter already well-covered niche markets.
If successful platforms already exist for a small subset of the dating pool, it can be an immense challenge to draw in enough new users to successfully compete.
EliteMeetsBeauty (formerly known as RichMeetBeautiful) is a dating service attempting to overcome that very challenge. Launched in 2017, the service is a very recent arrival on the dating scene. Even more interesting is its dating demographic of choice. EliteMeetsBeauty is designed for those individuals looking to enter 'Sugar Relationships', meaning it works to connect rich and affluent 'Sugar Daddies' and 'Sugar Mommas' with young and vibrant 'Sugar Babies.'
As a European based service, EliteMeetsBeauty benefits from a large userbase largely untapped by its North American competitors. But does it successfully differentiate itself in an already crowded market?
Dating site for sugar dating
Great for sugar daddies, mommas, and babes
Blog contains lots of useful information about sugar dating
Could use more members
You won't get far without a paid membership
1 MONTH
Per month: 39.99 £
Total: 39.99 £
3 MONTHS
Per month: 29.99 £
Total: 89.97 £
12 MONTHS
Per month: 14.99 £
Total: 179.88 £
Signing Up for

EliteMeetsBeauty
The EliteMeetsBeauty website benefits from an extremely quick, easy, and cost-free sign-up process. There isn't any complex account making process, or intense set of questions to answer. Simply provide some basic information, such as some basic information about yourself, your gender(s) of interest, and if you are looking for a sugar baby to provide for or hoping to be a sugar baby to be doted on. And to round it out, there will also be questions about your preferred lifestyle, which is essentially used to determine your income level.
Once this is completed, members have a good deal of options to choose from. The main information displayed on your profile will be username, age, location, and some information on physical features. There is a good deal of options for adding information here, as well as customizing your profile. A text box is also available, so you can write anything you want, showing off your personality and unique story without restriction.
Photos are also a key part of EliteMeetsBeauty. You can link your Facebook profile to your dating profile, allowing for easy picture uploading. These photos will be visible regardless of membership status (free or premium), so they are pretty important to have. If you wish to maintain some anonymity, you can use a provided editing tool to blur your photo, or place a mask over your face.
Additionally, EliteMeetsBeauty is a site that takes security very seriously, so is it is important to note that you will have a few steps in verifying your identity. These are pretty easy to complete, and start with a captcha box that you need to check while making your profile.
Once your profile is complete, you will be sent a verification email that you need to access to register. The platform also uses a series of third-party providers to ensure security, including Amazon Web Services, Norton, and SSLTrust, and is 256 Bit Encrypted.
Member Structure
Membership metrics are where EliteMeetsBeauty stumbles a bit. Its gender distribution is heavily skewed towards male, with 13% identifying as women and 87% as male. While a good chunk of these men fall in the 25-34 age range, most are between 35 and 54, meaning the platform is dominated mostly by 'Sugar Daddies' looking for 'Sugar Babies'.
While this may seem problematic at first, this is actually a good thing for those sugar babies interested in older men. The burden of competition in the dating pool falls on the sugar daddies due to their prevalence, so sugar babies may benefit from increased attention. On the site, sugar daddies and mommas can have up to 4 sugar babies at a time, so there is plenty of sugar to go around for those younger users.
When it comes to free vs premium members, there are a few differences to note. Free accounts can search for members, view photos, and send winks, but they are restricted from sending messages or reading those they receive. Premium members have full access to this feature, and can also see who has visited their profile. Sending gifts is also an option, so premium membership is basically a requirement if you are hoping for matches on the platform.
It is also important to note that sugar babies get premium for free, so there won't be any issues communicating for them. Finally, the userbase of EliteMeetsBeauty is largely European, and centralized for the UK, which makes is especially appealing compared to some other North American competition.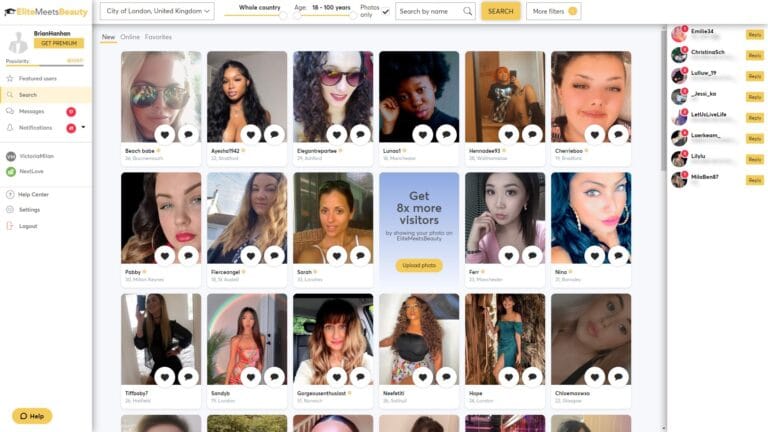 Matchmaking
EliteMeetsBeauty does not offer any matchmaking services, so you will have to do the work yourself. While the program will not suggest users to you, there are a large number of filters you can use when searching for potential partners. This will allow you to get pretty detailed in your searches, and is a reason why filling out your profile completely can be so monumentally important.
Refine what you want ahead of time so you won't be surprised!
Contact Options
Contact is also a simple process on EliteMeetsBeauty. You will be able to send winks to profiles you are interested in, but only premium members will be able to send and properly receive messages. Free users will be alerted that they have a message, but no further detail will be provided unless a premium membership is paid for.
It is possible to boost the visibility of your profile by completing aspects of your profile and uploading photos. This will move you to the top of user searches that fit your category. The feature is available for all users, but is most beneficial to premium users.
There is also a private keys feature, where users can upload private photos that only key holders can view. These keys must be requested by another user, and cannot be sent freely.
EliteMeetsBeauty

App
EliteMeetsBeautyhas a mobile application available for iOS and Android phones. It has all of the features as the regular website, optimized for a smaller screen and access on the go. Premium features will still be blocked unless membership is paid for.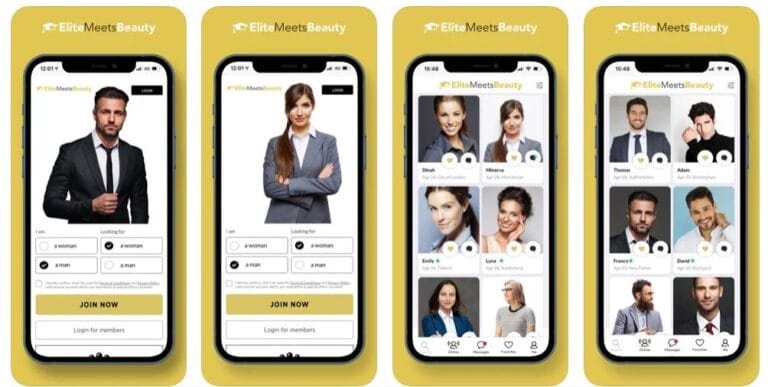 Conclusion
EliteMeetsBeauty is a relatively new matchmaking service working to provide Sugar Dating services to the European market. While the userbase is currently dominated by sugar daddies, such a gender skew is not necessarily the downside it might be in more traditional dating.
Younger users looking for a sugar daddy or sugar momma will benefit from increased attention and visibility. All that said, if you are a young European looking to try out Sugar Dating, maybe EliteMeetsBeauty is the site for you!