Biggest Sugar Dating site in the world
Completely free for sugar babies
This article contains affiliate-links.
In-Depth Review of


Seeking.com


Since the dawn of human relationships, sugar relationships have likely existed in one form or another. Older 'sugar daddies' and 'mommas' with wealth and experience, taking care of beautiful young interests in a mutually beneficial relationship that leaves both parties happy and satisfied. It makes sense then, that it wouldn't take long for the internet to begin catering to these specific relationships.
Seeking.com was one of the first matchmaking services to launch exclusively for Sugar Dating. Founded in 2006 by Brandon Wade, this service is one of the oldest and most popular for individuals seeking their 'sugar partner'. That history and experience has translated into a refreshing candor, providing an environment that is upfront and honest about the types of relationships its members are seeking, and how they can expect to benefit.
Cutting right to the point and providing an up-front attitude to sugar dating can really help members to outline exactly what they want, and expect such honesty to be reciprocated.
But after so many years, does this service live up to its promises?
 Biggest Sugar Dating site in the world
Free to use for sugar babies
No fake profiles
Cons
There are lots of fake profiles which need to be weeded out
App not available on iOS
30 DAYS
Per day: 2.33 £
Total: 69.95 £
90 DAYS
Per day: 2.00 £
Total: 179.85 £
Signing Up for

Seeking.com
The sign-up process for Seeking is quite simple to start. You just need to input some basic information, as well as your gender and gender(s) of interest. An email address will be needed to verify your account, though you can select to connect with your social media platforms. This will give you a profile badge to show your legitimacy.
As a note, women that use their college email address to sign up will be given premium membership for free. There are additional differences between the two parties as well, referred to as the 'Successful Member' and the 'Attractive Member.' In their profile, the Successful Member can describe their budget for Attractive Members (Sugar Babies). Attractive members can outline how much they expect Successful Members (Sugar daddies and mommas) to spend on them.
If you want to go the extra mile, you can also choose to have your account verified by the third-party platform 'Optimum Screening'. They will do a background check which will result in a special badge tied to your account, showing that you are exactly who you say you are. On the other hand, failing this check will result in your expulsion from the website.
Optimum Screening does not share your information with Seeking.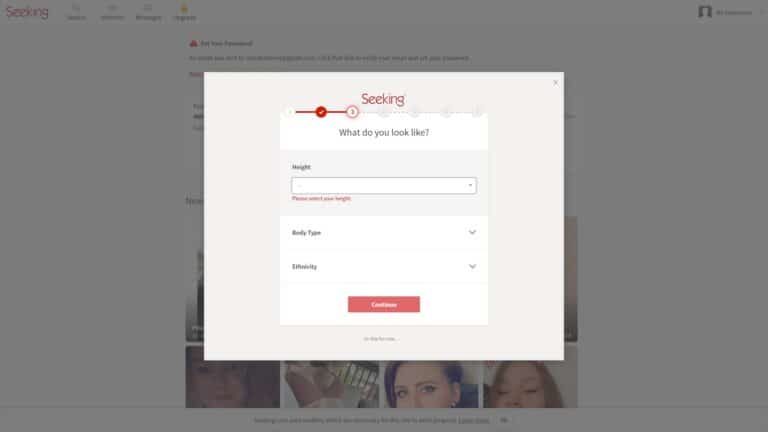 Beyond that, you will be asked to upload a picture to accompany your profile. This will take a bit of time to appear, as it needs to be checked and approved by the site's administrators first.
Member Structure
Membership is where Seeking's lengthy and successful operation history bears fruit. While many niche dating sites can suffer from a lower number of members or a less active userbase, Seeking has around 10 million users all around the world. This is a number that would make even more traditional dating services jealous.
While the service does draw most of its members from the USA and North America, it does boast a diverse userbase from all around the world and especially the UK. On their website, they brag about active membership and services in over 139 countries.
The gender distribution is more even than one might expect, with 48% identifying as female and 52% as male. When it comes to Successful Members vs Attractive Members, the difference is stark. 80% of members are 'Attractive' while 20% are 'Successful'. This is a good ratio for older members, but leads to a lot of competition amongst the Attractive members.
A Successful member is limited to 4 'Sugar Babies,' so that also can add to the competition
Matchmaking 
Seeking.com is an experience that requires a good deal of user engagement. While the service will provide you with suggested matches, the heart of the platform is the search. Seeking has an absolutely insane number of custom filters and criteria that can be used in the search.
Users can search for potential matches by interests and location, but can also get more detailed with filters for height, weight, age, eye color, hair color, drinking and smoking habits, and much, much more. Having a premium membership will give you access to other search details, like net worth, net income, ethnicity, relationship status, and still more. As far as detail goes, there is absolutely no shortage.
Premium memberships also help to boost your profile, bringing you to the top of search results, and allowing you to be included when members narrow their search for premium members. Being a Successful Member has a lot to do with wealth, so many Attractive Members may narrow their search initially to only Premium accounts. In this vein, users can also pay for 'Diamond Membership', something that will jump you to the top of searches, and show-off your disposable income.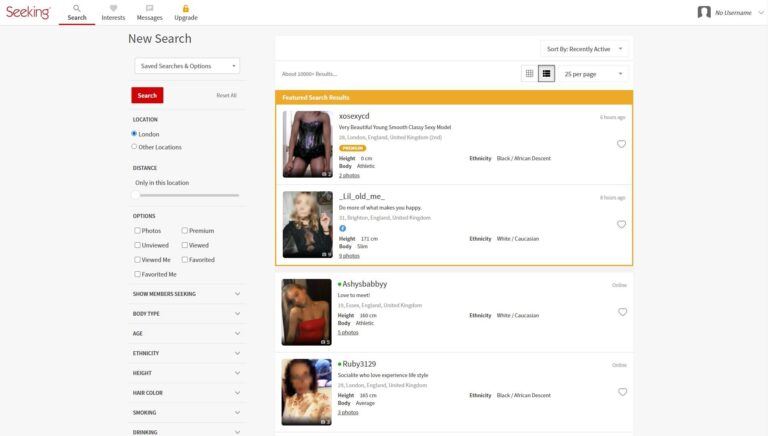 Contact Options
Seeking differs from more traditional dating services in that it expects members to communicate in-person or through other apps. This is one of the benefits to linking your profile to social media—you will have an easy way to transfer over to a different chat service.
The website does offer a private chat, which is unique in that it can be used by both premium and free users, so long as you have a verified profile picture. If you wish to message but still remain anonymous (without a profile photo) then you are going to need a premium account.
The service also allows you to send private photos to other members with their approval. Additionally, the service does try to encourage Seeking.com parties for members to meet in-person, so there are opportunities for contact beyond the general chat features.
And finally, the service is currently testing out video chat features too, so these may become available to all members in the very near future.
Seeking.com

 App
Seeking offers a mobile application of their platform for Android devices. At the time of this article's writing, it is not available on iOS. All features are the same in the app, though it does take your location into account and will change your city location if you do. The app has a clean design and functional user interface, something that might be helpful for those less tech savvy members.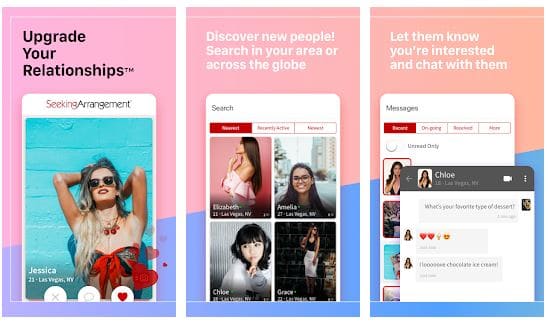 Conclusion
Seeking is a niche dating site that lives up to and even surpasses expectations. Despite a strong brand name and history of success, the service still allows free members to access many of the features typically restricted to paying members. Additionally, the large userbase and gender ratio is a welcome surprise.
If you are looking to engage in a mutually beneficial Sugar Relationship, Seeking.com may just be the perfect dating platform for you!